Beyond the classrooms in Waggener Hall and deep in the archives on prehistoric scripts, Cassandra Donnelly found her calling.
Donnelly, a graduate student in the Department of Classics at The University of Texas at Austin, was awarded a visiting fellowship in the Contexts of and Relations between Early Writing Systems (CREWS), allowing her to study prehistoric writing systems at the University of Cambridge on behalf of the European Research Council.
Donnelly's initial interest in Early Writing Systems was inspired by the vast archives at the university's Program for Aegean Scripts and Prehistory. Instituted in 1986 by UT Austin classicist Thomas Palaima and located in the campus's Waggener Hall, the archives contain photos, secondary sources and a library filled with the works of Aegean scholars such as Alice Kober and Emmett Bennett.
But throughout her initial studies, Donnelly found that much remained undiscovered about the writers of Cypro-Minoan scripts — an undeciphered writing system originating from the island of Cyprus during the Late Bronze Age. The missing links inspired Donnelly's focus for her fellowship, which will center on people from the Late Bronze Age who were educated in the intricate writing systems, and how they reshaped those systems to serve their own purposes.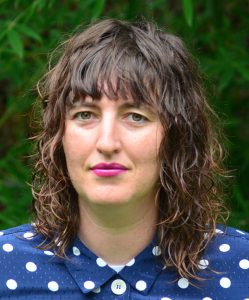 "The history of writing tends to focus on writing coming out of the bureaucratic power centers, and less so writing on the margins of Bronze Age society," Donnelly says. "I am interested in how these marginal players, likely participants in international trade conducted outside of the palatial economy, appealed to the technology of writing in shaping their identities."
Donnelly adds that she is looking forward to the amount of time and freedom she will have to research and is eager to join a large group of scholars who share her enthusiasm for exploring the history of ancient writing. She anticipates debating with other CREWS scholars on the intercommunication of writers and traders of the Bronze Age across all of Cyprus.
"The opportunity to freely and conveniently exchange ideas and receive and provide criticism will be an incredible boon to my research," Donnelly shares. "When conducting comparative work of the nature I am doing, it is beneficial to have an interdisciplinary team of experts to ensure your research remains grounded."
The CREWS Fellowship is the first program that endorses academics from around the world with an interest in a wide array of disciplines to come together to survey and analyze early writing systems.
"The program is incredibly important for helping the next generation of scholars in Aegean and Eastern Mediterranean scripts, of which I consider myself a member, to form an international community of scholars," Donnelly notes.