Since 1995, the Texas Book Festival has connected Texas authors with readers through literary panels and readings, book signings, demonstrations, live music, family-fun and local eats. This year at the festival, Germanic Studies Professor John Hoberman will present his third book on the social impacts of anabolic steroids, Dopers in Uniform: The Hidden World of Police on Steroids.
His newest book follows two previous works on the topic, including Mortal Engines (1992), which examines the sports world; and Testosterone Dreams (2005), which looks at the medical world. We had the chance to chat with Dr. Hoberman about his newest title and the research behind it.
Q. What made you want to write this book?
Hoberman: For me the turning point came in 2005, when I noticed a growing number of reports of steroid use by police officers. The research that has occupied the last dozen years has taught me a great deal about the lives of police officers and why some of these people break the law to use these drugs.
Q. Why isn't this issue talked about more?
Hoberman: It is striking that, in a society that demonizes athletes and others who use steroids, steroid use by police officers has never entered the national conversation about police conduct. Why is this the case? In part because some, and perhaps most, of the journalists and academics who cover policing are unaware that a police steroid culture exists. Second, police officers benefit from a "halo effect" that has long encouraged the public and the media to assume the best about public servants who take on difficult and often risky jobs. The dozens of police television shows that have appeared since the 1950's have reinforced this positive image. Third, police chiefs across the country have shown very little interest in monitoring and limiting police steroid use. Even if they did carry out drug testing, they would not report positive tests.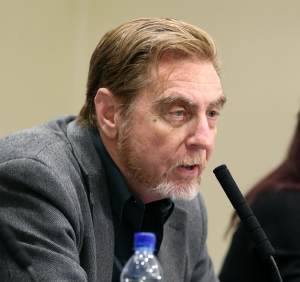 The police culture is allowed to operate in secret in important ways, and this applies to police misconduct. A police culture that does not discipline police violence effectively is not going to discipline officers for steroid use. What is more, police chiefs who might want to try to limit steroid use in the ranks know that such efforts will be opposed by the police unions that defend what they see as officers' right to privacy, which includes private drug use. Finally, it is possible that many Americans assume that police officers are entitled to take drugs if these drugs will enhance their safety on the street.
Q. Explain the "Blue Wall of Silence" and how police forces might get away with breaking the law.
Hoberman: "The Blue Wall of Silence," also known as the Code of Silence, refers to the unwillingness of police officers to report the misconduct of fellow officers. There is tremendous peer pressure among rank-and-file cops not to violate this rule. This pressure to conform can include perjury in courtroom testimony. I have never seen a case of one officer reporting the steroid use of another officer.
Q. With all the secrecy, how did you go about getting the information you needed for your research?
Hoberman: Most of the information in the book on police steroid use comes from newspaper reports from 36 of the 50 states that include every major metropolitan area in the country. What is striking is that hundreds of local reports of police steroid use have never turned into a national story that is part of the media narrative about police character and (mis)conduct that remains very powerful even in the era of highly publicized cellphone recordings of controversial police killings.
Q. When do you think this epidemic really got rolling?
Hoberman: The first reports of police steroid use of which I am aware were reported from Miami in 1987. Today we can confirm that police steroid use is geographically widespread in the U.S., but we do not know enough to call it an "epidemic."
Q. What percentage of urban police forces, would you say, are using steroids?
Hoberman: Some observers assume that police steroid use is highest in potentially dangerous urban areas, and I too suspect that is the case. At the same time, the police leadership and police unions have no interest in knowing anything about steroid use, so there are no data to study.
Q. Describe to us, the potential implications of a police man on steroids?
Hoberman: First, possession of these drugs without a valid prescription is a felony for which cops are almost never indicted; the prevailing permissive approach to steroid use authorizes cops to operate beyond the law, an attitude that extends into the widespread failure to discipline excessive police violence in any effective way.
Secondly, steroid use causes aggressive feelings and potentially dangerous irritability in unpredictable ways in many males; it is inevitable that thousands of cops on steroids will produce an undetermined amount of police brutality.
Thirdly, police steroid use sends cops to bodybuilding gyms where they can socialize with drug dealers to whom they may reveal information about impending drug raids by the police.
Fourthly, I have found a subset of police steroid users who demonstrate a tendency to commit other crimes; in this sense steroid use can be a "marker" of character defects that should disqualify these people from serving as police officers.
Lastly, Police steroid use that becomes known can have demoralizing effects on the general public and police departments.
Q. How does this change the conversation around excessive use of force and police violence, particularly within the Black Lives Matters framework?
Hoberman: The public conversation around police violence and the racial divide is currently paralyzed. The police culture is unable to acknowledge generations of racially motivated police brutality, such as the Chicago Police Department's torture chamber for black suspects that operated for twenty years before it was shut down in 1991. It is significant that this horrific police behavior, and what it says about police management, has never found its way into our public conversation about race and policing.
Police spokesmen profess alarm at the verbal protests of the Black Lives Matter movement, and the FBI has recently invented a purported threat they have labeled "Black Identity Extremists. These claims get a great deal of publicity while far more harmful police behaviors can go unacknowledged and disregarded by police commentators. This is one more example of how tribal loyalties are currently prevailing over evidence-based perspectives in various social venues.
The fundamental question here is: How do we think and feel about police officers? And how do our images of and feelings about these people shape the public policies that are supposed to govern the conduct of public servants who have the authority to detain, arrest, and sometimes kill ordinary citizens?
This book complicates the identity of police officers who have traditionally been given the benefit of the doubt in conflicts with ordinary citizens. To this day the prevailing narrative about police officers remains the heroic narrative about courage, honesty, and self-sacrifice. The "rogue cops" who go wrong are presented as a tiny minority within the force who do not contaminate the honest and reliable majority. Courts have long accepted police testimony as truthful and rejected the contrary claims of citizens who lack the police officer's prestige within the legal system.
This book challenges the one-dimensional traditional heroic narrative by demonstrating widespread illegal, and potentially dangerous, drug use by law enforcement personnel that is tolerated by most of the police leadership and by the police unions that exist to defend officers from almost any charge of misconduct, including both drug abuse and brutality. The lives and behaviors of police officers are much more complicated than their public images. The many videos of police shootings that have been broadcast over the past several years have made it clear that a realistic public understanding of police character and conduct cannot be based on the heroic narrative alone. This book describes various forms of police conduct that are not exceptional and that do not meet professional standards. Police leaders' lack of interest in confronting steroid use within the ranks parallels the widespread lack of interest in imposing effective discipline on violent cops. How the police culture deals with cops on steroids thus points to a fundamental failure of leadership within the profession.