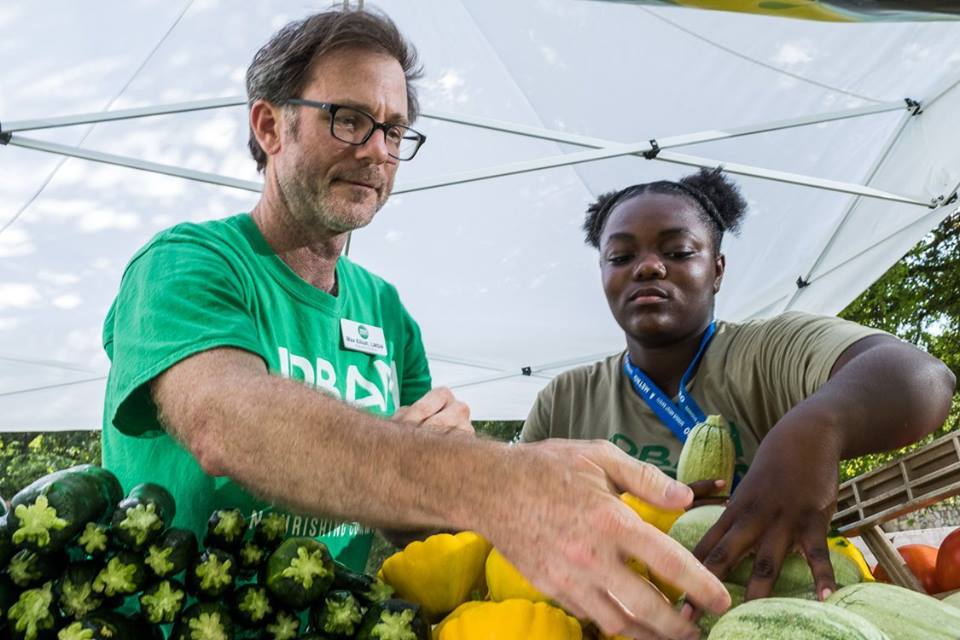 "Food will not solve food injustice."
It's a strange sentiment from an urban farmer whose East Austin farm has nourished the community for the last decade. But Max Elliott, the executive director of Urban Roots community farm, knows better than most how America's framework of economic and racial inequality permeates its food system.
"If you look at neighborhoods that are typically affected by unequal food systems, it's predominantly underserved communities, predominantly communities of color that don't have access to healthy affordable foods," Elliott says. "And there are five zip codes in Austin that don't have access to a full-service grocery store. Those are the neighborhoods that also have higher incidence of diet-related diseases, and typically those neighborhoods do not have people that are involved in the solutions."
The most common fixes to such problems often involve emergency relief like food pantries. While much of Urban Roots' produce does support food pantries, its mission ultimately advocates for a total reorientation of the food system itself, including more sustainable production practices, equitable distribution and affordable healthy food.
Those are the very same food justice initiatives Urban Roots accomplishes seven days a week on its East Austin farm site, and they take place through the vehicle of youth leadership.
"It's a kind of social change," Elliott says. "If we can give young people the chance to have a strong connection to where food comes from, to really use food as an opportunity for them to understand how they can serve their community while building life, job and leadership skills, we're creating this next generation of food leaders to be a part of solutions."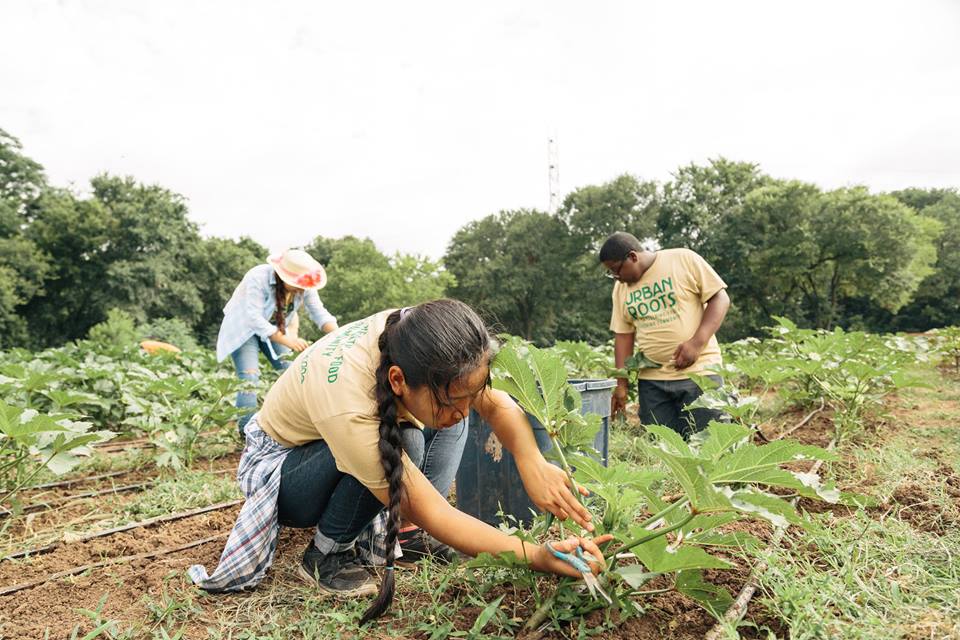 The makeup of Austin's agricultural community reflects the city's long history of segregation and institutionalized racism. Investment in young people, then, is a strategic move for food justice leaders looking to create a new generation of food-conscious youth.
But filling the farm with high school students also stems from a desire to capture their idealistic spirit. "Young people remind adults of ourselves, and put our work in greater context and perspective," Elliott says. "Young people bring a lot of energy, a lot of optimism, and they're excited about sustainability and food access. We can learn from them."
The term "young people," like every aspect of Urban Roots, is carefully chosen. Farm staff cultivate a particular culture that discourages words like 'teens' or 'kids' in order to emphasize the agency, responsibility and potential each high school intern offers to Urban Roots and their community.
Though food is a byproduct, rather than the express goal, of Urban Roots, the three-and-a-half-acre farm produces upwards of 30,000 pounds of sustainably grown fruits, vegetables and herbs every year. More than 40 varieties of produce are distributed among farmers markets, restaurants and food pantries across the city.
If that poundage sounds like a lot, that's because it is. And most of it comes from the labor of paid high school interns.
"When people ask me about working on a farm, I'm like, yeah, it's pretty much everything you expect but without the animals. Because we're really in it," Lehman High School senior Qwynci Bowman says. "There are really only a few things that we don't do as interns, like drive the tractor. But that's pretty much it."
If you come by Urban Roots on any given day of the week, you'll see Bowman and other interns harvesting, weed whacking or backpack spraying with non-chemical pesticides; on Saturdays you'll see them lead volunteers in those same tasks.
Wednesdays are reserved for farm work by students from the Alternative Learning Center, who Urban Roots welcomes as part of community and youth leadership initiatives. And if you stop by on a Thursday, you'll get a chance to see college-age alumni of the high school internship program leading volunteers. After completing their seasonal internship with Urban Roots in high school, alumni are welcomed back to the farm to lead volunteers and sell the produce they grow at local farmers markets.
Paul Mannie, now an Access and Inclusion Coordinator at The University of Texas at Austin, was part of one of the first generations of interns at Urban Roots nearly ten years ago. In college, he joined up with other graduates of the program to determine what an alumni program could look like.
The Urban Roots internship was Mannie's first job, and he remembers the rigorous and rewarding nature of the work.
"I knew that the program was on a farm, but I didn't know that we were going to be doing as much farming as we did," he laughs. "Once we got to the summer it was very intense, but definitely fun work. It was a space to learn about perseverance because at school there wasn't anything that I had to do, and that was one of the first true responsibilities I had. It was something to get used to, for sure."
Texas heat, intense labor, and an approximately thirty-hour workweek tend to foster a bonded group of interns. But the lasting friendships created on the farm are, in some ways, by design.
Each season, Urban Roots attracts a broad applicant pool and adds dozens to a growing waitlist after a thoughtful and rather informal interview session where recruits play games, mingle and learn about agriculture. The applicants the staff selects are rarely, if ever, chosen for their farming qualifications.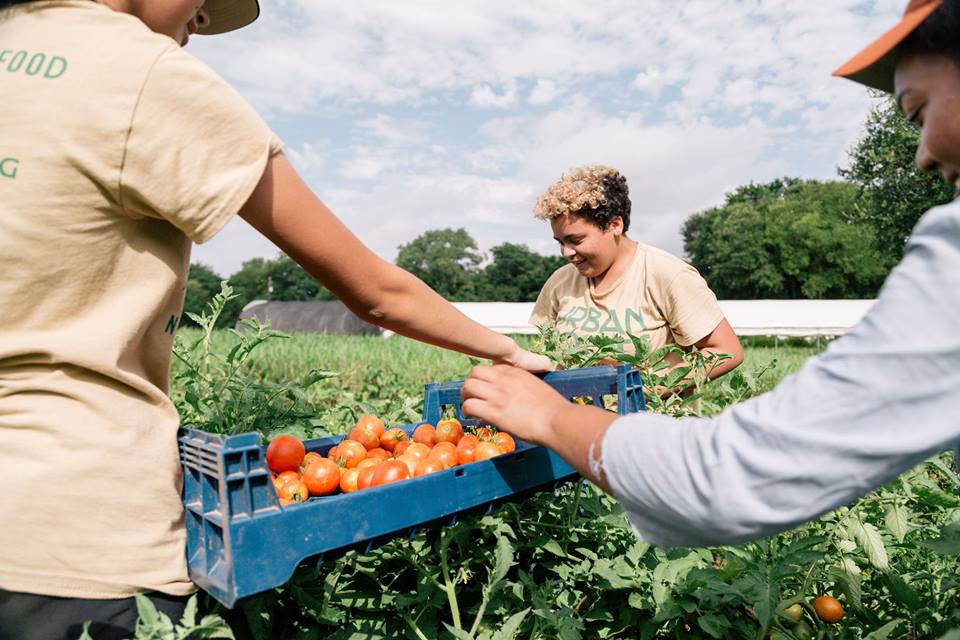 Bowman remembers walking into the interview wearing professional clothes and seeing everyone else in jeans. "Right off the bat," she says, "I could tell it was a different kind of experience and a different job."
As a member of the close-knit alumni program with more than a year of farm experience, Bowman got the privilege of interviewing potential interns, which she says was "wild, a huge 360." When told by staff that she would 'just know' who was going to be a good fit for the farm, she said at first she didn't understand but could eventually tell.
"I started to get it," she says. "It was honestly just people that were eager, excited, not even people that knew anything about farming. Just people that were really excited and willing to try new things and be good communicators and good friends to other people interviewing."
Despite the intentionality in every aspect of Urban Roots, from the care taken to maintain the health of the soil to the people selected, the farm itself is unique in its celebration of inefficiency. More crucial than development of produce is the development of leaders in a cohesive, diverse group setting.
Much of the sharing takes place in the field, as interns work side by side. But Elliott and other farm staff also set up regular workshops, where interns talk about their experiences in the context of discussions on food security, food deserts and sustainability.
"The conversations that we curate in these everyday workshops invite a certain kind of vulnerability and trust, and we're hiring for a diverse pool so that the youth and fellows can really learn from each other's very different perspectives," Elliott says. "And that's especially powerful talking about food justice."
Last November, the city of Austin approved two 15-year lease terms for a nine-acre plot of land for Urban Roots in Dove Springs. The southeast Austin neighborhood is considered a food desert, as it remains one of the five areas in the city without access to a full-service grocery store.
For years, the land has been empty. It was first set aside to house a recycling facility rejected by residents of the adjacent neighborhood. Other proposals — for industrial use, a dog park, more housing — were each rejected in turn by neighborhood contact teams or by city appraisers. Eventually, the city of Austin decided simply to hold onto the land as a future resource for public infrastructure.
That was when Urban Roots came along. Elliott approached the neighborhood leaders with his proposal for an urban farm, and Dove Springs, as well as local food organizations already operating in the area, were quickly excited and supportive of the proposition.
"Moving into Dove Springs will give us a chance to evolve from being a youth development organization only to doing community development and engagement and thinking about how we can raise awareness about the importance of equitable food access and adjusting food systems," Elliott says. "That second farm site will give us a chance to build the infrastructure to diversify our programming, too, so we'll have a culinary teaching kitchen that will allow us to get more involved in workforce development and job training."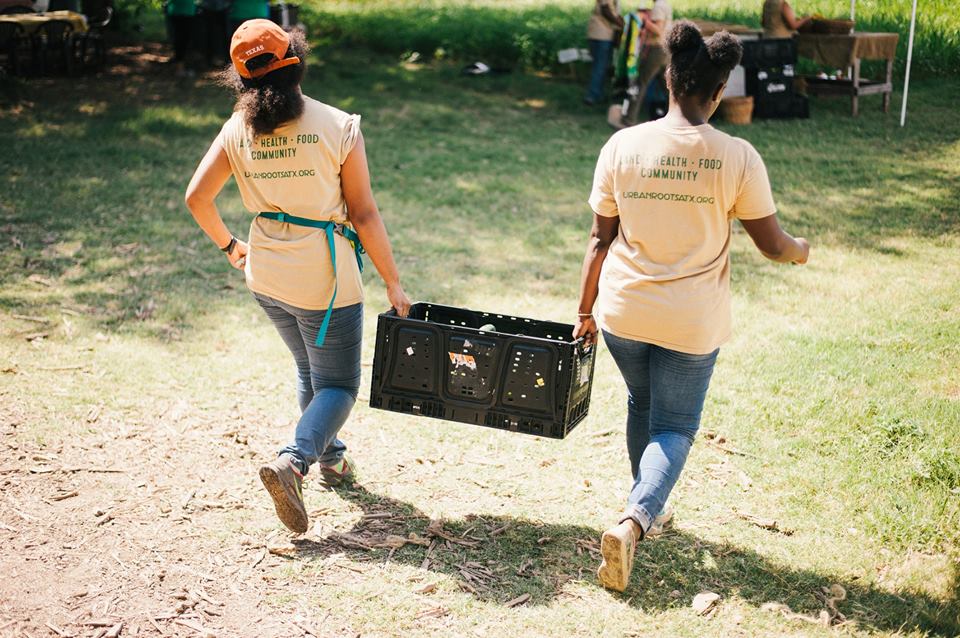 The open and gradual nature of the plans are by design. One of the few certainties about the new site is that it will be a model of sustainable farming practices and a destination to celebrate all the ways urban agriculture can develop community. The details will be driven by the needs and wants of the Dove Springs community itself.
"We're excited to do that research over the course of a year so that we can provide these opportunities for young people and be a really thoughtful neighbor to that community as we slowly build the infrastructure for that farm to come to fruition," Elliott says. "We want to take our time and be thoughtful."
Urban Roots had to get the support of the city's Food Policy Board to make a favorable recommendation to City Council. Property appraisals had valued the land at 2.3 million dollars, so garnering support for a farm rather than something more profitable was no mean feat.
"From an economic perspective, the best use would be to rent it out to someone for industrial use," Elliott says. "It's not something that we could ever afford. Usually urban agriculture thrives in cities that have some kind of urban decay, where there's a lot of excess land because the economy is really slow. But to have urban farming thriving in one of the fastest growing cities in the U.S., and for the city of Austin to invest in nine acres to say that a youth community farm is the best investment for the land is a huge opportunity for all of us in food justice."
Over the summer, Urban Roots invites the community to the farm for lunch to hear the testimonies of interns. One Saturday, this opportunity for Bowman to tell her story launched her farther than she had been able to imagine and led to the construction of a garden at Lehman High School.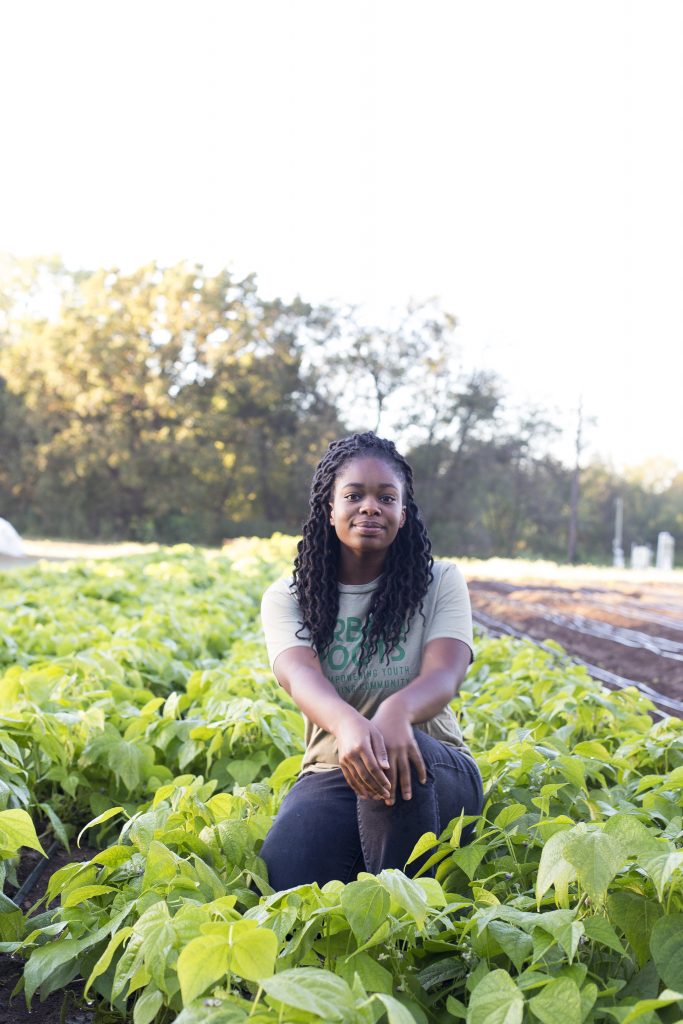 "I live in Kyle, so there aren't as many healthy food options, and that's something I mentioned in my story about my life," Bowman says. "And a woman approached me afterwards, and was like, 'I feel your vision, that's amazing. I want to give you a pledge to start this project.'"
"So now I have a garden at my school just because of that moment," she adds. "Urban Roots has absolutely impacted the way I see food and how I want to spread food to other people."
However the farm may grow, it is clear it will continue to be a bastion of sustainability, diverse learning and intentionality. Urban Roots remains a labor of love that thrives on the openness and optimism of high school interns and college-age alumni.
"You have to lean into the farm," Bowman says. "That's a very popular saying on the farm. Lean into the awkwardness, lean into the experiences. Because when you do that, that's when you'll get the most out of the program."