Keith Maitland has a blind ambition. The filmmaker and liberal arts alumnus (B.A. Creative Writing, '98) wants you to keep an eye out (or an ear) for his forthcoming film, "Keep Your Ear on the Ball." The ensemble documentary offers an intimate look at the lives of four blind teens and will premiere on PBS in 2009.
A veteran of the Directors Guild of America's prestigious training program and seven seasons of NBC's "Law & Order," Maitland left New York City for Austin after meeting several students at the Texas School for the Blind and Visually Impaired (TSBVI).
"I've always been interested in questions of human perception," Maitland says. "What would it be like to lose one of your major senses? How do you take the clues around you and put them together to understand the world? I wanted to explore these questions through the prism of teenagers who have lost or are losing their sight."
"[In filmmaking,] you're always in a new place, interacting with new people. There are few jobs like it, where everyday you get to create something out of nothing, or tell a story that's never been told before."
In order to capture the TSBVI students' stories, Maitland and his producer, Patrick Floyd, immersed themselves in the lives of the teens, shooting more than 200 hours of footage in 2005 and 2006. The school offered the filmmaker unprecedented access to its campus, classes and extracurricular activities.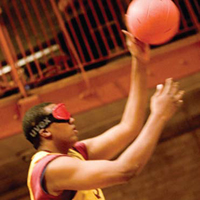 The film's title references goalball, a team sport designed for the visually impaired. A goalball weighs 3.5 pounds and contains jingling bells. Teams position themselves at opposite ends of an indoor court and try to roll the ball across their opponents' goal line to score points. Competitors track the ball's movements by listening to the bells.
Jason Archer and Paul Beck, the team who led the ground-breaking rotoscopic animation techniques for the films "Waking Life" and "A Scanner Darkly," are attached to the project. Maitland plans to use animation sequences to represent the loss of sight.
"Animation provides the visual cues to explain what is happening to these kids as they are losing their sight—what their perception used to be like, versus what it is today. And, how their brain works to distill their experience with all their other senses," Maitland says.
A Storyteller Gets His Start
Maitland's been delving into questions of identity and perception since he was 12 when his dad put a video camera in his hands, but it was in the College of Liberal Arts that he began to hone his skills as a storyteller.
He started out as a double major in both radio-televisionfilm (RTF) and creative writing. However, a summer internship convinced him that he could learn technical expertise and on-set training via internships. So Maitland dropped RTF and enrolled in a series of short story courses.
"What was really important for me during college was to read as much as possible and learn how to write dialogue," Maitland says. "Through my creative writing major, I learned how to inhabit characters and see the world through someone else's perspective. That has carried over to how I approach filmmaking."
Summer breaks would inevitably find Maitland on a film set somewhere. After a stint with Jim Henson's "The Wubbulous World of Dr. Seuss," a puppet television series on Nickelodeon, Maitland was ready for more serious fare. Next on his agenda was an internship with Richard Linklater's Detour Film Productions.
These summer internships paid off for Maitland when, after graduating in 1998, he earned a spot in the Directors Guild of America's (DGA) prestigious two-year training program. Hundreds of aspiring filmmakers compete for five to seven spots as assistant directors for some of the nation's leading directors.
During his two years as a DGA trainee, Maitland worked on dozens of feature films, polishing his production expertise alongside directors such as Woody Allen ("Smalltime Crooks") and Joel Schumacher ("Tigerland").
After completing the training program at age 24, Maitland became one of the youngest members to be inducted into the DGA. He soon landed a gig as an assistant director on NBC's "Law & Order."
Working for the show for seven seasons gave Maitland a strong foundation of industry experience, but he itched to get behind the camera on his own. In 2001, Maitland founded the independent production company Illegalfilms to pursue a variety of creative projects.
Early ventures for the fledgling company included the short documentary "40 Dogs a Day," which follows an ambitious San Francisco dog walker, and a music video for indie rock band Interpol. Then, in 2004, Maitland learned about an unusual event called "tractorcade" that would lead him on a trek across America's heartland.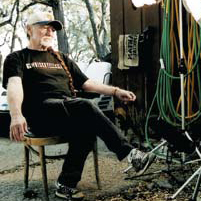 Tapping the Tao of Willie
In 1979, 6,000 American farmers from 43 states drove their tractors to the nation's capital at a mere 14 miles per hour. Their goal: to lobby the U.S. government to reform unfair pricing subsidies that endangered American family farms. The protest event became known as the great tractorcade of '79.
When Maitland heard about the massive protest by farmers, he knew the story needed to be told. At the top of his interview wish list for the documentary, "Tractorcade: The Spirit of '79," was Willie Nelson. Nelson credits the great tractorcade as one of the inspirations for Farm Aid, a 1985 benefit concert the country music legend organized to help family farmers. Maitland was confident he would be a great ally for the project.
"Willie is amazing, he's like the Texas Dalai Lama," Maitland says. "We sat down for a 30-minute interview about the tractorcade that turned into hours of shooting the breeze about Farm Aid, the plight of American farmers and bio-diesel fuels."
Maitland has interviewed dozens of farmers across the country for the documentary and hopes to complete "Tractorcade: The Spirit of '79" in time for the 30th anniversary of the
protest.
"It's a tremendous responsibility to tell the story of these farmers who were mavericks," Maitland says. "They were bucking their community. They're connected to their land and they don't take vacations, let alone protest in the dead of winter in Washington, D.C. But they felt so strongly about what they were doing that they were willing to put it all on the line."
For a maverick filmmaker like Maitland, putting it all on the line is all in a day's work. "What keeps me going is that you never stop learning in the filmmaking environment," Maitland says. "You're always in a new place, interacting with new people. There are few jobs like it, where everyday you get to create something out of nothing, or tell a story that's never been told before."