"I was impressed by their business savvy," Mohan says. "I met one woman who was living with her family in a very humble situation. But once a month she would travel to Buenos Aires to buy the latest fashions and come back to her hometown and sell them at marked-up prices. She knew what she needed to do to make a profit."
Mohan's experience in Latin America transformed the way she views poverty in the United States.
"Microcredit is an economic solution that transcends borders," Mohan says. "After witnessing Banco de la Mujer's success in Argentina, I'm looking at ways we can bolster the informal business sector and help people climb out of poverty here at home."
Reclaiming Lives in Vietnam
Christine Nguyen's (B.A. Plan II Honors/ Business/Government, '08) experience volunteering at an orphanage for sex-trafficking victims in Vietnam inspired her to found the Southeast Asian Children's Coalition, an international non-profit organization that combats poverty and exploitation.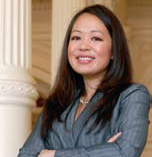 "My parents told me my whole life that I'm lucky, but I didn't know what that truly meant until I met Tau, a 12-year-old Vietnamese girl who escaped from the brothel where she was imprisoned as a sex slave," Nguyen says.
Human trafficking, the recruitment of people— often children—for the purpose of exploitation, including prostitution, is a growing problem internationally, Nguyen explains.
She has raised more than $60,000 for the coalition through grants and corporate contributions.
"Our work is not just about rescuing these girls from the brothels," she says. "The biggest challenge is reintegrating them back into society through education and job training."
Under Nguyen's leadership, the coalition has awarded 65 scholarships, raised funds for construction of a library at Nha Trang Orphanage, delivered medical supplies to an AIDS orphanage and created a counseling program for sex trafficking survivors at the Little Rose Shelter in Ho Chi Minh City.
"When I see the difference we've made in the lives of girls like Tau, who is now a mentor to other survivors, I know the work we're doing really can make a huge impact," Nguyen says.
Nguyen's activism in Asia caught the attention of editors at Glamour, who selected Nguyen for the magazine's profile of the "Top Ten College Women of 2006."
Upon graduation, Nguyen earned Harvard University's Rubenstein Fellowship. She began the university's joint graduate program in business and government last fall.
Learn more about students who have traveled far and wide in their quest for global citizenship.