Some writers look at it as baggage. Others, as garbage. And some feel it is so close to them, it is part of their soul.
Thomas Staley is talking about first drafts, an essential component of many literary archives he has acquired as director of the Harry Ransom Center. For Staley, it is the false starts, the notes in the margins, that offer a trove of literary insight.
"Drafts and correspondence tell you the story of how it all happens," he says. "When you realize why a writer threw something away, you learn more about that work. You see the next scene that was written instead, and why it was better. You get a sense of how the puzzle comes together. and that's invaluable for students and scholars."
Founded in 1957, the Ransom Center is a repository for literary and cultural materials that span six centuries, including the old manuscripts Staley covets. Among its holdings are a Gutenberg Bible, the first photograph, and a first edition of "Comus" containing John Milton's handwritten corrections.
At the helm since 1988, staley has added more than 100 literary collections to the center during his tenure. He also is a professor of english and has written or edited 13 books on James Joyce, Italo Svevo, and several other modern British novelists.
The New Yorker's 2007 profile of the Ransom Center, "Final Destination," describes Staley as "mercurial and hard-driving," but entering his office feels more like being ushered into the inner sanctum of a literary sensei, than a taskmaster. Books fill every niche. Manuscript pages flow across his desk. the scent of aged paper and binding glue fills the air. Very faintly, the footsteps of his acolytes echo in the halls. Staley's reverence for books is palpable, though he admits they have piled up to the point where he is constantly stepping on them.
If he is mercurial, perhaps it is a quality reflected in his storytelling.
When he cagily discusses a potential acquisition, his eyes narrow with resolve. But a tale about a first encounter with the final page proofs of "Ulysses" meanders like a jazz riff. When Staley's team dis-bound the pages, they discovered James Joyce's never-before-seen notes in the gutters, he recalls with a shiver of delight.
Ask him his favorite last lines from a great American novel, and Staley's voice shape-shifts again, this time to the baritone notes of an orator.
"Gatsby believed in the green light," he intones. "The orgastic future that year by year recedes before us. It eluded us then, but that's no matter—tomorrow we will run faster, stretch out our arms farther…"
Listening to Staley recite F. Scott Fitzgerald's "The Great Gatsby," one is convinced he, too, believes in the green light, that elemental beacon of the American dream. He certainly has stretched out the arms of the university farther in his quest to acquire the papers of many uniquely American voices, including Norman Mailer, Don Delillo, Isaac Bashevis Singer, Bob Woodward and Carl Bernstein.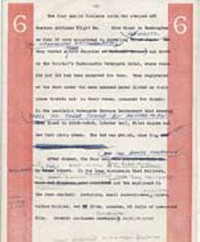 About Mailer in particular, Staley speaks with growling intensity. "His writing taps into the flotsam and jetsam, the pulling and tearing of America. He's very much like the Walt Whitman of the 20th century. If you think of major events, whether it was World War II, the feminist movement or Vietnam, he was there. His work touches so much of the American experience."
The Mailer Collection includes more than 1,000 boxes and constitutes the Ransom Center's largest single-author archive. Though the process of acquisition is more akin to a complicated seduction, the preservation of such a large-scale collection requires a different set of skills, Staley explains.
"Preservation is like archaeology or anthropology. We dig, we learn. And these things that cling to the grave, these manuscripts, we preserve them because they're part of the human record. They trace the imagination. And they explore the path we've taken as a nation."
In an era of digitization, the primacy of the original still holds sway at the ransom center. But how do scholars make sense of all the doodles and scribbles, the dead ends and literary rabbit holes? Isn't there a point when it's time to sit back and just read the finished product?
"Sure, when you get to the third or fourth draft, you can get bogged down in the creative process," Staley admits. In a way, it makes art seem more human. But for all that, it's still divine."
PHOTO OF THOMAS STALEY