Renowned neuroscientist heads up Texas' brain imaging center
More than 2,400 years ago, Socrates pondered the relationship between the human brain and the mind. He asked what role the brain might play not just in how we see, hear and smell, but in how we remember, understand and know.
Today, scientists are finally beginning to answer some of those questions. And The University of Texas at Austin's Imaging Research Center (IRC) with a new director in place and a new brain scanning lab under construction — is poised to play a major role in doing so.
The development of Magnetic Resonance Imaging (MRI) machines over the past two decades has allowed researchers to study different parts of our brain at work, to look at how they affect behavior, personality and thinking, and to begin to help those who suffer from mental illness or brain damage.
"This has completely changed cognitive neuroscience and psychology," says Russell Poldrack, the incoming IRC director, who is on faculty in both the Departments of Psychology and Neurobiology. "It's given us the opportunity to ask a lot of questions about the relationship between the brain and the mind."
A 42 year old Houston native and Baylor University graduate, Poldrack came back to Texas last fall from UCLA, where his research, measured approach to the new science, and commitment to collaboration made him a leader in the emerging field.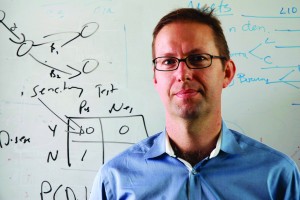 "Russ is a big player, a very big player," says John Jonides, a University of Michigan psychologist who has advised The University of Texas on elevating the status of the four year old IRC. "He's one of the few people on the bridge between neuroscience on the one hand and the development of technology on the other."
Poldrack's arrival coincides with the IRC's plans to use federal stimulus money to move from its current building near the J.J. Pickle Research Campus in north Austin to a new space that will be completed in the Norman Hackerman Building at the heart of campus by 2011.
University officials, led by College of Natural Sciences Dean Mary Ann Rankin and College of Liberal Arts Dean Randy L. Diehl, lured Poldrack to campus and committed to the new lab to help propel the university into the top tier of brain scanning centers in the country along with UCLA, Stanford and Massachusetts General Hospital.
"Brain imaging and functional MRI technology are revolutionizing our understanding of the brain, and will continue to do so for decades to come" says Diehl, a psychologist who studies how the brain perceives speech and language. "Our decision to bring Russ here and to invest in the new, accessible IRC space on campus is already helping us to engage faculty from across campus and make this a true center of research."
"I'm pleased that we could collaborate on recruiting Dr. Poldrack," says Rankin. "He has already dramatically changed our prospects for growing this exciting program."
Jonides, a professor of psychology and neuroscience and co director of Michigan's Functional MRI Center, headed up an outside panel of experts that recommended such changes last year. Of the dozen or so schools he's advised, he says he's never seen one respond so quickly.
"I've been thrilled at how aggressive Texas has been to follow through," he says, adding that it's generated a buzz among cognitive neuroscientists across the country.
New tools, Powerful results
Until recently, there was no easy, noninvasive way to look at what goes on in the human brain. Scientists, instead, had to rely on animal research or look at brain-injured patients — epileptics or those who suffered strokes, for example — who needed surgery.
That changed in the 1990s with the development of MRI.
"To be able to look at what's going on in the brains of healthy, normal individuals, that's what this is all about."
The machines use magnets to analyze blood flow and determine what areas of the brain are being used at a given moment. Doctors and hospitals also use the machines — which patients usually slide into on their backs — to study other areas of the body and diagnose everything from breast cancer to multiple sclerosis.
The 27,000-pound, General Electric machine at the IRC is about twice as powerful as a typical medical MRI. It takes up most of a room (where cell phones, credit cards and other devices sensitive to magnets are prohibited) and is separated from researchers by a series of windows. From the other side of the glass, the researchers use computer terminals to monitor subjects' brain functions as they answer questions, recall memories or perform a multitude of mental tasks while inside the machine.
"To be able to look at what's going on in the brains of healthy, normal individuals, that's what this is all about," says psychology professor Arthur Markman, who was interim director of the IRC last year and studies how the human mind categorizes and classifies different information.
University of Texas psychologist David Schnyer, for example, looks at how sleep deprivation affects brain functions and decision making. His research could have implications for firefighters, soldiers or others who may work in a sleep-deprived state.
Other research being conducted by university faculty ultimately could help treat patients with depression, addiction problems, or even cancer.
Poldrack, who has his doctorate from University of Illinois and has been on the faculty of Harvard University and Massachusetts General Hospital, studies learning and memory, decision making, and executive control in the brain. He looks at questions like why we might take our usual route home forgetting, say, to stop for milk along the way.
A regular blogger for The Huffington Post, he has also helped the emerging field of cognitive neuroscience find direction and work through some of its growing pains, colleagues say. In 2007, he was among a group that questioned an imaging study reported on by The New York Times which claimed brain scans revealed what voters were feeling as they looked at pictures of various presidential candidates.
"Functional MRI has revolutionized our ability to safely image brain activity, and its broad accessibility has allowed researchers around the world to ask fascinating new questions about the mind and brain," Poldrack wrote in an article last year. "At the same time, it is all too easy to leave the limitations and caveats of these methods out of the picture. This results in a common perception that overrates the power of brain imaging to explain everything from love and beauty to financial decision making."
Building a community
In his few months on campus, Poldrack has drawn praise for that sort of even-keeled approach and for reaching out to faculty in psychology, neurobiology and beyond.
"Although he was recruited for his expertise in neuroimaging, he is making sincere efforts to address other imaging needs here on campus, including those involving cancer and designing an imaging suite that's well suited for multiple purposes," says pharmacy professor Carla Van Den Berg, who researches breast cancer. "He brings a skill set and strategic approach that provides faculty an opportunity to perform more translational research here on campus."
Indeed, the new center in the Norman Hackerman Building will include a second scanner that will also allow researchers to study animals as well as humans. The IRC will pay for part of the new lab with $3.8 million it has received through the American Reinvestment and Recovery Act. The grant was awarded by the National Center for Research Resources, a component of the National Institutes of Health.
Poldrack hopes to fill four new faculty positions at the IRC in the coming years.
"This is really bringing together the people on campus who are interested in brain and behavior," says Markman. "UT psychology programs and neuroscience programs are among the top programs in the world. It's a natural extension of that."
The new center will allow researchers to continue studying the connection between the brain and mind that philosophers and scientists have pondered for centuries.
"In order to be a player in cognitive neuroscience you absolutely have to use brain imaging," Poldrack says, "because it answers so many questions."

Watch this video to learn more about Poldrack's brain imaging research.