Graduating seniors test the waters in internships around the world
The word "internship" often conjures images of frantic coffee runs, mind-numbing busywork and countless hours in front of the copy machines. But for many liberal arts students at The University of Texas at Austin, it evokes memories of globetrotting adventures, new friends and transformative experiences.
The following stories profile just a few 2010 graduates who have overcome adversity, discovered new strengths and fine-tuned their career paths in internships around the world.
Panama Brigades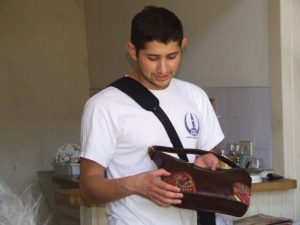 In 2007, Yilver Aguilera was on the verge of quitting school at The University of Texas and giving up on his dream of a career in finance. Grieving over the death of his father, who was shot by a gang member that year, Aguilera was overwhelmed by hopelessness.
Just when he thought he had no other option but to return to his hometown in an area overrun by gangs in Honduras, he received an offer from the Panama Brigades, a student-run program that provides consulting to small business owners in impoverished communities in Panama.
"It's my responsibility to help others emancipate themselves from situations like mine."
"When Panama Brigades offered me an internship, I realized that giving up was not an option," says Aguilera, a Spanish/finance major. "Too many people have invested in me and it's my responsibility to help others emancipate themselves from situations like mine."
During his summer internship, Aguilera helped a shoemaker and a tourist shop owner market their businesses by creating logos, signage, business cards and long-term financial plans.
He had initially planned to pursue a master's in public policy and a career at the World Bank or the United Nations and had worked as a legislative intern for a Texas state representative. But after seeing how much he could help the shopkeepers through Panama Brigades, he decided to continue consulting so he could work directly with people in need.
Internships allow students to gain real-world insight into their chosen profession, which can help them discover new opportunities and avoid falling into the wrong career, says Kate Brooks, director of Liberal Arts Career Services.
"Sometimes the image of a career can be quite different from the reality," Brooks says. "Movies and TV shows need to be dramatic, so they tend to show action-oriented aspects of a career field — not day-to-day reality. You'll never watch a lawyer writing a brief, or a doctor filling out insurance claims. Students who complete internships get to see the profession first-hand and make their own judgments about whether they find it interesting and compelling."
Redirecting his career path away from policymaking, Aguilera created the Student Consulting International Organization (SCIO), a non-profit organization, much like Panama Brigades, that focuses on creating business solutions for impoverished communities. Aguilera has since established a SCIO chapter at Carnegie Mellon University and is currently expanding it to the Massachusetts Institute of Technology and New York University.
This summer Aguilera plans on developing a micro-insurance pilot program, a low-cost insurance provider for small business owners in developing countries. Without Panama Brigades, Aguilera said he never would have known micro-insurance existed.
"The axiom that 'you don't know what you don't know' applies to internships," Brooks says. "The internship can be the starting point of a new career field — someone who initially takes an internship in one field may learn about a related field that they never knew existed."
Moscow Times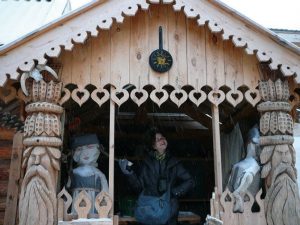 When Jessica "Annabel" Lee, a Russian language and culture/Plan II major, set her sights on a journalism internship in Moscow, she wasn't about to let the fear of deportation stand in her way.
During her year studying abroad in Russia in 2008, Lee doggedly sought out internships at a daily newspaper or a radio station in hopes of investigating censorship in Moscow.
When she learned one radio station was about to be shut down by the government and that she could be kicked out of the country for working with a newspaper critical of the government, she felt even more enticed to take on a reporting job. But she had no contacts and limited job opportunities, and ended up using a chance encounter with a Moscow Times reporter at a university lecture to land an internship at the paper.
"I literally ran after her when the lecture was over and told her I wanted to work at the Moscow Times," Lee says. "I knew I had a chance when she scribbled the name of the editor on a piece of paper and told me to contact him."
Despite Lee's lack of experience in print journalism, the editor hired her on the spot and sent her off on her first assignment.
From attending exclusive afterhours parties to gaining VIP access to Moscow Fashion Week, Lee discovered a side of Russia she never would have seen as a student studying abroad.
Aside from the glamorous parties and freebies, Lee said the biggest perk was speaking with the locals in their native tongue. Covering Moscow's arts scene, Lee wrote a variety of human interest pieces — from a profile of an eccentric artist who made sculptures out of staples to a story about a young girl who found her interest in photography after taking photos of her near-fatal car accident.
"The best part of the experience was the language interaction," says Lee, who plans on pursing a master's degree in international relations and hopes to someday work in the diplomatic corps.
Although she has set her sights on joining the Foreign Service, Lee says she's open to the possibility of writing freelance stories as an advocate journalist.
"I'm really fascinated by journalism," Lee says, "and if I decided to pursue it, I'd work in places where I could advocate the power of the press in places that aren't necessarily safe."
ACLU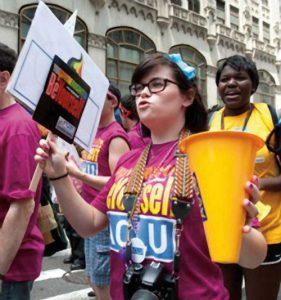 After taking a course on women's reproductive health, Anna Russo, a Liberal Arts Honors/government major, became interested in bridging the sex education gap in public schools, but she wasn't sure which career path to take.
It wasn't until she served as a public education intern for the American Civil Liberties Union (ACLU) in New York in 2008 that she discovered her interest in public policy.
"Internships allow students to learn that through their degree they have developed strong skills valued in the workplace, such as analysis, communication, creativity and flexibility," Kate Brooks, director of Liberal Arts Career Services says. "They can learn how to use what they've learned and connect the dots between their education and their potential career."
"Don't you want to learn from people who have already been there?"
Russo spent her summer promoting the ACLU's Reproductive Freedom Project, a program that works to protect access to the full spectrum of reproductive health care without government interference. Focusing on public outreach, Russo worked on blogs, press releases and social media projects. As the summer progressed, Russo said she grew fascinated with the organization and its mission.
Today she is interning for ACLU Texas, where she is continuing her advocacy for contraceptive rights and sex education reform.
"It just baffles me how people can go through college without interning," Russo says. "Eventually you're going to have a career, don't you want to test the waters to find out what you like and what you don't like? Don't you want to learn from people who have already been there?"