Interdisciplinary faculty seminar brings University's resources to the public
As one of the worst environmental disasters in history unfolded in the Gulf of Mexico this spring, it was only fitting that the Humanities Institute's Faculty Fellows Seminar was completing a year of studying "Intellectual Life at Moments of Crisis."
To promote intellectual exchange across disciplines, the Humanities Institute invited 14 faculty members to present their research on this topic at weekly roundtable discussions over the past year. These faculty fellows talked about everything from artistic expressions of violence to the social trauma of war — and discussed their works at community outreach events, typically held on Wednesday evenings at various locations around campus.
Pauline Strong, Humanities Institute director and associate professor of anthropology, says she sees the seminar as a unique opportunity to break down barriers and build bridges across disciplines. Among the large pool of qualified applicants, Strong says the fellows are chosen for their high quality research, as well as their interest in engaging with colleagues across campus.
"We want them all to come from different disciplines, represent a variety of perspectives and address an array of topics," Strong says. "We also want them to interact with faculty in a seminar and also offer a seminar that would be of interest to the community."
Founded in 2001, the institute is dedicated to building a civic and intellectual community by bringing people together to explore issues and ideas that matter. It has sponsored the yearly seminar since 2001, providing a forum for faculty to discuss such issues as "Ethical Life in a Global Society" and "The Work of Religion: Past, Present and Future."
Denee Reed, a fellow last year who studies early human origins and evolution in East Africa, says the discussions inspired him to consider researching the relationship of science and religion.
"These are ideas that will improve my research and the quality of my teaching."
"The seminar has brought me together with faculty from many different departments, people that I may never have encountered were it not for the seminar," says Reed, a professor of anthropology. "These encounters have greatly enhanced the scope of my research, given me new tools and theoretical perspectives for developing ideas. These are ideas that will improve both my research and the quality of my teaching."
Providing more time for the fellows to delve into their research, the seminar offers a one-course teaching load reduction for the semester. Strong says she is seeking support to include advanced graduate students as junior fellows.
Each year the fellows invite four or five visiting scholars to participate in the seminar. The visiting scholars also discuss their works in the evening public lectures sponsored by the Humanities Institute's Distinguished Visiting Lecturers Series. The forums are designed to break down walls between the university and the larger community.
"Our visitors who are really well known in their fields appreciate sharing their work with a group of faculty and community members," Strong says. "It's very special to them, and we are able to show people outside UT the quality of our faculty and of our intellectual exchange."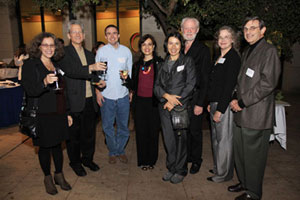 Stephen Sonnenberg, a psychotherapist at Baylor College of Medicine in Houston, says the discussions helped him explore a new realm of psychoanalysis. After presenting his research on the power of intellect in an age of violence, he says the fellows' responses ignited his newfound interest in the psychology of resiliency.
"I find that when people from different fields come together, they really stimulate each other to generate new ideas," says Sonnenberg, who participated in the 2009-2010 seminar as a visiting fellow. "Getting out of your own discipline and speaking with people of other fields really sharpens your focus on new ideas in a very exciting way."
In 2011 the Humanities Institute will sponsor an interdisciplinary faculty seminar and public lecture series on the topic "The Public and the Private." Current issues such as privacy on the Internet, public funding for education, and the relation between private resources and the public good will be discussed in a broad historical and comparative context.