Liberal Arts students committed to helping others and researchers explain why
But day after day, Majid continued to feel empty and restless.
"I didn't like where my work was going," Majid says. "I never felt that the work I did meant anything to anyone really. But now I feel like every single ounce of energy I give makes a difference in someone's life."
After his one-year stint in the private sector, Majid took over as the executive director of Eastside Community Connection, a nonprofit that provides education classes and food to low-income East Austin residents. The group is managed largely by student interns and volunteers.
"Many see young people as self-absorbed and focused on superficial things, but now — more than ever — they're going to realize these people they've discounted are going to be a force," Majid says.
During his time at the university, he ran an environmental program for youth, created a service organization for first-year students and coordinated Project 2003, one of the university's largest one-day service programs.
Majid is among a growing number of college students and recent graduates dedicating their time and resources to the greater good. Some travel overseas to administer aid in earthquake ravaged nations, others sacrifice their spring breaks to build houses and some use their high-tech skills to feed the hungry in poor, local communities. Like Majid, many recent graduates go on to pursue full-time service work in nonprofits and charitable organizations around the world.
"Many students choose to volunteer to find a sense of purpose and self-empowerment. Empathy is a powerful force that drives people to 'give back.'"
Seventy-five percent of students at The University of Texas volunteered nearly 3 million hours in community and university projects during the 2001-02 academic year, according to a 2002 study conducted by Marc Musick, associate professor of sociology and associate dean for student affairs in the College of Liberal Arts, and a team of researchers in RGK Center for Philanthropy and Community Service.
Eight years later, Musick believes the numbers remain the same.
Opportunities Abound
Musick and co-author John Wilson, delved into volunteerism in their 2007 book "Volunteers: A Social Profile," which won the Best Book Award from the Association for Research on Nonprofit Organization and Voluntary Action in 2009. Based on data from research studies throughout the university and around the world, the book covers a broad range of aspects of volunteering.
"We really have been bucking the trends in volunteering research," Musick says. "A lot of other research studies have been based on motivations, but we focused more on measuring what opportunities people are exposed to."
He says there are many reasons service work is so popular among college students. One is that they're surrounded by opportunities.
"College campuses are a hub for volunteering," Musick says. "If you're in the community and have no ties to volunteering organizations, you're most likely not going to volunteer. But if you're on campus, you can just walk through the South Mall or go to the Center for Volunteering and find a wealth of opportunities."
Contrary to the "Animal House" depiction of Greek life, Musick says fraternities and sororities volunteer more than anyone on campus and deserve credit for their lofty philanthropic endeavors.
Delta Gamma member Caitlin Eberhardt spends much of her spare time mentoring students at the Texas School for the Blind and Visually Impaired, a part of her sorority's philanthropy, Service for Sight. She also chaired the Litter Committee of the university's Campus Environmental Center, where she worked with the Green Greeks Program.
Eberhardt's commitment to others was borne out of her personal struggles. During her senior year in high school in Coppell, Texas, she temporarily developed debilitating vision problems. Unable to read or drive, she was overwhelmed with fear and uncertainty.
Everyday I am amazed with the resources available on our campus to do projects like this. It's helped me to see how with a little drive, elbow grease and a good cause, people can really pull together to do some good things."
"It was a very difficult time, but I gained perspective on the strength and courage the blind and visually impaired garner on a daily basis to function in an often-unaccommodating world," says Eberhardt, a 2010 graduate in history and anthropology. "Although my vision is back to normal, I continued to empathize with blind and visually impaired people."
Paying it forward
Although many may assume altruism drives people to volunteer, Musick says self-interest lies at the root of almost all "altruistic" behavior.
"Many students choose to volunteer to find a sense of purpose and self-empowerment," says Musick. "Empathy is a powerful force that drives people to 'give back.'"
Christina Ngo, a 2010 sociology graduate, is all too familiar with the struggles students face in underserved high schools. A daughter of Vietnamese immigrants, she grew up in an underserved community in San Antonio, where she attended overcrowded, low-quality public schools. Through hard work and perseverance, she says she excelled in school and earned generous college scholarships.
"Having been fortunate enough to receive a great deal of financial support from many different areas when I thought I couldn't afford to go to college led me to the next step — I want to able to 'pay it forward,' to give back to others, and to commit myself to helping other people achieve success no matter the barriers," Ngo says.
In between classes and her time-intensive thesis project, Ngo dedicated her Saturdays to tutoring a high school student with a background much like her own, limited financial resources and big dreams for the future.
After graduating in May, Ngo went to teach math and science at an inner-city school in Phoenix through Teach for America. She also hopes to work toward her doctorate at the LBJ School of Public Affairs and eventually become an advocate for educational and housing policy reform.
"Since I found out about Teach for America and its goal to eliminate the achievement gap, it has been my dream to be part of the program because of the influential teachers I have had throughout my educational path," Ngo says.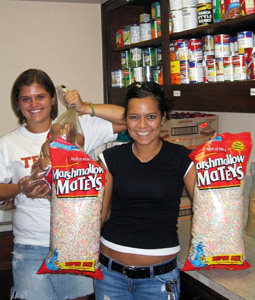 A Lasting Impact
While volunteering at Eastside Community Connection, Heath Cleveland, a rhetoric and writing senior, found his calling, helping underserved communities break out of the cycle of poverty in Austin and throughout the world.
As the food pantry director, Cleveland discovered a visionary idea for a streamlined food-ordering database. He took his idea to a management information systems class in the McCombs Business School, where he fleshed out his creation with his instructor and a team of students.
"Everyday I am amazed with the resources available on our campus to do projects like this," Cleveland says. "It's helped me to see how with a little drive, elbow grease and a good cause, people can really pull together to do some good things."
Using his online grocery-ordering system, he started his own organization, Nonprofit Services and Information Networking Center, in which he focuses on creating a more effective and efficient food service system. By this fall, the database will be operating in multiple food pantries throughout Texas. Working closely with ECC, he has helped Sly Majid and his team operate their food pantries more efficiently.
Majid says Eastside Community Connection is dedicated to serving as a springboard for future leaders in the nonprofit sector.
"The five years I've worked in this office, I've seen the most talented and giving young people I've ever encountered," Majid says. "The beauty of this generation of young people is that they have high caliber skills in technology and an unsurpassable desire for change."
ILLUSTRATION BY DIRK FOWLER