Celebrating 70 Years
The Naval ROTC program at The University of Texas at Austin was barely a year old when the Japanese attacked Pearl Harbor and the United States was thrust into World War II. The unit's emphasis onservice and sacrifice was evident immediately. Young men lined up on campus to become part of the first class of naval officers from the university to go to the war. So many students wanted to enroll that officials admitted a second class of freshmen. Throughout the war, about 400 students a year were enrolled in the program, many of them expediting their studies in order to earn their commissions as Navy and Marine Corps officers.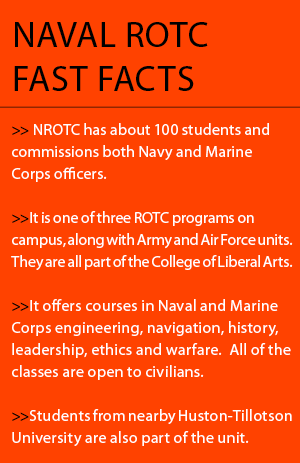 This fall marks the 70th year that Naval Reserve Officer Training Corps (NROTC) has been a part of the academic and social life of students on campus. Originally established in September 1940 by order of President Franklin D. Roosevelt, the program recently moved from its longtime home in Russell A. Steindam (RAS) Hall and is preparing to move to the Liberal Arts building soon to be constructed on the East Mall. It is temporarily housed in the George I. Sánchez Building.
"NROTC is a group of students with a focus not only on military service, but also service to country, community and themselves. It's fundamentally about creating a solid basis of personality," says Capt. Mike Spence, former NROTC chair and professor of naval science. Spence stepped down as chair this year and has been replaced by Capt. Daniel Dixon.
Originally commanded by Capt. Herbert Underwood and housed in the Littlefield Home, Naval ROTC was the first military officer training program at the university, and one of the first in the nation. Its mission is to "develop midshipmen mentally, morally and physically and to imbue them with the highest ideals of duty, honor and loyalty."
Capt. Max Miller, United States Naval Reserve (Ret.) and a 1957 graduate, says he developed strong leadership and interpersonal skills in the program and connected to a group of motivated peers who became lifelong friends.
"If it wasn't for NROTC, I wouldn't have been able to come to UT. Now I can give back (to the university and program). We're pretty diverse graduates," says Miller, who is president of the Midshipman's Foundation which grants scholarships to NROTC students.
Students come into the program in a variety of ways, but most receive a full scholarship from the Department of the Navy, in return for dedicating a set number of years, usually five or six, to serve as military officers.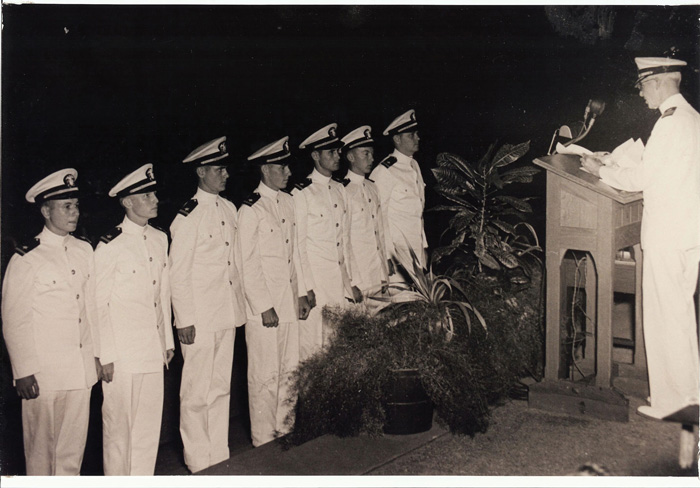 Many of the university's NROTC alumni have gone on to become great military (including flag rank) and political leaders, as well as leaders in business, engineering and other fields, including Rear Admirals Clay Fulcher and Weldon Koenig, James Mulva, CEO of ConocoPhilips, and Vice Admiral William McRaven, the current commander of the Joint Special Operation Command. They and other alumni have contributed in many ways to the university and NROTC program, such as giving generous financial donations, chairing research boards and preserving the battalion's history through memoirs and gifting naval artifacts to the unit.
More than 90 NROTC students continue to make an impact on campus today, says Marine Corps Sergeant Jacob Fernandez, the student executive officer (XO) of the NROTC battalion, and senior from Del Rio, Texas.
"NROTC brings creative minds and intelligent, hard-working people who are goal oriented (to campus). The battalion tends to contribute higher academic work, showing productivity as students as well as battalion members," says Fernandez.
The program requires many hours of dedication beyond its core academic requirements. Students are also expected to show an aptitude for military leadership in a variety of areas such as physical fitness, leadership positions called "billets" in the battalion and extracurricular volunteer work for the battalion and community.
During the summer the midshipmen dedicate at least one month to "on the job" training in active duty Navy and Marine Corps units. They serve on ships, submarines, in aircraft squadrons and Marine warfare training courses.
The program also provides military support for ceremonies, such as honor guards for university memorial services and color guards for football games.
As part of the annual "Run to Dallas," unit members run the game ball 200 miles from Austin to the Cotton Bowl for the Red River Rivalry against the University of Oklahoma, while donating hours of volunteer work and money to a charitable organization for every mile they run.
Another highlight each year is the spring Zimmerman Reconnaissance Challenge, a grueling adventure race that supports the Zimmerman Memorial Foundation which provides athletic grants and scholarships for local youth.
To celebrate the program's 70th anniversary, alumni will gather on campus the weekend of Nov. 12-14.
Amid the change and beyond the anniversary, Capt. Miller says making sure NROTC has the resources to be successful remains a top priority.
"The Navy has given us experiences we wouldn't otherwise have," he says. "It's the fast track to being successful."