That will be followed by philosophy, then the junior seminar and senior thesis. Professors will include world-renowned historians H.W. Brands and David Oshinsky as well as such University of Texas icons as former Plan II director Paul Woodruff.
The only difference this time around is that the experience will be packed into a single weekend instead of four years.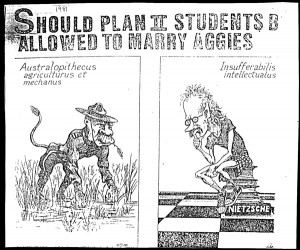 To celebrate its 75th anniversary, the Plan II Honors Program is inviting more than 5,000 alumni to campus March 25-26 to re-experience the program that helped shape many of their lives. They'll sit in on classes that will challenge their ideas and hone their thinking skills. And, just as they did the first time through, the graduates will make new friends, cement relationships and even swap some stories at a nearby watering hole.
"We are building into the weekend not just the intellectual experience but the socialization so important to the program," says Plan II director Michael Stoff, a Distinguished Teaching Associate Professor in the History Department.
"Our aim is to celebrate all the parts of Plan II that make it so special — our professors, our staff, our students past and present and, of course, the curriculum."
Faculty and staff are also marking the anniversary by creating a new group — Plan II Alumni & Friends — that will help graduates keep up with the latest initiatives and support current students.
"Becoming an active member will be a simple, direct way for alumni to stay in touch with each other, network around professional interests and ensure that students today have the same privileges and experiences that alumni enjoyed while they were students," says Plan II alumni liaison Phillip Dubov.
Founded in 1935, Plan II is something of a small liberal arts college in a giant university, an alternative to the traditional UT academic path (formally known as Plan I). The curriculum has always included a core group of courses in the humanities, social sciences, natural sciences, mathematics and other disciplines.
About one-third of applicants are admitted to the program and each freshman class includes about 200 students who take classes together and often live in a common dormitory. The admissions committee is not just looking for good grades or strong extracurricular activities, says Stoff, but for what he describes as "Plan II-ness." That can include extraordinary experiences, talents, skills and intellectual curiosity.
Notable alumni include Diane Wood, a federal appeals court judge who was recently on President Obama's short list for the Supreme Court; Betty Sue Flowers, the former director of both Plan II and the Lyndon Baines Johnson Library and Museum; and Austin Ligon, founder of the CarMax auto dealerships.
"I have started a nonprofit camp that provides football training, SAT prep and courses in life skills development to at-risk high schoolers in East Texas," says another notable graduate, Detroit Lions assistant football coach Daron K. Roberts. "Plan II changed my life for the better and stretched my mind in unimaginable contortions. To this day, the lessons learned on the Forty Acres loom large in my psyche."
Over the past decade, Plan II has expanded its mission. It has formed a partnership with the Knowledge Is Power Program (KIPP), a national network of free, open-enrollment public schools, that allows Plan II students to teach and mentor the children.
And the program has developed study abroad courses that have taken students to Italy and elsewhere.
"I am in Monteverde, Costa Rica right now, taking part in the unbelievable experience of studying the land issues involved in conservation with the other students and faculty on the Plan II Maymester to Costa Rica," sophomore Georgene Hergenroeder wrote to faculty and staff earlier this year. "The Plan II Study Abroad Scholarship helped me fund this incredible opportunity."
Students will speak with alumni about such experiences during the upcoming reunion. Other highlights of the weekend include presentations from seniors about their theses as well as a lunch honoring past Plan II directors, a moonlight tour of campus and a reception at Scholz Garten.
The schedule should remind graduates how much Plan II shaped their lives.
"We're more than a curriculum," Stoff says. "We're a community."