On Feb. 3, University of Texas Regent Steve Hicks and University of Texas at Austin President William Powers joined College of Liberal Arts faculty, students and alumni to ceremonially break ground on the new Liberal Arts Building on the East Mall. The building will be finished in late 2012 and will give the college a space of its own for the first time.
Among those in attendance were James and Miriam Mulva of Houston, whose $15 million donation has made the building project a reality. James Mulva, chairman and CEO of ConocoPhillips, is a graduate of the university's ROTC program, which is part of the College of Liberal Arts. The ROTC floor in the new building will be named for him.
Below are excerpts from President Powers' remarks on the importance of the liberal arts:
Today, we celebrate the start of a new building for our campus. But more than that, we celebrate the work that will take place here once the doors are open to our students and our faculty. Our knowledge will be expanded, and lives will be transformed. The liberal arts are central to a great education. And now the College of Liberal Arts will take center stage on our campus in a magnificent new building.
The humanities — literature, philosophy, history, linguistics — are sometimes treated as grace notes that make our lives richer and more enjoyable. And certainly they are that.  But they also shape the critical thinking, innovation and leadership that are needed to navigate the 21st century. They sharpen our ability to engage the world.
Some of society's greatest challenges in the recent past have not been problems of technology — but crises of ethics and leadership. Look no further than the meltdown of our financial markets in 2008, the collapse of Enron in 2001, or the dot-com bust of 2000 to recognize our overwhelming need for the grounding in ethics and fair play that the liberal arts can provide.
So today we salute a new building for our university, the work of great faculty and students, and the promise of the liberal arts for creating a better society.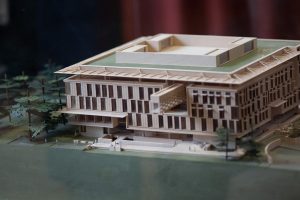 Top photo from left to right: Capt. Daniel Dixon, Naval ROTC; CDR Christopher Bowman, Air Force ROTC; President William Powers; James & Miriam Mulva; Dean Randy L. Diehl; and LTC Boris Robinson, Army ROTC.
PHOTO BY BRIAN BIRZER