Carolyn and Peyton Townsend raise their horns to a world-class education
Carolyn Townsend will always remember her tearful parting from The University of Texas at Austin after earning her Bachelor of Arts degree in history and English in 1966.
"I was the last one out of the Pi Phi sorority house," Carolyn says. "I put all the rush costumes in order, walked through the empty house and cried all the way back to Fort Worth."
She didn't know then that she was simply graduating into a new relationship with her beloved alma mater.
"By marrying into the Townsend family with their strong tradition of giving back to the university, I assured myself that I would continue to enjoy the university even more as an alumna than I did as a student," Carolyn says.
Bonded by their Longhorn pride, Carolyn and Peyton Townsend have been married for 42 years.
"The University of Texas is what we do," Carolyn says. "We serve on three advisory councils, two boards and two visiting committees. We are here a lot, and it's a lot of fun. We even vacation at the Alumni College every June."
Peyton Townsend, who comes from a long lineage of Longhorns, fondly remembers the moment he fell in love with the university.
"In the fall of 1947 my parents, who had met at the university in the twenties, took me to Austin for a football game," he says. "Without going into details, which for some reason are very emotional to me, at age seven I fell in love with this campus, this university and what was then a relatively small town."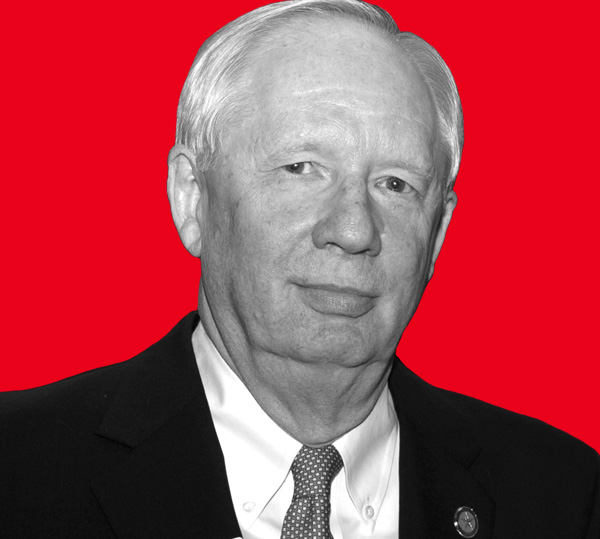 When it was finally time for Peyton to enroll, he jumped in with both feet. He held several offices in his fraternity Delta Tau Delta and became involved in sports, campus politics and the Silver Spurs, an honorary service and spirit organization responsible for the caretaking and transportation of the university's mascot, Bevo.
After graduating with an Army ROTC commission and a Bachelor of Arts degree in government in 1962, he served two years on active duty in the U.S. Army and took some business courses at Southern Methodist University. In 1966, he joined RBC Wealth Management, an investment banking and brokerage firm. This August marks his 45th year with the firm, where he now serves as first vice president.
"I attribute much of my success to my liberal arts education," Peyton says. "I feel greatly indebted to all the professors who enriched my academic experience. To steal a phrase, they allowed us to see the world in technicolor. I believe the Brands, the Oshinskys, the Millers and many others will hold that same luster in their students' eyes 50 years hence."
Carolyn, a former academic language therapist, says she cultivated her interest in language and culture in a popular Shakespeare course taught by Thomas Cranfill.
"I can still vividly remember Dr. Cranfill's famous portrayal of Lady McBeth," Carolyn says. "I always looked forward to going to his class because he made Shakespeare come alive."
Sharing a passion for programs in the humanities, the Townsends are strong supporters of Shakespeare at Winedale, the Normandy Scholars Program, the Arabic Flagship Program and the Thomas Jefferson Center of Core Texts and Ideas.
"We focus a lot of our attention on the quality of teaching and scholarship in literature, history and language study," Peyton says. "An appreciation for literature, language and culture is fundamental to the progress of any society."
To say the Townsends are active members of the university community is an understatement. They support a number of programs in schools and colleges throughout the university, including the McCombs School of Business, the College of Fine Arts and the College of Natural Sciences. However, the College of Liberal Arts is where they will always call home. Both are members of the college's advisory council, a volunteer group that works with the dean of liberal arts to help advance the college's key initiatives.
One initiative that is of particular importance to the Townsends is maintaining the university's standing as a top tier research university in the United States.
"If we believe education is the future, I would say that it is well worth supporting this university, this research university, which we care deeply about with our time, effort and treasure," Peyton says.
Gordon Appleman, a longtime friend of the Townsends and fellow Liberal Arts Advisory Council member, said energy, innovation and consistency are the hallmarks of Carolyn's and Peyton's commitment to the college.
"I have known the Townsends for a long time, and I have never known a time when service to the university was not foremost in their minds," said Appleman, economics alumnus '59, at the Pro Bene Meritis Award reception on April 28, 2011. "They are great individually. They are more formidable as a team."