New Officer's Room Honors A Hero
When the new Liberal Arts building opens in January 2013, thousands of students, faculty and staff will flood its pristine new hallways, and marvel at the architecture and amenities. But a building of this undertaking is much more than bricks and mortar.
For the family and friends of Captain John Clark Hurst, the new building gave them an opportunity to remember and honor a beloved University of Texas at Austin alumnus and fallen Vietnam veteran. On October 13, they gathered to celebrate the naming of the Captain John Clark Hurst Naval Commanding Officer's room in the building's ROTC wing.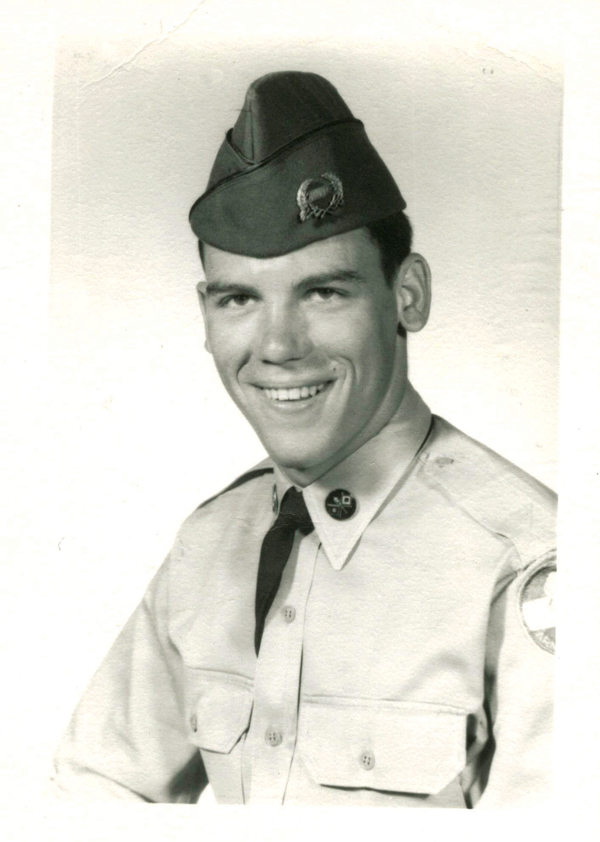 Hurst, a native of Lufkin, graduated from the university with a Bachelor of Business Administration in 1964, where he was named a distinguished military student. He was also an exceptional intramural athlete, president of the Beta Theta Pi fraternity and a member of the Texas Cowboys — a spirit and service organization. As an alumnus, he became a lifetime member of the Texas Exes Association.
A captain and decorated pilot in the Marines, Hurst was killed on July 13, 1968. While conducting a close air support mission about 10 miles south of Khe Sanh, his F-4 was hit by ground fire, burst into flames and crashed before he could escape the aircraft.
He was survived by his wife, Ellen Clarke Temple; and son, John Hurst, Jr., who was just an infant at the time.
Temple's long-time friend Fran Vick, who lost her brother in the Pacific during World War II, initiated the campaign to memorialize Hurst. Vick, Hurst and Temple forged a friendship during their time at The University of Texas at Austin.
"Although his life was short, he loved the university and was so proud to be a part of it for the short time he lived," says Vick, who serves on the College of Liberal Arts Advisory Council. "I am so pleased to have been a part of honoring him on the campus he loved."
Vick reached out to Hurst's base of friends including his Beta fraternity and the Marines. To date 53 donors have contributed more than $100,000 to name the room, many who joined Temple and her husband Buddy, her son John Jr., and Hurst's twin brother Jim during the naming celebration.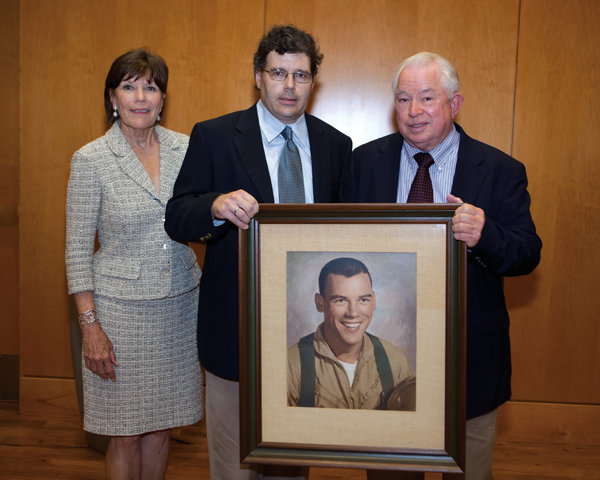 "I knew John well, having grown up with him in Lufkin, and I can attest that nothing in John's brief distinguished military career, either in ability or leadership, would have surprised any of his lifelong friends," says Michael Simpson, University of Texas at Austin alumnus and Beta'65 who traveled from Whitehouse, Texas, to attend the naming ceremony. "John was sincerely admired by everyone whose life he touched."
Vick attributes much of the project's momentum to the Betas, particularly Jim McDugald, a University of Texas alumnus and Beta, who was instrumental in tracking down contact information and reaching out to his fraternity.
"When he went into the service he chose to go into the Marines and into flight training," McDugald says. "I have seen his name on the Vietnam Wall in Washington, and I knew no remains were found after his jet was shot down. When contacted by Fran Vick, I volunteered to search for Beta brothers in the fund-raising effort for this true American hero. The Captain John Clark Hurst Room is a fitting memorial to him and his memory."
With more than 270 successful missions in Vietnam, Hurst was a recipient of two Distinguished Flying Crosses, 21 Air Medals, a medal for service in Vietnam and a Purple Heart.