Troy Kimmel is a senior lecturer of Studies in Weather and Climate in the Department of Geography and the Environment. He is a committee member/instant meteorologist for University of Texas Campus Safety and Security, as well as committee chief meteorologist, KOKE FM Radio, Austin.
A monster EF-5 tornado roared through the Oklahoma City suburb of Moore on May 20, 2013. The twister boasted winds exceeding 200 miles per hour as it ravaged schools and neighborhoods, killing dozens of people and injuring hundreds.
In its wake, many are questioning the relationship between tornados and climate change – and whether these monster storms are intensifying over time. We asked our resident weather expert, Troy Kimmel, to tell us more about the science behind these natural disasters.
In 2011, there were a record number of EF-1 and stronger tornadoes in the United States. Is this a sign of more frequent and powerful tornadoes to come?
I don't think you can say that. Every weather pattern is unique and the atmospheric "recipe" ingredients must come together just right. Through analogue forecasting, we understand what weather patterns are most likely to produce severe thunderstorms and tornadoes. Some years you see very active weather patterns and then there are years you don't. Here in south central Texas, we haven't seen much severe weather over the last few years. This has been strongly influenced by the presence of colder than average ocean waters in the Pacific (the La Nina phase of the Southern Oscillation) and the resultant multi-year drought we've experienced.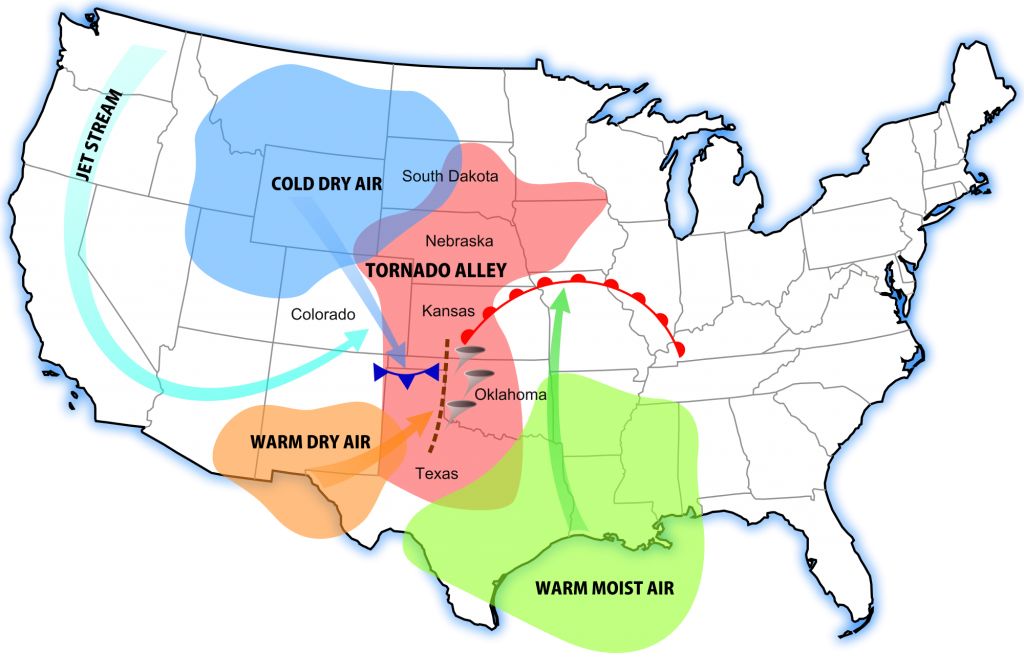 Why are states like Oklahoma and Kansas so susceptible to devastating tornadoes?
This area of the United States is geographically located where you have the collision of different types of air masses (fronts) coming together at different times of the year with spring into early summer being most active. It is also located in the area of the United States where strong upper air jet streams come into play. All of this occurs with strong southerly surface winds bringing abundant maritime tropical moisture from the Gulf of Mexico. Once you have all these factors of the atmospheric "recipe" coming together, I think you understand why this area of the United States is part of what we call "Tornado Alley." 

What role does climate change play in tornadoes?
With a total of 1,691 tornadoes and 533 associated tornado deaths, 2011 was confirmed by the National Weather Service (NWS) Storm Prediction Center as the most active tornado season in modern history, next to 2004, which was the most active with 1,817 tornadoes confirmed. While it would be very easy to blame climate change, our atmospheric environment is way too complicated for answers that easy.
There are a number of factors that come into play, including the Southern Oscillation (climate cycles, like the El Niño) but basically this is more of a sign of a very dynamic weather pattern present in a high moisture and high instability environment. In April 2011, very dynamic weather patterns produced extreme atmospheric lift and a high wind shear environment that resulted in damaging tornadoes in the middle Mississippi Valley, the Ohio River Valley as well as the southern United States (April 2011 was the most active tornado month ever in the U.S. with 753 twisters touching down). Then, a month later, another very dynamic weather pattern produced the tornado that roared through Joplin, Missouri killing more than 150 people. This tornado ended up being the worst urban tornado event in modern history in the United States in terms of deaths, injuries and property damage.
Remember the ingredients for thunderstorms: moisture, instability and atmospheric lift. For severe thunderstorms and tornadoes, you take that further and you want those ingredients to be more than marginal and you want strong winds aloft so that you can get strong updrafts and rotation in the parent thunderstorms.

What is the best advice you could give to aspiring meteorologists?
Go for your dreams – whatever that happens to be!
In general, understand and take advantage of the resources you have available to you here at the university. Do more than just going to class—visit with faculty members and be involved in the campus organizations and the Austin community. Give back to the community through charitable groups and volunteer activities.
If you're specifically interested in the atmospheric sciences, just be aware that we do not offer a degree program in the meteorology/atmospheric sciences here at UT. If you're planning on this type of career and wish to complete your education elsewhere, be well prepared in mathematics, science, physics and the geosciences. It's really a tough degree program!
People ask why I do what I do every day. I think it's the fact that there is not one day exactly like any other day weather wise, and it is truly a challenge to forecast the weather in Texas.
Image courtesy of Moore Visuals
Map image from Wikimedia Commons