Varun Bhatnagar, a Plan II honors, business honors and finance sophomore, made his time away from classes count this summer by taking an internship abroad in Shanghai. Read about his job at one of China's top marketing firms, his take on Chinese culture and his biggest challenges in his own words in this Q&A.
Where did you study abroad? Was it the first time you've traveled internationally?
I completed an internship abroad in Shanghai, China, for six weeks. It was not the first time I've traveled internationally, but it was the first time I traveled to China.
Did your experiences abroad have an impact on the way you think about your field? Did they give you any realizations about what you want to do after graduation?
I interned for six weeks with CTR, one of China's top market research firms. I learned a great deal about the Chinese consumer market and the differences between American and Chinese advertising.
At the same time, I was able to gain a firsthand knowledge of Chinese business culture, working in an office with a predominantly Chinese staff. It was my first business internship, but it definitely helped me gain a new understanding of the way business is done outside of the U.S.
I think this experience has inspired me to incorporate international travel with my business career after graduation.
How did the culture differ where you studied?
On a business perspective, I found China to have many similarities to the U.S. business culture. I expected things to be very formal, but the culture, at least within our office, was pretty relaxed. In fact, people would sometimes show up in a t-shirt and shorts. People were definitely always busy with their work, but the atmosphere wasn't intimidating at all. It was easy to go up to other colleagues or my supervisor and ask for help if needed. But showing respect, especially to seniors (i.e. giving a business card with both hands rather than just one), was definitely encouraged.
Chinese culture in general is pretty different from American culture, though. For example, it is not necessarily rude to stare. As outsiders, we often got lots of stares from the Chinese—not as an offensive gesture, but simply out of genuine curiosity, which was really cool. The Chinese also love to barter for goods rather than simply accepting sticker price, which is sometimes ridiculously high, so I improved my bargaining skills during my time there.
What about the non-academic side of things? What are some of the memories that stand out to you?
We traveled around China a lot—I visited the nearby cities of Suzhou and Hangzhou and hiked up Moganshan Mountain. One of my favorite experiences was a weekend trip to Beijing. This trip was not planned through our internship program—a group of us coordinated it ourselves. It was extremely tiring but also extremely fun; we climbed the Great Wall of China, visited Tiananmen Square and the Forbidden City and a host of other places.
We also did a lot of sightseeing around Shanghai. The city has a lot to offer, and one of the best experiences was going to the Bund, the European-colonial style part of the city that overlooks the famous Shanghai skyline.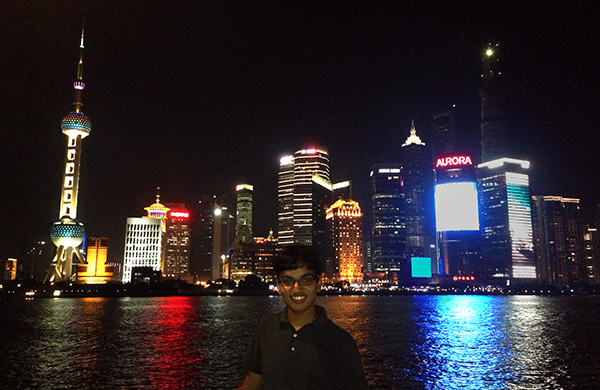 Did studying abroad change the way you think? How do you think it impacted you as a person?
I think so. I've never gone abroad for such a long period, and it was transformative. I'm definitely more thankful for things we often take for granted in the U.S. (i.e. fast Internet, potable water) but I'm also really happy I've had the experience to get to know a culture that I didn't understand very much before visiting. I think I've gained a new respect for China as a whole—while the country still has much to improve upon, the rate at which it is growing is unbelievable. It was definitely very humbling to see how other parts of the world are already at U.S. standards (and in some parts, even better).
What were the most difficult parts of your experience?
There were only two negatives to the entire trip.
The first was the language barrier. While it is possible to get through without knowing Mandarin, it really helps if you do. English, while becoming more prevalent, is still not commonly spoken in China, even in major cities. However, if anything, I was able to immerse myself in the language and pick up a few key phrases. Plus, I am now completely able to sympathize with those who come to a country without knowing the language—I felt like a preschooler in China at times because I couldn't even read the signage on the streets. It was a disorienting experience, but I'm glad I had it.
Secondly, I am a vegetarian, and in a meat-loving culture like the Chinese culture, it took some adjusting to find food. Thankfully I found a vegan restaurant not too far from my apartment, but at the same time I learned to be more open-minded about what I ate. While I still avoided eating meat, I accepted the fact that there might be bits and pieces of meat in what I ate, even if it was "vegetarian." So I still got to enjoy a fantastic variety of Chinese cuisine.
What was your favorite part of the experience?
On one hand, I think the internship was one of the most valuable parts—I got the unique opportunity to intern in one of the world's fastest growing economies.
On the other hand, the friendships I made with the other UT students and the opportunities I had to explore China with them were amazing. In fact, simply experiencing China was probably the best thing I could have asked for. It is such a unique culture and spending six weeks learning about it and experiencing it is most definitely on the best parts of the whole trip.
Did you receive any financial assistance to help fund your trip?
I was very fortunate to receive a Plan II Ligon-Lamsam Travel Grant, as well as a BE Global Scholarship. Both of these substantially cut the cost of my program.