This summer, more than 65 high school students from around the country and across the globe made their way to The University of Texas at Austin to experience life on a college campus.
The Summer @ UT/COLA Pre-College Program was designed to help students transition from high school to college, and is the first program of its kind in Texas. For three weeks, students came together to discover their career interests, prepare for college and experience UT Austin.
Casey Lampert, a rising high school senior from Dallas, said the program helped her confirm plans she had made for the future.
"I had already planned on applying to the liberal arts school before this summer experience, and after completing the program I couldn't be more confident in my decision," Lampert says. "Liberal arts offers a completely unique way of learning that impacts how you observe and interpret different situations. I came to appreciate the university beyond the school spirit that I already had and more for its incredible academics and professors."
Jorge Rodriguez Grau and his wife, Nora, wanted their daughter Beatriz to participate in a summer program that would help her develop her interest in psychology and make an informed decision about her future career.
"This was the perfect opportunity for her to have a taste of a UT experience while learning what psychology is all about," Rodriguez Grau says. "This three-week experience produced an astonishing mental shaping of our daughter's perception of her future. She is now more convinced than ever that she wants to pursue psychology as her major."
Before the program, 57 percent of the students participating said they would or were likely to apply to UT Austin. After three weeks on campus, that number rose to 81 percent.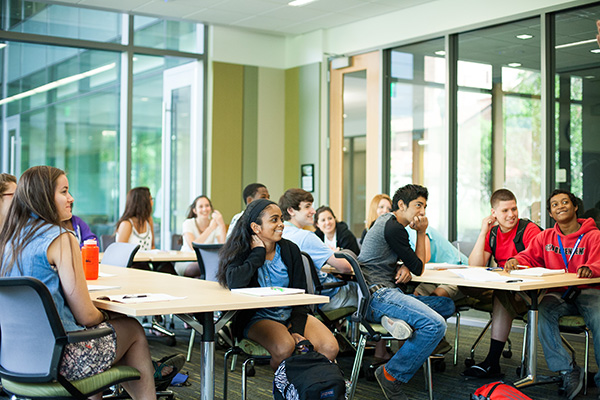 Students in the Pre-College Program chose two areas of interest from the non-credit enrichment courses offered to them this summer. On Monday–Thursdays throughout the program, they attended both classes of their choice in two-hour sessions.
Students could choose from more than 20 subjects, including:
Abnormal Psychology
College-Level Reading & Writing
Contemporary Moral Problems
Entrepreneurship
Fashion
Liberal Arts Honors
Law
Psychology
Sociology
Sports Management
Paul Sullivan, a lecturer in the UT Austin English department, taught a course in college writing to 11 students. The two-hour sessions were divided into two parts. The first half of each class was devoted to reading and discussion, including typical college texts by authors like Alice Walker and Jonathan Kozol, as well as examples of exceptional college admissions essays.
The other portion of each class was a workshop, where students wrote and revised two of their own admissions essays and reviewed them with peer editors before sharing the results with the rest of the class.
"We used the reading to sharpen skills in description and analysis for writing college admissions essays," Sullivan says. "One student was a rodeo rider, a member of his country's national team. He wrote vividly about his sport, and he revised vigorously, almost competitively."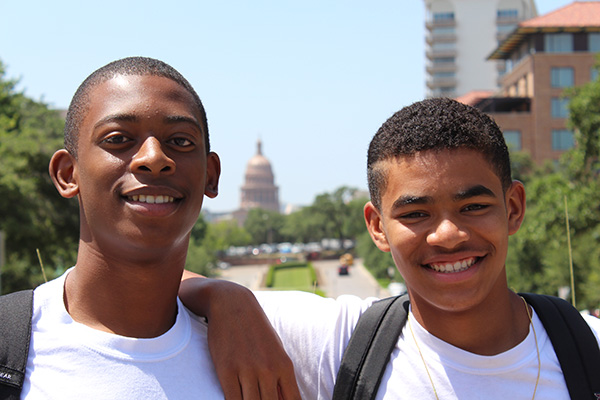 The classroom wasn't the only place students got to experience university life through Summer @ UT/COLA. UT Austin partnered with Summer Discovery, a company that organizes programs for high school students on college campuses across the country, to oversee residential life and student safety. Program participants lived together in the Callaway House, a new UT Austin freshman student residence one block away from campus.
Students also chose from optional activities around the campus and community, such as visiting the LBJ Presidential Library & Museum, touring the UT football stadium and the Texas State Capitol and playing a variety of sports. They also enjoyed weekend excursions, including bat-watching on the Congress Avenue Bridge, a trip to San Antonio and a riverboat cruise.
The Pre-College Program included students from 16 countries and 11 states, which led to an environment of cultural curiosity and engagement. Rodrigo Saraiva, a student from São Paulo, Brazil, saw the experience as a way to explore what attending college in the United States would be like.
"My roommates were from New York, Houston and El Salvador and I shared my own culture with them and they shared with me," Saraiva says. "I said to my roommate once, 'I could live like this for an entire year.' This experience had a huge impact on my life, because now I have the experience of living abroad, and if I want to go to college in the United States, I can get used to it."
Beatriz Rodriguez, a participant from Katy, Texas, not only confirmed her interest in the field of psychology, but also formed strong bonds with peers.
"I got to meet a lot of great people," Rodriguez says. "I met people from all over the world and I grew very close to them in a very small amount of time. So this experience was great culturally, educationally and socially. I definitely want to have a similar experience again soon."
Header photo credit: Lawrence Peart