Studying abroad exposes liberal arts students to a variety of peoples and cultures, and in the case of Hector Cantu, it landed him 3 months as a research assistant at a Polish think tank led by a legendary economist.
Cantu, a UT Austin economics senior from Monterrey, Mexico, spent his summer in Warsaw meeting with embassy representatives from around the world, presenting his research findings and writing an economic thesis. 
His journey to Warsaw started last November, when he attended a talk by famed Polish economist Leszek Balcerowicz on the UT Austin campus. The discussion centered on Balcerowicz's work in Poland after the fall of communism in 1989.
"He's a legend in Poland because he was in charge of the transition between having a socialist and capitalist economy," Cantu says. "He applied very radical ideas that not many people were in favor of at the time. But now Poland is one of the most economically developed countries in the EU."
Balcerowicz is currently the head of the Department of International Comparative Studies at the Warsaw School of Economics, as well as chairman of the board for Polish economic think tank Civil Development Forum Foundation (FOR). Previously, he was the Deputy Prime Minister of Poland, Minister of Finance and the Governor of the National Bank of Poland. He was also awarded the Milton Friedman Prize for Advancing Liberty in 2014.
Following Balcerowicz's talk at UT Austin, Cantu introduced himself to the economist and spoke of his interest in conducting a research project on harmonization in the global economy. Balcerowicz expressed interest in Cantu's ideas, and encouraged him send a curriculum for the project along with a recommendation from a UT Austin faculty member.
After waiting several anxious months, the following spring Cantu received a letter from Balcerowicz inviting him to spend the summer in Poland as a visiting student researcher. Cantu was delighted and scrambled to contact offices around campus to prepare for the trip and secure funding for his research.
The College of Liberal Arts awarded Cantu an Undergraduate Research Scholarship to help cover the cost of his project (liberal arts students can apply for these scholarships to fund research or travel to conferences). The scholarship, along with savings from two jobs Cantu held the previous semester, were enough to cover the cost of his trip.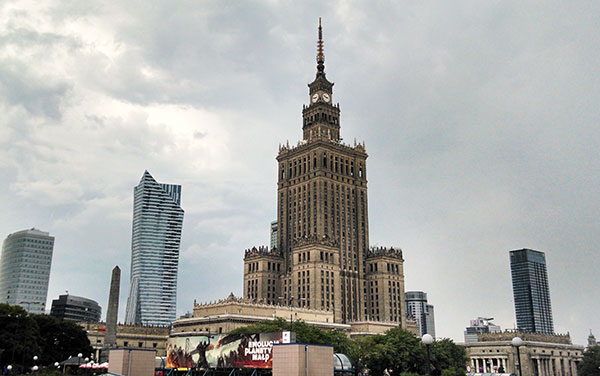 Cantu arrived in Warsaw on June 1 and began work at Balcerowicz's free-market think tank, FOR. It was intimidating in the beginning, since 21-year-old Cantu was the first international student to work at the organization and his colleagues were seasoned Polish economists with PhDs and law degrees. He was also living in the dorms at the Warsaw School of Economics, which were occupied by Belarusian, Ukrainian and Polish students. Unfamiliar with the Polish language, Cantu relied on English, his second language, to communicate.
"They received me with open arms," says Cantu, who quickly adapted to his surroundings. "They gave me resources that helped me learn about the EU in a way that is uncommon if you're outside of the European Union. Poland has a lot of very bright, very intelligent people with important economic ideas."
He worked full time at the think tank as a researcher and helped create policy recommendations promoting economic freedom in developing countries. His average week included researching in the Houses of Justice, working on his thesis and presenting recent findings to FOR's president.
Cantu's experience living on campus also provided him with memorable experiences. His acquaintances at the Warsaw School of Economics introduced him to the Student Society of Foreign Affairs (SW), which gave him the opportunity to meet with foreign embassy representatives from around the world (The Philippines, Mongolia and Ukraine, to name a few), as well as attend diplomatic and cultural events on campus.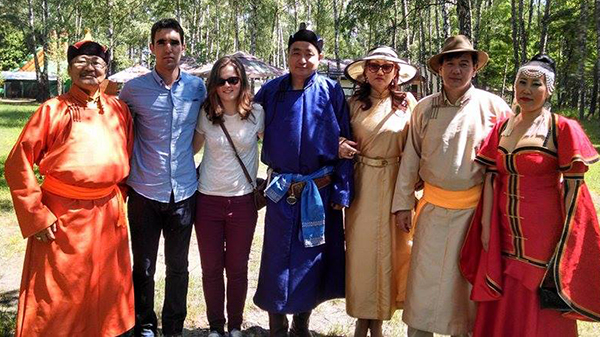 One of Cantu's Ukrainian friends from the dorms, Iliia Vasyluk, invited him to travel to Lviv, Ukraine with her for a conference about the current political agitation in the country. The summit, led by politicians, professors and social activists, was created to expose and discuss new policy recommendations for the economic and political problems Ukraine is facing.
"Visiting Ukraine was a very extraordinary and hard experience–the situation is difficult there," Cantu says. "It took 7 hours for us to cross the border with very strict inspections. The army is all around the cities and students are living with political agitation close to the classroom. Many of them travel to Poland to continue their education."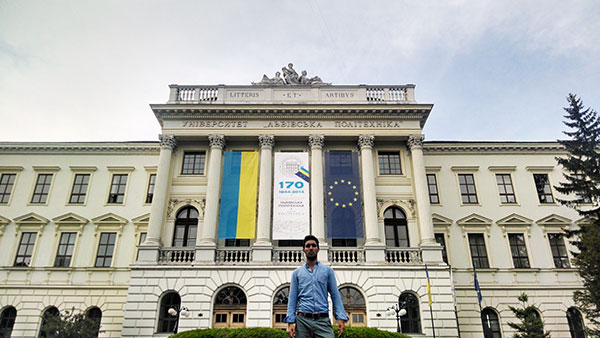 Cantu's main focus during his stay in Warsaw was on harmonization between the United States and the European Union, particularly in tax law.
"The United States is the main investor in the European Union, and the EU is one of the most important investors here in the United States," says Cantu. "It's a relationship that we have to care for and research and have good communication about."
This is the topic that Cantu first pitched to Balcerowicz back in November, and he chose to write a thesis about it during his time in Warsaw. The paper, "Economic Growth with Labor Law, Corporate Tax Law and VAT Law Harmonization Between the United States and the European Union," is 37 pages of intense research and analysis.
"For every good research paper, you need to have a lot of good background information," Cantu says. "So for that we used a lot of statistics, a lot of research and a lot of comparison analysis."
According to the abstract, the paper's proposed policy changes for the United States and European Union would lead to more efficient tax laws, increase the flow of business creation and elevate economic freedom in tax and labor laws for citizens.
Though Balcerowicz was traveling throughout much of the summer, Cantu made a strong impression on him.
"Collaboration with Hector this summer has been successful, and he was a reliable and hard-working person," Balcerowicz said in a letter to UT Austin discussing his research. "We hope to stay in touch with Hector and continue our cooperation in the future."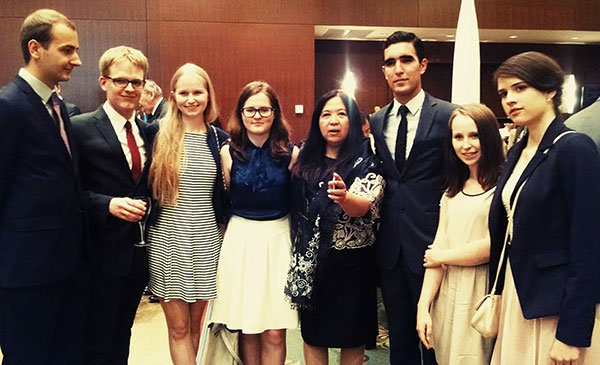 Cantu left Poland on Aug. 21 and returned to Austin for the new semester. He is now working with UT Austin economics lecturer Wayne Hickenbottom on revising his thesis. After the revision, Cantu will submit his paper to be published by an economics research journal.
In addition to becoming a published researcher, Cantu is also interested in continuing his work in Poland in the future. He is encouraging UT Austin to start a direct exchange program with the Warsaw School of Economics.
"I want to propose an exchange program at the Warsaw School of Economics because it's very good to learn economics there, it's a very good university," Cantu says. "I think there's an opportunity to learn from the Polish and what they're doing economically. It's a good way for people to get interested in global problems and that way changes can be made."
In terms of post-graduation plans, Cantu is as ambitious as ever. His dream is to work for the International Monetary Fund and help shape the global economy.
"I want to make changes in a macroeconomic perspective. That's the most important thing that the Polish left me with," Cantu says. "I want to make good relationships between the United States, between Mexico and the European Union. I want to extend the commerce and I want to open the market, cut the barriers. For example, in the paper I wrote I discovered that just 1 or 2 percent changes in taxes can make a huge impact. With a little good research, you can make great changes."