The Army Reserve Officer Training Corps (ROTC) program at The University of Texas at Austin has been named Best ROTC Program in the region.
UT Austin is a member of the 5th ROTC Brigade, which is made up of 36 programs at universities in Texas, Oklahoma, Colorado, Utah, Wyoming, Arizona, New Mexico and Arkansas.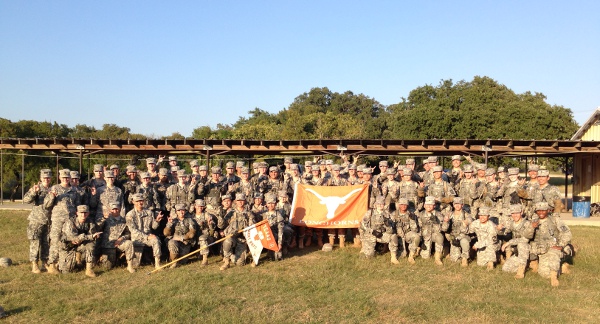 Col. Ricardo Morales, commander of the Army's 5th Brigade, selected Texas Army ROTC as the program doing the best job of developing the country's military leaders.
"This is a holistic award," says Lt. Col. Travis Habhab, chair of UT Austin's military science department. "Everything from our cadets, to the administration, to mentoring techniques and university support were considered. It recognizes that Texas has led the way over the past year in integrating new ideas to develop our country's future leaders in problem solving capability and critical thinking."
Some of those new ideas include weekly leadership laboratories, a series of non-tactical challenges for cadets that bring knowledge from their military science classrooms into real life.
At recent leadership lab on Nov. 20, cadets spent the afternoon at the Onion Creek Greenbelt, which was hit hard by the Halloween floods in 2013. Cadets worked with the Austin Parks Foundation to preserve the area using manpower and creative planning to spread a massive mulch pile around trees within their allotted two hours.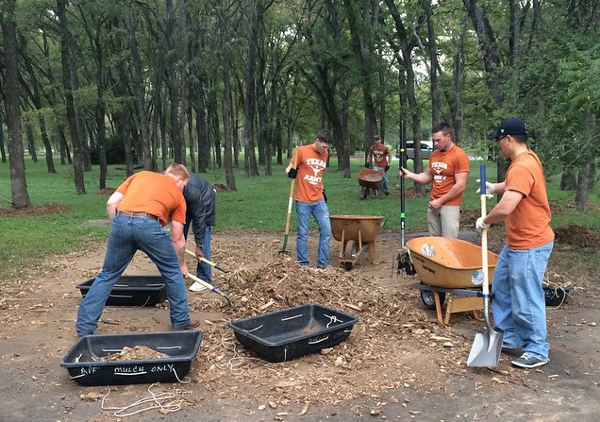 "This is a great way for cadets to practice what they learn in the classroom," says Cadet Promise Maino, a UT Austin senior who helped coordinate the event. "The Greenbelt lab was a great way to give back to the community while also practicing teambuilding."
Brigade Ranger Challenge
The Brigade Ranger Challenge is another way ROTC cadets emphasize teambuilding.
On Nov. 1, the Texas Army ROTC team placed first in the 2014 Fifth Brigade Ranger Challenge Competition, which is comparable to winning a Big 12 Championship in an NCAA sport.
"The Ranger Challenge Competition is a strenuous event placing teams of 10 against one another," Habhab says. "It tests the cadets' physical endurance and ability to solve complex problems with 36 straight hours of numerous challenges."
The timed competition starts with a 10 kilometer ruck race, where participants carry more than 40 lbs on their backs. Other challenges they face include day and night land navigation, where competitors can use only a map, compass and protractor; weapons assembly and disassembly; a hand grenade assault course and a one-rope bridge, where participants must use a rope and limited tools in order to cross a river.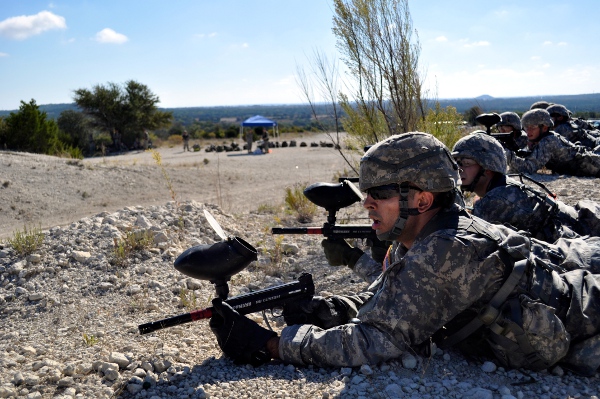 Perhaps the most important element of the competition is the commander's challenge, a surprise event that promotes outside-of-the-box thinking. It is designed to help participants come up with new ideas and work as a team.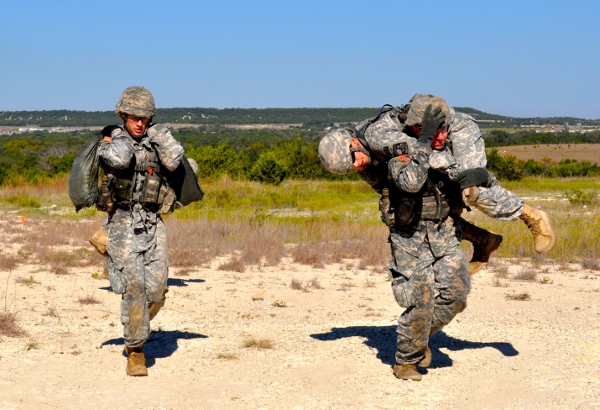 Texas Army ROTC's win qualifies them for West Point's Sandhurst Military Skills Competition in April. Of the 275 ROTC programs throughout the country, they earned one of only 8 open spots in the competition.
They will compete against more than 50 teams from around the world, made up of both cadets and prior-service soldiers. The challenge will only become more difficult, with the introduction of new tasks like rappelling, obstacle course navigation, combat swimming (with full gear), rifle marksmanship, raft paddling and a 12-foot wall climb.
The Texas Army ROTC team is made up of seniors Alan Figurski and Gray Bickham; juniors James Brown, Kristin Arteaga, Nicholas Corti, Michael Gonzales and Alfredo Lugo; sophomore Daniel Gonzales; freshman Andres Sanchez and alternates Alyssa Koeter and Gabriel Mercado.