Students in the College of Liberal Arts can get firsthand instruction about important workplace skills and etiquette through a workshop series put on by Liberal Arts Career Services.
The Beyond Liberal Arts: Professional Development Training Series was designed to help liberal arts students hone practical skills that give them an edge over the competition when seeking internships and other employment opportunities.
The presenters of each workshop are experienced professionals who recruit UT Austin students or belong to the campus or alumni community.
"Liberal Arts majors are great problem solvers, critical thinkers, pattern analysts, writers, thinkers and initiative-takers," says Monica Chartier, programs manager for Liberal Arts Career Services. "The liberal arts experience champions intellectual investigation, collaboration and research. This experience provides 'soft skills' employers seek. Liberal arts students must seek out supplemental experiences such as internships, employment and our workshop series for concrete, professionally oriented 'hard skills' needed in the workplace. The Beyond Liberal Arts series was created to help provide this training and to further develop the career competitiveness of the liberal arts degree."
On Feb. 19, Enterprise Rent-A-Car sponsored a dining etiquette dinner workshop in the series. The dinner was designed by Liberal Arts Career Services to help students prepare for professional dining events, which are often part of job interviews or networking opportunities.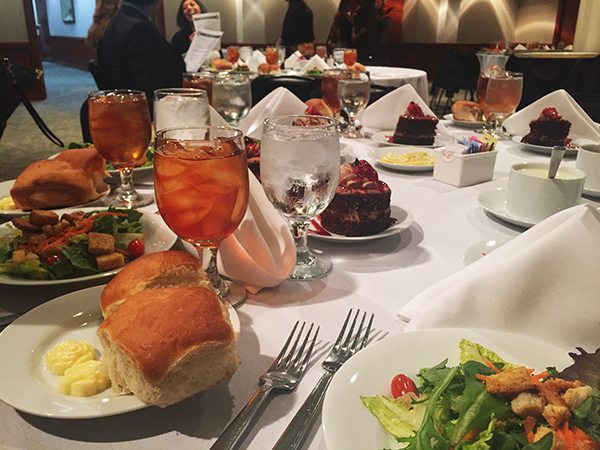 Emily Rohles, an International Relations & Global Studies senior and the president of UT Austin's chapter of Women in Foreign Affairs, attended the event with several other members of her organization.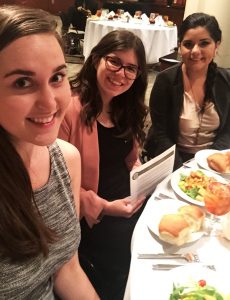 "I was primarily interested in attending because after spending several professional dinners carefully imitating others at the table, I wanted to take advantage of a free dinner that would teach me something I would only otherwise have the opportunity to learn through trial and error," Rohles says. "Now when I attend professional dinners, instead of having to concentrate on how I am eating or which utensil I am using, I will be able to focus entirely on the conversation. Interviews or professional dinners can always be nerve-wracking, but this will remove at least one element that could keep me from appearing confident."
Jessica Rodriguez, an Iberian & Latin American Languages and Cultures junior, also attended the workshop.
"Before attending the LACS Dining Etiquette dinner, I was not aware that an employer might hold an interview over lunch or dinner," Rodriguez says. "I definitely left with a sigh of relief by gaining basic knowledge of a formal dinner setting. It was an opportunity to gain an advantage amongst future competition in my field of interest. LACS did a great job in demonstrating these skills and answering every doubt or question students had. The team provided a relaxed atmosphere, which I appreciated because it contrasted from the nerves one would usually feel during an actual interview."
The remaining workshops this semester are HTML Coding on Feb. 25, Introduction to Adobe Create Suite and Project Management in March and Feature Writing in April. Sessions are open to all liberal arts students, who can register here.
Photo credit: Myles Tan / Flickr