On El Camino Real with Nathan Garza
As a boy growing up in San Antonio, Nathan Garza spent a lot of time hiking on trails.
His Boy Scout troop organized and led the Mission Trail Hike for years. Scouts from San Antonio and surrounding areas would gather at Mission Espada and begin their two-day hike to the Alamo. At the end of his first trip, Garza was rewarded with the Mission Trail Hike patch. Little did he know that years later he would become even more familiar with the paths.
"It blew my mind when I found out that the missions in San Antonio were along a stretch of El Camino Real," Garza says. "I had come full circle, from being on the trail as a scout and learning about the history to now doing GIS mapping of the trail as a college student."
Garza, a senior majoring in geography, is a GIS intern for El Camino Real de los Tejas, a member of the National Historic Trail Association. The trails were originally trade routes from Mexico City. They stretch across Texas and into Louisiana.
GIS stands for geographic information systems, which are a series of layers of data that help people visualize and analyze different types of information and trends. Geomorphologists can use GIS data to study things such as a river's effect on a landscape. Demographers can use other GIS data to see who lives where and predict voting preferences in certain districts. GIS can be used by a wide variety of people for a wide variety of purposes, Garza says.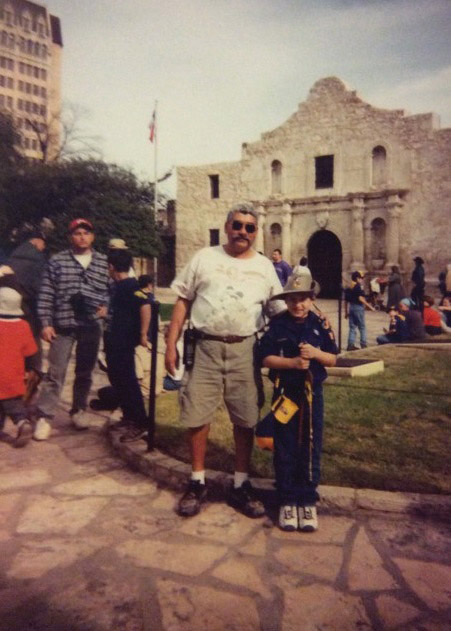 When Garza was younger, it was hard to find him without a pen and paper, sketching anything in his line of sight. He was fascinated by old maps and cartography.
"When I realized I could make digital maps for all sorts of purposes, it seemed to be the best of both worlds," Garza says. "I could make sort of 'utilitarian art' that I would be proud to display, while others could use them functionally as maps."
Garza spent most of his time at El Camino Real last summer creating county maps showing the location of the trail. His maps also showcase trail markers placed by the Daughters of the American Revolution (DAR) in 1918. Much of this work was featured in the new book El Camino Real De Los Tejas (Images of America).
"The DAR markers serve as the visual symbol for the trail on the ground," Garza says. "I was able to make a map series you could use to get from marker to marker starting near Eagle Pass, Texas, and wrapping up just east of San Augustine, Texas, and into Louisiana."
Garza is continuing his internship this year and spends about 10 hours per week working in the El Camino Real office. Lately, he's been working on georeferencing historical hand-drawn maps. Garza pins known markers, such as a mission church or a meeting of two rivers, to their actual geographic coordinates, which stretches and corrects the hand-drawn maps to scale.
In late October, Garza traveled to Salt Lake City for the 2014 Partnership for the National Trails System Workshop, a gathering of 70 trail system professionals from across the country. He was one of just eight interns to attend and spoke on a panel, answering questions about how to get youths more involved with national trails and their preservation.
Garza says that his internship has helped him to solidify his future plans and recognize a lifelong passion.
"It's interesting to see people from all walks of life come together for the betterment of history and local culture," Garza says. "It has definitely shown me that I want to go into this line of work — I'd like to be able to say I help preserve our cultural history while working with communities all over the state."