The fields of study within the College of Liberal Arts are vast, and the number of topics that merit in-depth investigation are seemingly endless.
Each year, liberal arts undergraduates at The University of Texas at Austin get first-hand experience in conducting academic research that can have an impact on themselves, the academic community and even society as a whole.
April 20-24 is Undergraduate Research Week at UT Austin, hosted by the Senate of College Councils and the Office of Undergraduate Research in the School of Undergraduate Studies. Colleges and organizations across campus, including the College of Liberal Arts, coordinate events throughout the week to showcase the work of undergraduate researchers.
On April 23, a group of 12 outstanding liberal arts researchers presented their research to college directors, chairs, deans and faculty at the Dean's Research Reception. A committee selected the presenters from participants in the Honors Day Poster Presentation on April 18.
Below, three students discuss their research projects, experiences and the radiating influence undergraduate research can have.
Rhetoric of Whistleblowing: Decoding the Edward Snowden Model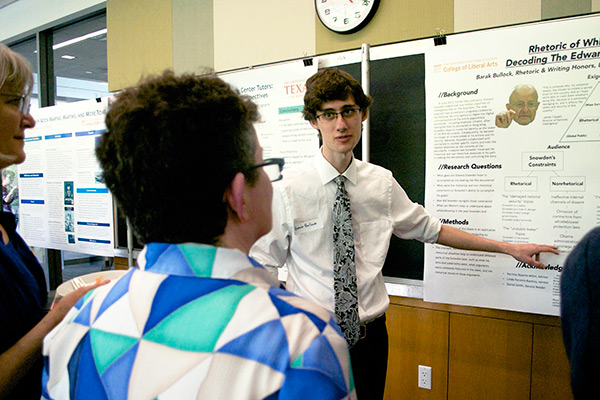 Barak Bullock, a rhetoric & writing honors senior from Austin, Texas, examined Edward Snowden's massive 2013 leak of classified NSA documents. Bullock uses concepts from rhetorical scholarship to help understand how Snowden dealt with the constraints whistleblowers often face.
Bullock will also be the first student to graduate from the newly founded rhetoric & writing honors program at UT Austin.
How did you decide on your research topic?
I've been following the Snowden leak since it began in June 2013. By the time I began my thesis for the Rhetoric Honors program last August, I had already learned quite a lot about the events. I have also thought for a long time that whistleblowing discourse is ripe for rhetorical analysis, so writing about Snowden was a natural choice for me.
Who was your mentor on this project? What was her impact?
My mentor was Patricia Roberts-Miller, a professor of rhetoric and also the new director of the University Writing Center. She is a wonderful advisor who I took several courses with prior to this project, so we already had a working history. She often helped me untangle intricate arguments I was thinking but could not express, and also pointed me towards rhetorical scholarship to use in my analysis.
What kind of work went into your research?
The majority of my research experience was reading and watching dozens and dozens of articles, editorials, books, videos and films about the Snowden leak, and scanning for specific kinds of arguments. The other part of my research was more intensive, which involved applying my chosen rhetorical concepts to these sources in a way that investigates my questions about the Snowden leaks.
What element do you find most fascinating?
The fact that Snowden stood on the shoulders of whistleblowers before him. As my research explores, Snowden was, in many respects, more successful than other whistleblowers. He leaked the documents, engaged the public to debate the issue of mass surveillance and stayed out of prison, among other things. But other whistleblowers encountered many of the same obstacles as he did, with contrasting results. Essentially, when the experiences of prior whistleblowers are analyzed, the moves Snowden made make a lot more sense.
Does a particular part of your research process stand out to you?
I had the opportunity to meet Glenn Greenwald, one of the reporters who broke the Snowden story, at UT in April. We only spoke very briefly, but I told him about my thesis and got his autograph. It was great to shake hands with someone I knew had an integral role in shaping the history that I've been researching for two semesters. I felt more connected with the research afterwards.
What kind of impact do you think this project could have?
I believe my research contributes to scholarship on an already famous rhetorical concept, the rhetorical situation. Specifically, I introduce the idea of non-rhetorical constraints, which are physical or institutional barriers to addressing problems through discourse. I also believe my research can help future whistleblowers, journalists and ordinary citizens better understand leak events and what role they play in them.
How has your research affected your outlook on the world?
In many ways, it has reinforced the perspective I had on Snowden and whistleblowing prior to the beginning of this project. Federal whistleblowers, when acting in the public's interest, are critical to the maintenance of transparency in government. Unfortunately, whistleblowers are being prosecuted at a historically unprecedented rate. They are in desperate need of increased legal protection, or, without that, better strategies for staying free while maximizing the reformative power of their actions. That's where Snowden comes in.
Has this project impacted what you want to do after graduation?
I have wanted to be a reporter for a news publication for years. To me, this project represents potential for future academic work, which I have not considered as seriously. But regardless of whether it's a journalistic or academic venue, I want to continue writing about national security, surveillance and whistleblowing issues.
What advice would you give to fellow liberal arts students?
Constantly think of ways to take your knowledge and skills out of the realm of the abstract and into practice. Degrees in the liberal arts are often stereotyped as weak for acquiring rewarding jobs, when in fact the opposite is true. Liberal arts majors specialize in written and verbal communication, which are by far the most demanded skills by employers. Use your time in college to collect experiences which demonstrate these skills, rather than relying on your coursework to do it for you.
The Effect of Medium on Children's Ability to Learn About and Judge the Reality of a Novel Animal
Michelle Jackson, a psychology honors senior from Pearland, Texas, studied the way children perceive information from storybooks and television. In her research, 50 children between the ages of 4 and 7 were read a book or played an animated TV show created from the same script and images before being quizzed about the reality of the information. Her study showed that children were more skeptical of the reality of information gathered from storybooks than from television.
How did you decide on your research topic?
I have been involved in research since my sophomore year, when I joined Dr. Jacqueline Woolley's lab. I was given the opportunity to observe one of her graduate seminars and I was able to hear a discussion on children and the media applied to children's beliefs. I got to thinking about all the technology that children interact with and how that technology possibly influences their learning and it gave me the general idea for my project.
I'm also a big Harry Potter fan, so I've been involved in 'the book is better than the movie' and 'the movie is better than the book' debates. Thinking about the conversation and these debates led to my more specific research topic. Therefore, my project is a combination between the working in a lab studying children's understanding of real and pretend and being a Harry Potter fan!
Who was your mentor on this project? How did she impact it?
I worked with Dr. Jacqueline Woolley (psychology professor and department chair) on this project. She was very supportive from the moment I came to her with the idea and she worked with me to turn it into a real study. She was very available throughout the whole process, but let me work on this project mostly independently. However, she was there for the many edits, the hard times and the triumphs. I don't think I could have done this without her support.
What kind of work went into your research? 
I completed this project as part of the psychology honors program in which I spent a year working on this. I was enrolled in a class for the year with other psychology students in the honors program. I designed and prepared to test the study in the first semester and the second semester I tested, analyzed and wrote up the results.
Throughout the project I designed this experiment, made the experimental materials, trained other members of the lab on how to conduct this experiment, tested children myself, as well as analyzed the data and wrote everything up. As a part of my research I also was able to author a children's book and animate a television show!
It was a lot of work to be involved in all aspects of my own empirical project, but it was so rewarding.
What element do you find most fascinating? 
Data Collection, the research terminology for hearing what the children really think, was fascinating. Children often think so differently than adults and hearing what they think is so interesting. It really offers a truly childlike view of the world that adults forget. Working with children allows me to constantly be in touch with my inner child, while also giving me the ability to solve problems.
I often say I have the most interesting kid stories come from working in a lab studying things like Santa Claus and birthdays! For example, one child once told me an entirely developed (and somewhat accurate) scientific theory of evolution.
Does a particular part of your research process stand out to you?
The Highs: Being able to interact and train with the other research assistants as well as with children. Our lab had a great group of RAs (undergraduate research assistants) who really helped me complete this project, so getting to share it and the results with them was so rewarding.
The Lows: Working with children has its own challenges. One of the biggest is recruiting them. I distinctly remember that I had four children who had been in my experiment for weeks and I had to do some quick problem solving to rectify it as soon as possible.
What kind of impact do you think this research could have?
Research on children's understanding of different media has impacts in many areas of society such as education, advertising and law.
In terms of education, understanding how children learn from different media could possibly influence what technology teachers use in the classroom.
In terms of advertising, understanding how children learn from different media can influence how children understand information presented in advertisements. Furthermore, there is research that demonstrates that children are influenced by seeing their favorite characters on items.
In terms of law, understanding what children think about different media as well as how they determine what is real and what is pretend can help improve the way competency interviews are conducted.
In academics, previous research has focused on either books or TV and did not compare the two. It also does not consider any other types of media, such as the Internet or iPads and ereaders. I eventually hope to expand my research to address this need. 
How has your research affected your outlook on the world?
It has impacted my outlook on children and education. I now pay a lot more attention to interactions between children and parents (especially when that has to do with children asking questions about what's real and pretend!)
Has this project impacted what you want to do after graduation?
I now know that I do want to work with children, and I am aiming to go to graduate school to continue my research in developmental psychology. I specifically want to study how children learn from different media and their resulting beliefs in the reality status (is it real or pretend?) of this information.
What advice would you give to fellow liberal arts students?
Get involved in research as soon as you can at UT. Research teaches you so much outside of the classroom. I learned so much from working in a lab (even as an RA) that allowed me to develop a more in depth knowledge of my major.
I'm sometimes asked about thesis topics or what lab should I join and to that I just say that you should try and find something you like talking about. You don't have to study it outside of UT, but it's a great thing to talk about in any interviews for grad school or jobs.
From Russia with Aston Martins, Martinis, and More Toast: Examining Luxury and Leisure in the Lives of James Bond and Ian Fleming and Consumer Behavior in the United Kingdom and the United States from the 1950s to the 2000s
Sara Saastamoinen, a Plan II Honors and management senior from Kiiminki, Finland, researched the impact that the continuing popularity of James Bond has had on both popular culture and consumer behavior. She examines the role travel, indulgence and luxury played in the lives of James Bond and creator Ian Fleming and how that influenced multiple eras.
How did you decide on your research topic?
Most importantly for me personally, I wanted to pick a subject that really interested me so that I could be immersed it in for an entire year without getting complacent. After that, I wanted to pick a field that was not already saturated with research. Finally, I wanted to pick a field that would be fun, with interesting materials and the opportunity to travel for research. With the help of Dr. Wettlaufer, Dr. Sullivan and Dr. Reddick of the Plan II Honors program, I was able to craft a specific thesis question that filled all three of my personal criteria.
Who were your mentors on this project? What was their impact?
My British Studies professor, Dr. Wm. Roger Louis, helped me find my supervisors, Dr. David L. Leal and Dr. Henry A. Dietz of the Government Department. My supervisors have been the biggest sources of advice and wisdom that I have had throughout my time researching and writing for my thesis. I have been able to go to them with any and every question that I have had, and they have always found an answer for me and graciously guided me throughout the process, even during the stressful times! My supervisors also personally serve as motivation for me, as I want to give them the highest quality work and make sure that they can be proud of having supervised my final thesis product.
What were your research experiences like?
My research environment is not that of any set location, but rather it varies. I do research anywhere from my living room reading books and watching films to flying to Bloomington, Indiana, to peruse through manuscripts and other primary documents. Because I can conduct most of my research almost anywhere, it allows me the flexibility to work around my classes, student organizations and work schedule, which was something I looked for in a research project. On the other hand, with great flexibility comes great responsibility to put in the time required to complete a research project—keeping to a schedule, regularly meeting with your supervisor, etc.
What element do you find most fascinating?
The element of my research that I have found most fascinating is the subtle product placement in Bond novels. Even in the first movie, Dr. No, a bottle of Dom Pérignon is at the dinner table and even before the brand is named, viewers can identify the brand, just based on the label. Finding subtle product placement such as this has been interesting to me to see how consumer's perceptions about the social status of a popular icon like Bond are affected by subtle brand associations.
Does a particular part of your research process stand out to you?
Definitely the hands-down coolest thing I've been able to do because of my research has been travel to three different locations to do research. In December, I spent one week at Indiana University's Lilly Library researching the Ian Fleming collection—multiple pre-publication manuscripts written on Fleming's golden typewriter with edits in his own blue or black ink pen. In January, I traveled to the One&Only Ocean Club in the Bahamas where Casino Royale was filmed and to Fleming's Goldeneye home in Jamaica where each of the novels and short story collections about 007 was written. These experiences provided me with invaluable first-hand research opportunities and a great time traveling out of Texas for my thesis!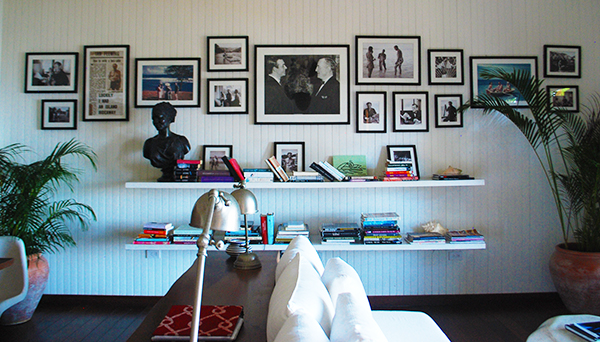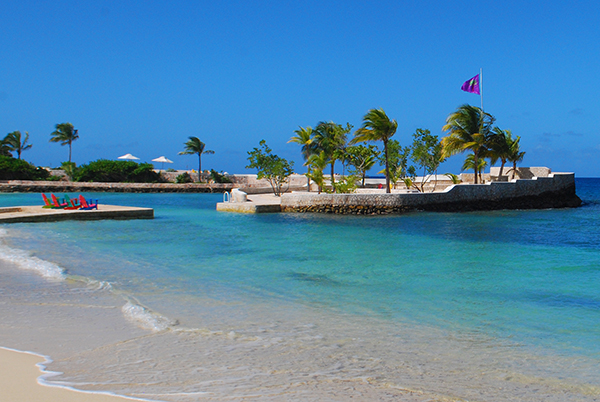 What kind of impact do you think this project could have?
Today, the majority of research is conducted to address simple causations—such as increased traffic to a company's website after a major Super Bowl advertisement. In addition to this more clear-cut research, companies and scholars should increase research of more subtle associations—such as those between Bond and champagne or Bond and cigarettes—to better understand driving forces in consumer behavior at the subconscious association level.
How has your research affected your outlook on the world?
My research has given me a tremendous amount of respect for anyone else who has written a thesis, academic book, paper, etc. because I learned firsthand the level of effort and especially dedication it takes to complete a yearlong project. My research has helped me tangibly bring together different disciplines from marketing to literature to history, proving that our world is truly interdisciplinary. Most of all, my thesis has reminded me how much I love reading, learning and teaching and has renewed my passion for academia.
Has this project impacted what you want to do after graduation?
The summer I started my research project, I interned with a consulting firm and became interested in their travel, hospitality and leisure industry. Coming back to the Forty Acres, I worked with my supervisor to tailor my research question to focus more on their specific industry. Once I begin my full-time career after graduation, I can use the expertise and experience I gained with my research to get into my preferred industry and to be a better consultant within the industry. Making my research connect to my post-graduate plans was a conscious decision and a concerted effort, and it keeps me motivated because I know I am gaining a tremendous amount of experience from this project that I can take into my career.
What advice would you give to fellow liberal arts students?
I have three pieces of advice: 1) Simply put, do it. There is always a research project, no matter how big or small, that you can formulate and research, even with the fullest schedule or the most diverse interests! 2) To anyone considering researching with a professor, reach out to professors who already know you or whose classes you have enjoyed for help—not just with asking them to potentially supervise you, but even for help with crafting a topic or seeking out other sponsors. 3) Choose something you are truly interested in. Don't choose a project because it would look good on a graduate school application. Choose a topic that excites you, a topic that you can't wait to get out into the field and study and a topic that you are truly passionate about. It will make a huge difference in your research experience and the final product that you put out.
To learn more about Undergraduate Research Week, click here.