What it Means to be an Adult
Chances are at some point in your life, you have been told to "grow up" or "start acting your age." Faced with the pressures of paying bills, holding down a steady job and frequenting home improvement stores, it's easy to see why adulthood may have lost some of its luster.
Steven Mintz, a historian at The University of Texas at Austin, tackles the transformation of adulthood in his latest book, The Prime of Life: A History of Modern Adulthood. And while he says coming of age has never been easy, Mintz reminds us that it can also be a time of great joy and fulfillment.
Mintz's work is often reflective of his private life. He wrote the history of the family at the time when he was getting married, the history of childhood when his sons were going to college, and the history of adulthood continues to be guided by his life's journey.
"Anyone who has gone through a divorce or who's shifted career tracks, who's had to deal with now adult children who are trying to make their way in life — all those issues — I wanted to understand on a personal level, as well as place them in some historical perspective," says Mintz, who is also executive director of the UT System's Institute for Transformational Learning.
"Everything has a history, and my view is that history needs to speak to the issues that people are wrestling with," he says. "We have lived through a revolution of the life course throughout our own lifetimes, and we need to know how that happens, why it changed and maybe even where it's going."
Defining Adulthood
The book's chronological narrative describes the rise, fall and replacement of a particular conception of adulthood defined in terms of early marriage and childbearing, a life-long career and homeownership.
"The rulebook of adulthood has crumpled," Mintz says. "There was a whole set of assumptions and expectations and fantasies that we clung to, and real life came. So it's hard to live up to those expectations and norms because they're not there anymore.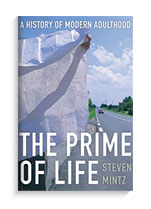 "I think for many people adulthood is more fulfilling in some ways, but it's a lot less predictable and a lot less secure than it once was," he adds.
Alas, unlike Peter Pan, we are not given a choice of whether we would like to grow up; it's thrust upon us whether we want it or not. Mintz defines adulthood as both an age range and a set of responsibilities and obligations that one acquires as her or she gets older — to a significant other, children, parents, friends or to a job — some of which can be inherently stressful.
"It's often said that historians write about things when they're in decline, and I think that's very much the case with this," Mintz says. "An earlier conception of adulthood has broken down, and for many young people — including the most conformist of young people — that's not what they aspire to be.
"They don't aspire to a life of conformity, stagnation or being in a rut," he says. "They want to grow, but they don't want to grow up."
Adult Culture
Mintz says he is particularly interested in how our society came to devalue adulthood as a stage of life. His research traces back hundreds of years looking at cultural changes.
He relies on the great literature that has influenced him throughout his life — books that are timelessly grounded in the human experience. And then there are the stories of individuals who underscore this experience such as Charles Eliot, who would become the president of Harvard University in his 20s tearing his hair out about what he should do with his life.
"It's hard to imagine a world not too long ago when people aspired to grow up, and they dressed to make themselves appear older, and the dominate culture was an adult culture, not youth culture," Mintz says. "Lauren Bacall may have become an actress at the age of 18, but she didn't look 18. And Humphrey Bogart and Cary Grant certainly looked like adults."
Mintz says they were models for a certain kind of adulthood. Not adulthood defined in terms of marriage, homeownership and life-long careers, but in terms of sophistication, maturity, worldliness and knowingness.
And that's the definition of adulthood Mintz is arguing we should try to reclaim that we would find meaningful, and not the old rulebook, which as it turns out is not a very good prescription for happiness.
"Some people believe that every stage of life is meaningful in and of itself, and that's true," Mintz says. "After finishing this book, I decided adulthood really is the prime of life. That is, you have to mature and you have to grow and that doesn't mean it's all pleasurable, but it means it's more meaningful."