John Newcomb, a recent government alum who graduated in December, used his liberal arts education and preparation from Liberal Arts Career Services to help him land a job at Facebook.
Read more with Newcomb on his college experience, the value of an internship and the power of critical thinking below.
What made you want to study government?
For me, studying government granted me the ability to learn about the various types of institutions that make influential decisions every day. Government granted me access to learn about people, key levers of power, policies, history and many more things. You may not personally interact with government every single day, but government impacts all of us.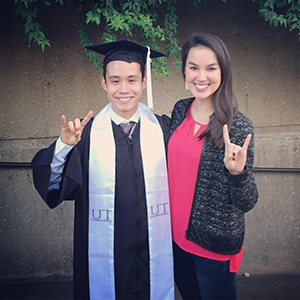 What's your proudest accomplishment as a UT Austin student?
My proudest accomplishment is probably finishing my last semester strong. I was juggling my internship, my research work, applying for jobs, and taking the classes I needed to graduate early. I may have lost a few hours of sleep and some sanity, but I survived and landed a job I'm very happy about.
What was your experience as an intern like?
The summer after my junior year I interned with the Teacher Retirement System of Texas. As my first foray into the professional world, I was quite nervous but the entire experience proved extremely rewarding. I was hired by the Compensation Team within the human resources department, which allowed me to experience the workings of a government agency from top to bottom. The work my supervisor assigned to me was meaningful and it was definitely a great learning experience when I presented a project to upper-management. TRS definitely turned my expectations of a government agency upside down, as they break the stereotypical mold in so many ways.
How did Liberal Arts Career Services have an impact on your job search?
Liberal Arts Career Services was amazing in their assistance to me, especially during my last semester. I can't count the number of times I showed up for walk-in hours. From the resume help, searching for jobs and assisting in interview prep, the team at LACS does a very good job. My only regret is I did not utilize the service more before my final two semesters at UT.
Why do you think studying the liberal arts is important?
To the surprise of some, not everyone who studies government goes on to be a lawyer or teach. In the interest of full disclosure, I did consider both at various points in my college career. In my opinion, the liberal arts still hold a valuable place at a university.
On a high level, liberal arts allow an individual to develop their critical thinking and communication skills – verbal and written. An individual's specific discipline within liberal arts grants them the ability to bring a unique perspective that another might not hold. The skillset of someone who studies liberal arts is broad and applicable in so many avenues.
What advice would you give to incoming college students?
It's very cliché, but really do try to get involved and expand your social circle. Explore clubs you have very little interest in and try new stuff. You'll never know what new interest or people you may discover, so don't be afraid to break your traditional barriers.
Secondly, get to know your professors. If there's a professor's class you love, go to office hours and chat with them. The faculty at this school can be amazing and offer you perspectives on life you never considered. You may even get asked to assist with their research! It's fun and does look good on a resume.
What is it about Facebook that made you want to work there?
The mission of the company really attracted me to apply. I'm a firm believer that people share a lot more in common with others than they may initially believe. Facebook's goal of connecting the world and the huge impact it has on people around the globe were huge drivers in my decision to work there.
What is your position at Facebook like?
My title at Facebook is Community Operations Specialist. My specific role will be working with the North America Access Team, which is tasked with assisting users who are encountering trouble accessing or securing their accounts.
It's a somewhat vague description without going into nitty-gritty details, but the role is perfectly suited for a liberal arts major. The position and company as a whole require you to think outside the box and look at problems from a wide range of views. We're asked to question everything and challenge the status quo, which a liberal arts education trains you to do. 
What's your favorite thing about your job?
Honestly, it's the people who you're surrounded by in the office. Everyone is extremely bright, hardworking, and eager to help. It's an atmosphere that encourages you to find your impact.
What are your goals as a professional?
As someone just entering the early stages of my professional life, a big goal is to simply be a sponge. There is so much knowledge to be learned from others, I'd be hurting myself if I neglected to take advantage of the knowledge bank. Other than that, my goals aren't exactly completely ironed out. I've got a rough outline of where I'd like to go, but I'm also excited to see where the journey takes me.