The fields of study within the College of Liberal Arts are vast, and the number of topics that merit in-depth investigation are seemingly endless.
Each year, liberal arts undergraduates at UT Austin get first-hand experience in conducting academic research that can have an impact on themselves, the academic community and even society as a whole.
Each April, Undergraduate Research Week is hosted by the Senate of College Councils and the Office of Undergraduate Research in the School of Undergraduate Studies. Colleges and organizations across campus, including the College of Liberal Arts, coordinate events throughout to showcase the work of undergraduate researchers.
On April 20, a group of 12 outstanding liberal arts researchers presented their research to college directors, chairs, deans and faculty at the Dean's Research Reception. A committee selected the presenters from participants in the Honors Day Poster Presentation earlier in the week.
Below, eight of these students discuss their research projects, experiences and the radiating influence undergraduate research can have.
Unorthodox Tactics in the 110th and 111th Congresses: Leadership in the Contemporary House of Representatives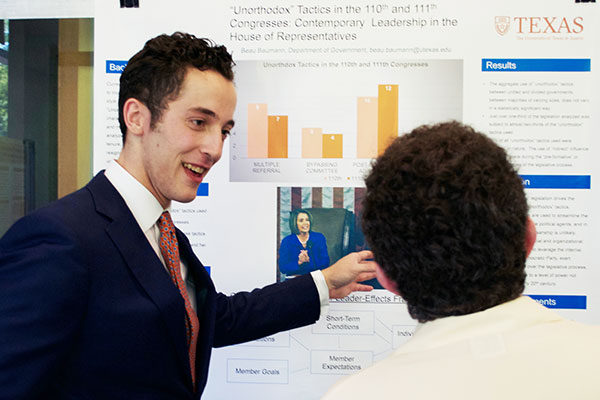 Beau Baumann
, a government senior from Flower Mound, Texas, researched the "unorthodox" legislative tactics of Congress in order to determine the impact of Speaker Nancy Pelosi on enacting legislation. He studied when and why these tactics were used and more effectively analyzed leadership style used in the U.S. House of Representatives.
How did you decide on your research topic?
My research project was inspired by my Archer Fellowship semester in Washington, D.C., interning in the leadership office of Speaker John Boehner. Seeing pundits debate the efficacy of Speaker Boehner's tenure, especially after his shocking retirement last fall, left me wondering if there was an empirically sound way of comparing speakers and the leadership styles. I was also hoping to determine whether congressional leaders are capable of independently effecting legislative outcomes. Existing congressional theory would suggest that they are not, that leaders are interchangeable and subject to the contexts of their tenures.
Who mentored you on this project? What was his impact?
Sean Theriault served as my advisor and has been an indispensable resource. He has produced definitive research on the exogenous and endogenous forces that effect congress and its leaders. He emphasized a focus on legislative process and pushed me to improve my writing. His wealth of knowledge filled in the gaps in my understanding of Congress and its process.
What kind of work went into your project?
My thesis was a fun combination of empirical research and political theory. I systematically analyzed the use of "unorthodox" legislative tactics during the Pelosi Speakership. I developed a theory that explains the use, or disuse, of these tactics in different contexts. I then tested the significance of my findings with statistical tests. The empirical side of my thesis was the most time intensive, but afterwards I explained the results with my own leadership theory.
What kind of impact do you think this research could have?
If my methods are expanded to the tenure of multiple speakers, congressional scholars will—for the first time—be able to make empirically sound comparisons of congressional leaders' styles. I hope that this thesis demonstrates that current models of congressional leadership are not comprehensive.
Recent events have shaken the faith of many casual observers of Congress in the influence of congressional leaders. They should see these results as evidence that leaders can influence the enactment and substance of non-incremental legislation. This thesis restored a great deal of my own faith in the ability of effective congressional leaders to lead.
Arabic is NOT in Danger
Adeli Block, a Middle Eastern Languages & Cultures and geography senior from the Washington, D.C., area, investigated the prevalent belief that the Arabic language is dying out among Arabic speakers. She turned to social media to discover how the language is evolving and if there is truth to the rumors of Arabic's demise.
How did you decide on your research topic?
I was first asked to do research for my supervisor, Kristen Brustad, who was writing a chapter in a book about language change in the Arab World. I was essentially assigned to look on different forms of social media and see what Arabic-speakers were saying ­­– in Arabic – about the state of the language. I then transformed the project into my thesis. My thesis looks at how Twitter offers an alternative to the idea that the Arabic language is in danger.
How did your mentor, Kristen Brustad, impact your project?
She is highly acclaimed within the field of Arabic Linguistics, so it has been an absolute honor to work with her. She makes every student feel like they are the best researcher in the world. She is always very encouraging and gives a lot of constructive feedback on my work.
What kind of work went into your project?
I spent roughly 8-10 hours a week just searching random phrases, ideas and hashtags on Twitter. Every week I would compile a list of tweets and would write about the significance of each tweet. It became very clear to me that Arabic is not dying at all.
People's perceptions of the idea of "Arabic" are changing.
For example, there is more acceptance of writing being conducted in dialectal Arabic or even the mixing of standard and dialectal Arabic together. There are movements and campaigns on Twitter to preserve the language and engage in discussions about how the perceptions of the language are changing. On International Arabic Day in 2015, there were over 9,000 tweets that used the hashtag "#IWriteInArabic" and only 20-25 tweets talked about how the hashtag was written in dialectal Arabic instead of standard Arabic. Thus, people are contesting the idea that writing in Arabic must be performed in standard Arabic.
What element of your research do you find most interesting?
One element of my research that is absolutely fascinating is when Arabic speakers will have such a strong and clear opinion about standard and dialectal Arabic on Twitter, but then the way that they write the tweet contradicts their original statement. For example, one woman tweeted about how she doesn't support writing in dialectal Arabic and how it is contributing to the demise of standard Arabic. Meanwhile, she most definitely had some dialectal features in her own tweet. It is these types of contradictions that keep me up at night trying to figure out what it all means.
What kind of impact do you think this research could have?
Unfortunately, language use online is a very under researched field. My research shows that this field definitely deserves more attention. Additionally, it demonstrates that Arabic really is not dying, which sadly is a prevalent ideology due to the threat of other languages, the spread of spoken Arabic (the dialects) and the use of social media.
How has your research impacted your outlook on the world?
I think social media can have a lot of negative aspects but in reality, it can be a really powerful tool to rally people together behind a cause. It also has the ability to help spark radical change within society and spread awareness and knowledge that people might not otherwise have access to.
Cross-Era Analysis and Comparison of Individuals from Archeological Site 41GV66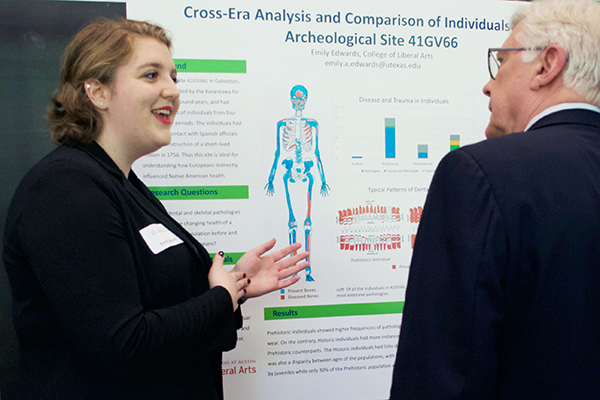 Emily Edwards, an anthropology and Middle Eastern Languages & Cultures senior from La Porte, Texas, studied the dental and skeletal changes in Native Americans over time at an archeological site in Galveston, Texas. She examined remains from prehistoric, protohistoric and historic eras.
How did you decide on your research topic?
I knew I wanted to do something with skeletal remains, and I've always been interested in pre-colonial societies and ancient health. So after talking with my advisor, I decided that looking at changes in health over time in one population would make for an interesting study.
Who mentored you on this project? What was their impact?
My advisor was Chris Kirk, whose Osteology class inspired me to focus my research on skeletal remains. He also connected me with the wonderful staff at the Texas Archeological Research Laboratory (TARL) who care for the artifacts and remains from years of excavations.
I was also mentored by Stacy Drake, the osteologist at TARL. While Dr. Kirk's advice and knowledge of the skeleton was extremely helpful, he focuses primarily on much older individuals. Stacy is the only osteologist on staff anywhere at UT, and has very similar interests to my own. She has a different approach and skillset, which was useful not only for my research, but also for my future and understanding what the daily duties of an osteologist.
What kind of work went into your project?
My research was a lot of work. I spent between 8-12 hours a week at TARL analyzing the remains of 40 different individuals from a site in Galveston. But I really enjoyed what I was doing, so it didn't really feel like work. It was definitely a learning experience, though. I had to go back and look over some of the first individuals I studied because I was so thrilled to be working in the lab that I didn't take very good notes initially. But as I really narrowed down my focus and what I wanted to write about, the analysis was much quicker.
It's also a bit disconcerting to work on your own research. You have to make decisions about what is relevant to your study and what can be ignored, and as you get closer to deadlines, you have to make some difficult decisions about what aspects of your research has to be cut due to time constraints.
What element of your research do you find most fascinating?
My research focused on a group of Native Americans that did not have direct, regular contact with Europeans until the construction of a short-lived mission in 1756. Yet, the individuals I studied showed the markers of poor health and stress seen in Native American populations with routine contact with Europeans. My study illustrates the far-reaching and indirect influence of Europeans on Native American health.
What kind of impact do you think this research could have?
The individuals I studied were most likely Karankawa, a group of Native Americans that has since disbanded due to encroachment on lands and clashes with Europeans and other native peoples. Because they did not leave huge monuments or 'valuable' artifacts, the Karankawa people have been, until recently, largely ignored by scholars. What little we know about them comes from distorted European accounts which often portray the Karankawa as heathens and sometimes cannibals.
Through my research, I hope to contribute to the ongoing discussion about the lives and health of native Texas groups, especially prior to the arrival of Europeans, and provide more accurate knowledge about these people that history has neglected.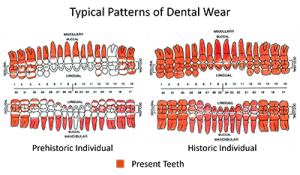 Does a particular part of your experience stand out to you?
It is a powerful thing to hold the remains of a person who lived so long ago, to see where they've broken a bone or lost a tooth or had joints plagued by arthritis. Even though you'll never know their names, you can see distinct traits from each person. Working with skeletal remains brings a whole new level of respect and reverence for past peoples that you miss when only working with artifacts or documents.
Chinese Expansionism: American and Indian Perspectives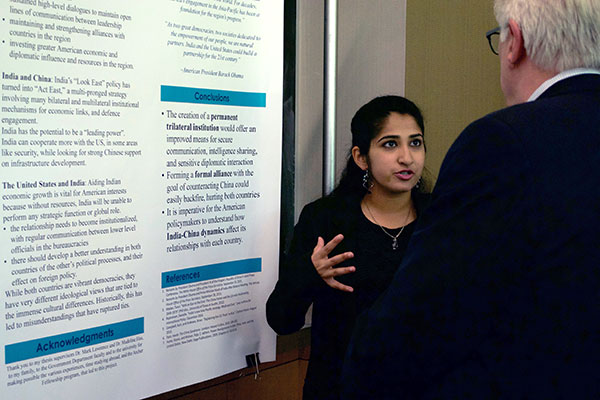 Shalaka Joshi, a government and Plan II Honors senior who was born in Mumbai, India, and lived in Dubai, United Arab Emirates, before moving to Katy, Texas, examined the policies of the United States and India toward China and the similarities and differences in these ideas and tactics.
How did you decide on your research topic?
My research topic came together from a variety of experiences I have had through UT. Foreign policy had always been an interest of mine because of the various international and travel experiences I had at a young age. I first became interested in the relationship between the United States and China when I had the opportunity to study abroad at Tsingua University in Beijing in the summer of 2014. After that, I was selected to be an Archer Fellow for the spring 2015 semester, allowing me to live and work in Washington, D.C., for four months. There, I worked for the South Asia Research Department at a prominent think-tank, studying American involvement in South Asia, particularly in India. These two experiences exposed me to the politics between the United States, India and China and inspired me to examine these bilateral relationships.
What kind of work went into your project?
Most of my research involved reading a large variety of sources on the subject. The sources varied from public documents and press statements released by each government, numerous news pieces, work done by current and former policymakers, and the work of political scientists, analysts and historians in academia.
What element of your research do you find most interesting?
One element of my research that I found fascinating was reading Chinese documents that were available on the Chinese foreign ministry's website, as well as English language newspapers, because the perspective these documents express is so different than perspectives found in both the United States and India, which I had focused on as I conducted my research.
What kind of impact do you think this research could have?
I believe that my research tries to find a new way of conceptualizing existing ideas about the political relationships between the United States, India and China. For example, here in the United States, policymakers do not often take into account how the relationship between India and China affects the bilateral relationship the United States has with both countries. Going forward, trying to understand that dynamic may help the American government be more effective in its policy toward both India and China.
I also argue that the leadership of these three countries should create a new trilateral forum that would enable them to meet frequently to discuss key issues and to have a venue in which to coordinate to fix problems that may emerge. Such a forum would also have long-term global viability because the three countries are projected to be even more politically and economically influential over the next few decades.
How has your research impacted your outlook on the world?
Study abroad really does change how you see your own country, and my experience in China enabled me to appreciate living in the United States further. I also had the additional experience of living in India that I could compare with being in China and the United States that opened my eyes to differences in global income and living standards, as well as what it means to be a global citizen and have open-minded global perspectives.
Has this project influenced what you want to do after graduation?
I want to go to graduate school in public policy and international relations and develop the skills to have a career in foreign policy with the American government. This project has given me the opportunity to begin that process by enabling me to conceptualize my own ideas about American foreign policy in Asia, a part of the world I am from, have personal ties to and therefore am very interested in.
Machismo, Secondary Labor, and the Mexican-American Father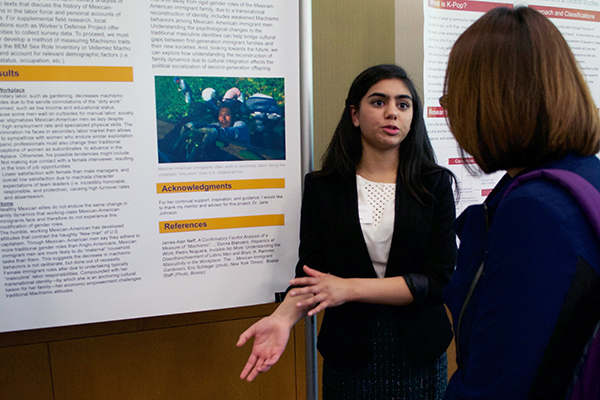 Sahara Khan, an Iberian and Latin American Languages & Cultures sophomore from Frisco, Texas, researched the variety of impacts that physically demanding labor can make on first-generation Mexican-American men and their families.
How did you decide on your research topic?
Whenever I read about gender and the labor force, the study always discusses how the identity of women is affected by machismo attitudes. But we often ignore the psychology of men even though they are affected by gender roles as well, especially immigrants who have to adapt to the gender norms of their new country for success. Studying how Machismo in the labor force affects the Mexican-American immigrant father encompasses substantial changes in both the public and private spheres to better comprehend how these attitudes change and why.
What kind of work went into your research?
Because this is my first research project, it was meant to be a research proposal and not a completed work. I had just completed my first steps—understanding the research process and ways of compiling and relating data, fishing for information in the library stacks, compiling an annotated bibliography based on literary analysis and reaching out to community organizations for field research opportunities.
Because the project had just started, it was pleasantly surprising to be invited to the research fair and Dean's reception, but I am honored to have the opportunity to practice my public speaking skills and present my hard work.
What kind of impact do you think this research could have?
Understanding the psychological changes to the traditional masculine identities can help bridge cultural gaps between first-generation immigrant families and their new societies. So, we can help immigrants better adapt to the U.S. workforce. And looking toward the future, we can explore how understanding the reconstruction of family dynamics due to cultural integration affects the political socialization of second-generation offspring.
What element of your research do you find most fascinating?
Lots of political rhetoric surrounding immigration focuses on deportation, but the aspect of secondary labor is an interesting way to counteract these claims. Because I found most Mexican-American Immigrants either perform dangerous factory work – the "dirty work" U.S. citizens often do not want to do – or work domestically as babysitters and gardeners – for families working high-paying jobs – I understand Mexican-American immigrants are a crucial part of our economy. Instead of focusing on deportation, this study emphasizes the need for cultural understanding to provide assistance, not just out of goodwill, but to support the U.S. economy.
How has your research impacted your outlook on the world?
I identify as an intersectional feminist. As such, I've always paid particular attention to the hardships of women in minority populations. Researching the way machismo—as a system of cultural patriarchy—can affect all genders has reminded me to also pay attention to the struggles of men, as they also speak volumes about gender roles.
Since I volunteer with Foundation Communities' Tax Centers as a translator and intake officer, it was also interesting to connect literary anecdotes about immigrants working in secondary labor to people I worked with in person. Seeing how the mother or father's work injury financially and emotionally affected families, for example, made me understand the importance of investigating labor as a cultural issue.
Has this project impacted what you want to do after graduation?
I currently aspire to be an immigration lawyer to help Spanish-speaking immigrants gain citizenship. This project has reminded me that this goal is important.
The K-Pop Society: Applying Transnational Social Field Theory to Illustrate K-Pop Culture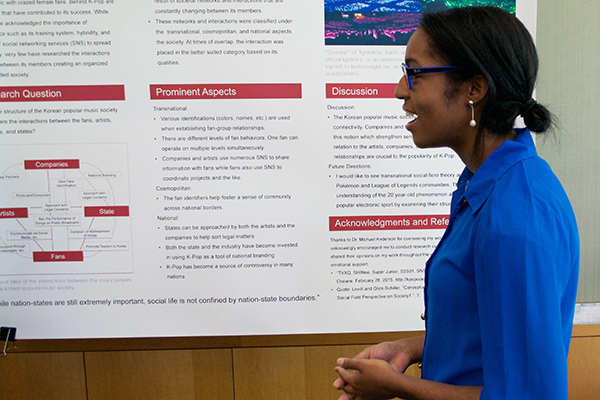 Breana Lovelace, an International Relations & Global Studies and Asian Studies senior from Arlington, Texas, examined the global rise of Korean popular music (K-Pop) and interactions between fans, artists, companies and states. She used transnational social field theory to shed light how K-Pop became so well known so quickly and how it can be utilized by other transnational communities.
How did you decide on your research topic?
I knew I wanted to write about K-Pop since it has a huge influence on my life.
Who mentored you on this project? What was his impact?
Michael Anderson was my research advisor. Relaying ideas with him was a good experience. There were times I really had to stand up for my ideas and times I needed to listen and reflect. Because he reminded me to check recently published books, I was actually able to do less work than I originally thought I had to do.
What kind of work went into your project?
Extensive. It seemed like I was always reading. As for the writing, having to process everything, note what would be important for my paper, and then actually putting thoughts into coherent sentences was pretty difficult. I ended up often having to give up sleep, sometimes hanging out with friends and not being able to do as well as I would have liked in other classes. But overall, I'm thankful—I think it was really worth it.
What element of your research do you find most fascinating?
Yikes, that's kind of a tough question…Ah! Probably just the fact I can write about something I love in a scholastic setting with a theory – transnational social field theory – supporting it.
What kind of impact do you think this research could have?
I hope this paper will open people's eyes to the fact K-Pop fans are not just mindless consumers of a music genre. K-Pop involves the work a society and the fans are a crucial and critical part of it. I also hope this paper will encourage others to look at other communities, including League of Legends and Pokémon, to see how other large yet overlooked societies function.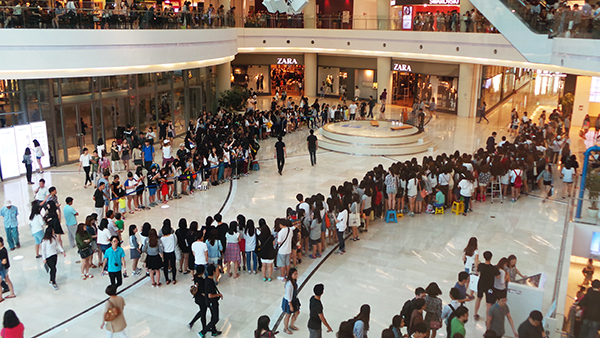 How has your research changed your outlook on the world?
We focus so much on ourselves and where we come from and these things are important, but I also think it's important to consider how each of our stories come together and contribute to a larger whole. In this way, I think my research has made me want to encourage others to look beyond their borders. I mean, for example, there are so many Manchester United fans—how many are actually from Manchester? And how many compliment or stop to talk to each other whenever they see someone sporting the team's logo? These fans are still from where they are from, and yet their interest is invested into something that may not necessarily be from where they are from. And that is lovely. I guess what I'm trying to say is we all have differences, but we're not so different that we can't come together as people.
What advice would you give to fellow liberal arts students?
Don't forget to give yourself a break. Ask for help. Write about your interests even if people look at you weirdly. Also, our college does mean something. Some people can't stand to read tons of material from this excerpt of that book in addition to some three articles one professor assigned, in addition to another professor's work on the same night. Some people can't write multiple papers in a semester. I'm not saying we all enjoy it, I'm just saying the effort and the work you do in liberal arts is not easy and is specialized too. So be pleased with your degree decision, even if others are not.
Race-Related Stress and Racial Identity as Factors in Academic Self-Concept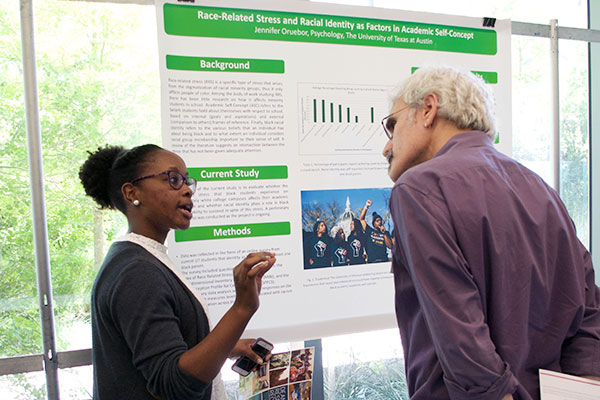 Jennifer Oruebor, a psychology senior from Houston, Texas, evaluated if the stress that black students experienced on predominantly white college campuses affects academic self-concept. She also researched if racial identity takes a role in black students' ability to succeed despite this stress.
How did you decide on your research topic?
My research began as part of my senior thesis for the Polymathic Scholars Program. I actually bounced around from idea to idea at first. I knew I wanted my research to revolve around improving mental health outcomes, as that is what I'm most passionate about, but I wasn't sure of how to go about doing this.
In the beginning, I wanted to study dance therapy as a treatment for stress and mood disorders. However, a requirement of the program is to identify faculty members on campus that are working in your area of interest and to my surprise no one was working on that. It may sound kind of dramatic, but I vividly remember sitting down and reflecting on everything that had contributed to my own mental health status up until that point and everything that had affected my peers – in high school as well as in college. It was actually a blessing that there weren't any faculty members studying dance therapy. It forced me to really evaluate what my ultimate goals were and how this research project would help me accomplish them. Ultimately, I want to improve mental health outcomes for everyone, but especially for black youth and young adults and especially as it relates to school environments.
Who was your mentor on this project? How did she impact it?
The project is ongoing and my mentor is Keisha Bentley-Edwards. She has been far more than a faculty mentor to my project. I consider her a mentor, period. Another component of Polymathic Scholars is creating a unique curriculum for yourself that will allow you to explore and learn within your fields of interest. I decided to include her class – The Psychology of the African American Experience– in my curriculum and it is still the best class I've taken here at UT. That class woke me up. It really improved my experience here on campus because I came away from it with a better understanding of my environment and a sense of empowerment. She created a space for intellectual discussion on topics that were at the core of my experience.
As my faculty mentor, she has given me the power to steer the project how I believe is best. Her greatest impact on me and on my project has been the example she's set. I look at her body of research and I know that she is passionate about what she studies and about the people that she studies. That is what I want for my research project and in my future career as a healthcare professional.
What kind of work went into your project?
It is very hard work. I have had a lot of experience as a research assistant. I was a research assistant in high school, I participated in the Freshman Research Initiative, and I worked in a psychology lab on campus for a year and a half. I thought I knew, but I had no idea. All of that exposure and I was really oblivious to the elbow grease that goes in at the front end of a research project. I spent countless hours reading paper after paper just to narrow down a research question. Then I spent hours designing the study and getting it approved. After I had done all of that, I had to get people to actually participate. You'd be surprised that as often as college students are on their phones, they aren't particularly excited to take a 30-minute online survey. There was a lot of work by way of recruitment. As I write my thesis, I imagine my late nights being very similar to that of a doctoral student–eyes glued to a computer screen and a hand glued to a cup of coffee.
What element of your research do you find most interesting?
I'm fascinated by resilience. I think it is astonishing what people are able to withstand and accomplish when they have the right tools and are empowered. I've realized how important it is to approach things from an abundance perspective, rather than one of deficit. Within each individual, or group of individuals, is a collection of traits that allows them to beat the odds. I think that is key to how we'll solve the problems marginalized groups are facing.
What kind of impact do you think this research could have?
In my dream world, my research would be a springboard for a new discussion on mental health among black youths and young adults, and it would help to redefine what it means to succeed in school. Learning shouldn't be stressful, and when it is I would argue that you aren't truly learning. Being faced with a challenging topic can provide motivation to improve your understanding and skills, and that is a great way to grow. But being in an environment where your goals become purely numerical coupled with the perception that you don't belong and aren't capable of success – for whatever reason – results in the exact opposite of learning.
I read an opinion piece in which the author suggested that student demands for "safe spaces" on college campuses was a threat to freedom of speech and the learning environment. It was completely misguided. Creating a safe space doesn't mean that there isn't a pushback on opinions or that you have to always be "politically correct." For one, political correctness does not equate to being genuine. There are plenty of politically correct statements that are underscored with bigotry and hate. While on the other hand, you can be open, honest and far from politically correct, but still be genuinely interested in the well being of marginalized groups. I hope that my research will contribute to a better understanding of the experiences of black students on college campuses. When students do feel safe – mentally, emotionally, and physically – they learn better and they contribute amazing things to their campus communities.
Has this project impacted what you want to do after graduation?
It has reaffirmed my desire to go into medicine. I'm very invested in improving mental health outcomes and plan to become a psychiatrist. I especially want to address factors of mental health within communities of color. Doing this project has made me realize that I don't just want to implement solutions in a clinical setting; I want to be the one developing them as well. I hope to continue doing research in this area throughout my career as a healthcare professional.
Predicting Effects of Climate Change Through Sustainable Agriculture
Joy Youwakim, an economics sophomore from Nederland, Texas, is working on agricultural research that simulates an environment affected by climate change. The goal is to use irrigation on corn and sorghum to discover how to save crops, conserve water and feed an ever-growing population.
How did you decide on your research topic?
I am very passionate about the environment and sustainable agriculture. My professor, William Wolesensky, helped me in narrowing down a specific idea thanks to his background in farming.
What kind of impact do you think this research could have?
My research focuses on combating world hunger and climate change through agriculture. I believe our findings will open multiple doors into the world of sustainable agriculture, and begin the process of helping the society of the future have access to sustainable amounts food and water.
What kind of work went into your project?
There is no instant gratification in research. It's a very slow process that requires much patience and planning. I began drafting plans in the summer of 2015 and applying for research grants in the fall of the same year, which required drafting multiple proposals. I then began the process of looking for seeds and land, which required making phone calls and sending e-mails to find out what my best options were. It has taken almost a year of planning to actually get some seeds in the ground, but I couldn't be more excited.
Does a particular part of your experience stand out to you?
When I started calling farmers for seed, land and farming opinions, I was surprised by their vernacular and approach to me. A distinct culture exists in the field of agriculture.
How has your research impacted your outlook on the world?
I love thinking about how it's going to change the world and make a positive difference.
Participating in my research definitely makes me feel more hopeful about the future, especially in a time in which there exist certain politicians who deny climate change.
What advice would you give to fellow liberal arts students?
Research isn't about the individual. You need to be willing to work really hard and be OK with the fact that you might have to scrap everything a few times. At the same time, it's honestly been one of the most fulfilling things I've participated in during my college career.
For more information about undergraduate research week, click here.