Each spring, 12 graduating seniors in the College of Liberal Arts are named Dean's Distinguished Graduates. The award honors students for their leadership, scholarly achievements and service to the community. The acknowledgment of the Dean's Distinguished Graduates has become an integral part of the college's spring commencement ceremony, with more than 400 students recognized since the award was established in 1980.
Read about three of this year's outstanding liberal arts graduates below, and view a complete list of the 2016 Dean's Distinguished Graduates and honorable mention recipients here.
Michelle DuBois West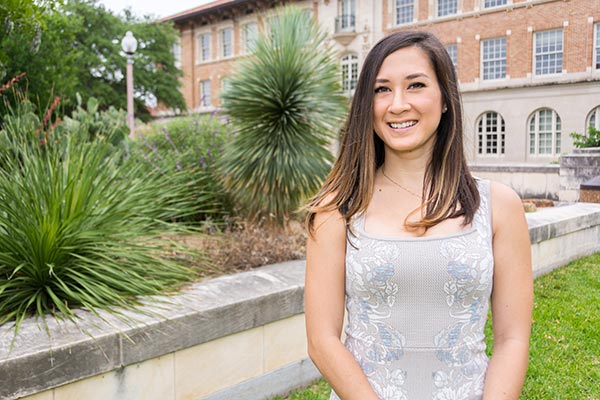 Michelle DuBois West is a Portuguese and linguistics major from Houston, Texas. After graduating as the valedictorian of her high school in 2005, DeBois West attended UT Austin and received a degree in nursing. She returned to school in 2013 to pursue her passion for language, which was first sparked by growing up in a trilingual household, where she spoke Portuguese, Japanese and English. While going back to school, DuBois West also continued her work as a nurse, volunteered to teach ESL to adults through a nonprofit organization and worked as a research assistant in the UT Sound Lab.
What are you most passionate about?
One of my biggest passions is giving back to others. Whether that is caring for them when they are sick or teaching them, I love to be able to help others better themselves and achieve their own success. 
Who has had the greatest influence on your life and why?
My grandmother has been the greatest influence in my life. She not only taught me compassion, tolerance, hard work and humility, but she also exemplified it in everything that she did. I cannot express the pride and love I feel every time I think of her, and feel so thankful that I was able to have her as part of my life.
What is your proudest accomplishment?
Graduation this semester has to be one my proudest accomplishments yet. This graduation will mark the fulfillment of a promise I made to myself seven years ago to return to school and pursue my passion for language, and I did it!
What has been your greatest challenge?
Honestly, my greatest challenge has been to find a balance between everything that goes on in my life. Between work, school and volunteering, it is easy to forget to make time for family and friends and to become overwhelmed. In a way though, it was good for me. It taught me not to sweat the small things and how to take things one day at a time and embrace the chaos instead of fighting it.
What has studying liberal arts meant to you?
My first degree in nursing is science based, and not that I didn't love that as well, but studying liberal arts has opened my eyes and introduced me to new disciplines. After studying liberal arts, I have been inspired me to think in new ways and am now able to approach problems more creatively and comprehensively. 
What is your main goal following graduation?
Where do I begin? It is hard for me to pinpoint one goal, as I have so many. One of my goals is to ensure that I continue to give back to the community teaching ESL, and by pursuing a position that will allow me to teach Spanish and Portuguese as well. In addition, I plan to apply to graduate school, so I can further cultivate my love of language and continue to explore the wonderful and exciting things it has to offer.
What advice would you give to incoming students?
There is so much that is offered to students while studying at UT that my main advice would be to slow down, take it all in and get involved. There is truly something for everyone—a club, an organization, events—and if there is something missing, start it yourself! With such a rich environment, it would be a shame to pass it all up and stay buried in a book for four years. 
What is your favorite memory from your time at UT Austin?
My favorite memory at UT is experiencing the first home football game. I remember that I did not have tickets to see the game, but I was sitting in my dorm room in Jester West with the door open while several others—who also did not have tickets—watched the game from their rooms. I remember the first touch down sent a shockwave through campus as we could not only hear our own voices cheering, but we could hear the roar from the burnt orange ocean in the stadium. I remember thinking, "I'm going to love this place!"
Savannah Kumar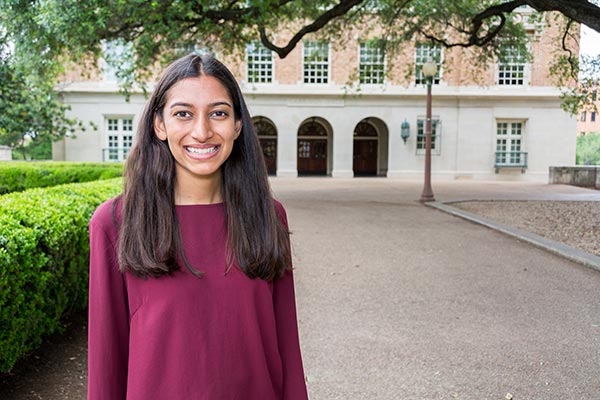 Savannah Kumar is a Plan II Honors and philosophy major from Austin, Texas. As a board member for the Amala Foundation, she designed grassroots peacebuilding programs for refugee youth. She was also a fellow at the United Nations office in Washington, D.C., where she worked on human rights and development issues. In addition to the many nonprofit organizations she is involved with, Kumar was also a Supreme Court Justice for UT Student Government, a nominee for the Rhodes Scholarship and selected as a finalist for the Marshall Scholarship.
What are you most passionate about?
I am most passionate about dialogues that include diverse voices and perspectives. As a philosophy student, I am interested in many theoretical ideas; however, I think people's lived experiences in the world sometimes challenge these ideas, and taking all of this into consideration adds rigor to the study of concepts. I love working with communities to develop solutions to challenges they are experiencing while also engaging in a dialogue about how they understand these challenges. 
Who has had the greatest influence on your life and why?
For the past four years, I have been visiting San Quentin Prison to participate in peace-centered projects with incarcerated men. Conversations with the men at San Quentin have transformed my understanding of freedom. I have learned more about the ways that we might be denying ourselves of freedom, within and outside of prison walls, and have learned that true freedom is accessed within us, rather than gifted by others. Though I am passionate about prison reform, these lessons about freedom helped me recognize the beauty and pain within my life, as well as the beauty and pain in the lives of ostracized members of our global community.
What is your proudest accomplishment?
My proudest accomplishment is taking fullest advantage of my education and bringing what I learn back to my community. My mother did not have an opportunity to finish her formal education, so my education has been for both of us. Education truly has the potential to transform lives, and I am proud to recognize its transformative potential and carry wisdom from the academic sphere to communities, and from communities to the academic sphere.
What has been your greatest challenge?
My greatest challenge has been letting go. On a personal level, a fear of letting go can keep me from following my dreams and submitting to the mystery of what's next. On a professional level, I have a tendency to become attached to all of my curiosities and interests and am reluctant to let go of some of them in order to truly commit to one cohesive inquiry or project.
What has studying liberal arts meant to you?
Studying liberal arts has meant studying some of the rawest aspects of my humanity. My English courses have taught me about a shared emotional language—one that links my experiences and thoughts with the experiences of previous and future generations. History courses focused on slavery have taught me about the systems of oppression that continue to manifest in some form today. My philosophy courses have challenged my understanding of the "good," and have given me access to ethical theories that guide my actions as well as my thought. In all of my courses, I have learned how to apply theoretical thought to contemporary problems. I have learned how to be a witness to the human condition, and an active agent in making our world a better place. My liberal arts education has freed me to ask questions about my humanity, and answer them in new and creative ways.
What is your main goal following graduation?
After graduation, I hope to work with people and countries in conflict. I hope to integrate the theoretical aspects of my philosophy education with people-centered work as I explore questions of justice, forgiveness and humanitarianism.
What advice would you give to incoming students?
Your voice is powerful and you can create a lot of change by using it. Always be willing to challenge your ideas and preconceptions, and put yourself in spaces where your ideas will be challenged and refined. Use your time at UT to explore and create. There are few opportunities in life where you are surrounded by a community of people with truly diverse interests who will collaborate with you to innovate solutions to problems. Collaborate with the wonderful students around you to actualize your passions! If there's a space that you're craving and you don't find it at UT—create it! Your time at UT is both long and short—long enough to create sustainable structures, and short enough to use this space for exploration and experimentation before moving to life beyond the 40 Acres.
What is your favorite memory from your time at UT Austin?
All of my favorite memories at UT involve the vibrant conversations that I've had with my peers. This year, I have had the pleasure of facilitating "Scholarship Circles," a project that I started in my role as director of scholarship and service of Texas Orange Jackets. These conversations have brought students together to discuss issues including gender norms, homelessness, refugee issues, bioethics and prison-related issues. In all of these conversations, we strive to use a personal framework to understand societal issues to make our campus and broader community a better and more inclusive place. These conversations are my favorite memories because I am grateful to be surrounded by curious, passionate students that challenge me every day to think more critically within and beyond the classroom.
Christle Nwora
Christle Nwora is a humanities, urban studies and Liberal Arts Honors major from Murphy, Texas. She has been incredible involved on campus, serving as president of the Texas Orange Jackets, an undergraduate research affiliate for the Innovations for Peace and Development lab and the director of operations for the Afrikan American Affairs organization. In 2012, she traveled on a medical mission trip to the Anambra State in southern Nigeria. Following graduation, Nwora will be attending McGovern Medical School in Houston, Texas.
What are you most passionate about?
I interned with the Texas Health Institute this past summer and had an opportunity to work with a primary care conference. I was impressed by the ability of primary care to integrate a love of medicine and social justice. I am passionate about the future of primary care and its role in combating health care disparities.
Who has had the greatest influence on your life and why?
I am fortunate to have so many wonderful mentors and role models, including the women in my family and my organizational advisors. One mentor who has guided me since freshman year is Jordan Metoyer (an urban studies and economics alum who now works at the White House). She has taught me how to navigate different spaces on campus and how to best invest my time and energy. Above all, Jordan has demonstrated how living with purpose and passion can create a positive impact for communities we care about.
What is your proudest accomplishment?
Standing on the steps of the Supreme Court and speaking in support of UT's position in Fisher v. University of Texas was surreal. I am proud to follow in the foot steps of the precursors (first generation of admitted African American students on the Forty Acres) who fought for expanding access.
What has been your greatest challenge?
Learning how to say "no." It is easy to feel like there is always more you could be doing at UT. There is always another guest lecture to attend, research opening, library you haven't discovered, etc. While I value choice, I also value depth and growth. It took a few tumbles to understand that I can't pursue every opportunity that comes my way. 
What has studying liberal arts meant to you?
I've thoroughly enjoyed the academic freedom and intellectual challenge that the liberal arts education has brought to my experience at The University of Texas. For my specific interest in medicine, the liberal arts have broadened my understanding of the human condition and how to holistically approach care.
What is your main goal following graduation?
Focus on medical school. I am excited to start this new adventure and I want to dedicate myself fully to the experience.
What advice would you give to incoming students?
Grab coffee with the coolest person in the room. We attend a university that is populated by top rated faculty, staff and students. A quick coffee chat can give you perspective, open doors to opportunities and create friendships.
What is your favorite memory from your time at UT Austin? 
I am drawn to tradition so I'll never forget my tap-in for Texas Spirits, the oldest spirit group on campus. Our legacy is nearly 75 years old and I loved being in a space rich with history.