"When I found out that I was going to TA in the beginning of the semester, I was very nervous. Not only was this my first semester in grad school, but I've also never taught anything at this academic level. I'm so incredibly glad that I registered for this class. I learned so many valuable things from teaching tactics, different forms of feedback, different activities, etc., but I mostly gained confidence in my teaching abilities."
— from Fundamentals for TAs Survey, Fall 2015
Teaching presents significant academic and professional gains for graduate students and becomes a valuable learning moment. However, it is a challenging task due to the amount of intellectual efficacy and time commitment it requires simultaneous with one's own study and especially when one teaches for the very first time. Teaching effectively for one's first teaching assignment is a considerably demanding but, at the same time, an equally rewarding academic and professional development experience for graduate students.
Graduate Student Development
"GRS 097: Fundamentals for Teaching Assistants," (Fundamentals for TAs) is a free, semester-long course for graduate students, who are leading discussion sections for the first time. The seminar allows TAs to form and improve their instructional strategies such as effectively leading discussion/lab sessions, understanding various types of students' needs, and using a variety of instructional methods to reach a diverse group of learners. Beginning as a pilot pedagogy-training seminar in 2013, Fundamentals for TAs has since trained a number of graduate students in the College of Liberal Arts and the College of Natural Sciences. The Moody College of Communication has recently joined the program, as well.
Associate Dean of the College of Liberal Arts, Esther Raizen, says that her office approached the Faculty Innovation Center (FIC, previously Center for Teaching and Learning) in 2013 with the idea "to meet the needs of first-time TAs," their premise was that "even though most of the graduate students go on to some sort of teaching, we rarely provide substantial training." They were glad to discover that the center was also thinking about the same issue. The shared goal was to "set graduate students up for success," Raizen says, and it resulted in the creation of Fundamentals for TAs.
"Our ultimate goal is that our programming will help improve graduate students' skills and confidence so that their teaching experience here at UT is positive, thus improving undergraduate learning, and so that they have greater success in a variety of job contexts post-graduation," says the FIC Graduate Student Development program coordinator, Molly Hatcher.
Meeting the Needs of Graduate Students
"TAs get kind of the bare bones training around departments and usually some orientation, but they typically don't get any hands on training after that," says Erica Whittington, the executive assistant to Associate Dean Raizen. "This course offers the opportunity to actually study pedagogy, get feedback, provide hands-on training, and a chance to talk with other TAs, who are in the same place as they are. It is real-time training and this is not offered anywhere else."
Whittington, a former TA in the History department, emphasizes how the course leads the graduate students to "think about their teaching in a more professional manner than just as a job, part of their financial aid and academic employment; they start thinking about becoming teachers and how they will take that leap from being a TA to being a professor."
Creating a Community for Graduate Student-Teachers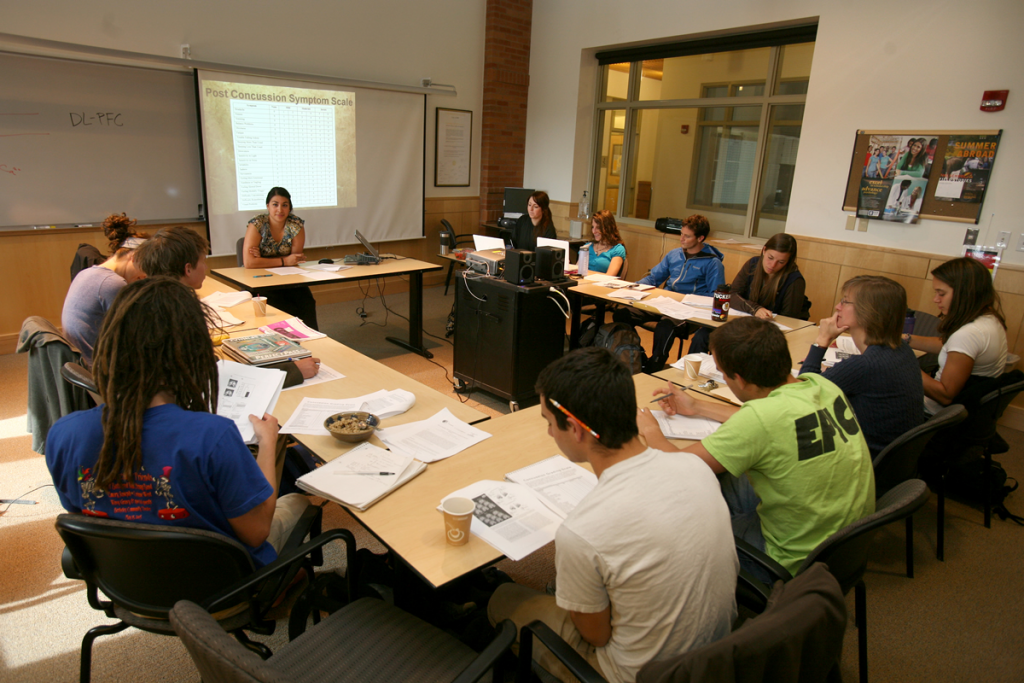 Graduate school can become lonely, as students often need to take on multiple roles as students, becoming professionals, junior scholars and teachers, which generate a constant struggle with finding time for all the work they need to do. While these responsibilities might result in refined time management skills, most graduate students do not get the chance to engage with peers, particularly with those from departments outside their own to share their common struggles.
Fundamentals for TAs' interdisciplinary nature allows TAs to learn about discipline specific teaching problems, which can come up in their interdisciplinary classrooms, and exposes them to different teaching styles while also creating an interdisciplinary community of graduate students. The seminar shows them that the new TAs are not "alone in [their] struggle," as one student states in the post-survey. "[H]aving a safe and stress-free environment to work on challenges," as another survey participant notes, is probably one of the most precise ways of describing the shared sense of community that Fundamentals for TAs creates for graduate student-teachers.
"Graduate students particularly in the humanities, tend to go into this isolation where they work alone, they think they are the only ones and this is a pattern we need to break, and we can't get rid of it, completely," says Raizen. "So anytime we bring together students from different departments, disciplines, it's magic. It is a simple thing. It is critical. That's the thing –  it is so simple. And we don't do it often enough. Great value of the course no matter what you do."
Hatcher mentions that teaching development has "positive, significant effects for graduate student participants in areas such as teaching confidence, ability to create a positive learning environment for their students, and increased sense of community with peers. This increased sense of community is one of the most highly rated aspects of GRS 097," citing the feedback they received from their alumni. In April, the Fundamentals TAs alumni had the opportunity to share compelling stories about their teaching at Graduate Student Teaching Showcase.
Graduate Students' Reflections
Graduate students taking the seminar are asked to complete a pre- and a post-survey reflecting how the seminar helped them gain effective teaching skills. Analyzing these reflections, the GSD team observed, "TAs not only addressed their personal growth, but that their expressions of growth often linked to a number of the course goals and research-based components."
In the post-survey from Fall 2015, one student notes that the course "increased [their] confidence" and reassured they were teaching effectively. Another participant states the seminar made them "realize [their] shortcomings."
"The big part of it is confidence, giving people confidence, you already are a specialist, maybe you don't feel like an expert but you already are and students look at you as a professor even if you are not," Whittington says.
The course allows TAs to solve problems at the time they are experiencing them in their classrooms as they are taking the course while also actively preparing them for any job market that they might choose to go. One participant notes, "teaching and the process of facilitating student learning requires constant learning and reflection," while another echoes this insight by saying how the seminar helped them become more "self-aware of their own teaching."
The Benefits
As teaching can take many forms, Fundamentals for TAs graduates learn to become leaders of their teams, diagnose potential issues among the members that they are responsible for, and effective management and problem solving skills, as a CNS graduate of Fundamentals for TAs notes, "these skills will come in handy in the future, even if I do not become a traditional teacher."
"It is a skill for everybody, who gets some kind of graduate training. Even if you are not going to teach, you are going to probably be expected to learn how to explain things and to teach in some capacity or at least to relay a complicated idea in a more simple manner," Whittington says. "This course really teaches people skills. How do you relate to people? How do you reach them? How do you know where they are at and actually create an environment that works, conducive to learning, and also convey information in a way that matters."
"Our greatest success has been the incredible graduate students themselves and their professional growth," Hatcher says. "Equally successful has been the support we have received from our partners, the Graduate School, the College of Liberal Arts, the College of Natural Sciences and the Moody College of Communication. Having strong collaborators who believe in the value of the program helps us reach more graduate students each year."
Raizen stresses the importance of the college's interpretation of graduate students also as employees. "We care a lot about grad students as employees. This is a matter that really deserves serious consideration and it is not simple because this dual status as employees and students is very often problematic. Giving them the tools that allow them to excel as employees is a huge thing for us." She adds that the college's mission in undergraduate instruction plays a significant role in their goal to improve training for graduate students:
"I think this in two directions. One is the students themselves. There are so many inadequacies that graduate students experience; this is one of them. They may not show it. You go into the classroom and you experience something that you have never experienced before. And you don't know how to approach it. Just this in itself, where they meet others, who have the same experience, is one thing. The other and more important thing, I think, is what is the way we approach our instructional mission? There are very few of us, who are natural teachers or communicators and so on, but we owe it to our undergraduates. The more training we can provide the better it is. We serve them; there is no question in my mind. So aside from what it means for the graduate students, it has a huge impact on our undergraduate students."
In addition to having "so much inherent value if one goes into teaching," for those who do not plan to teach after graduation, the course provides skills that the corporate world constantly seeks. Referring to the alt-ac career services that the college offers to its graduate students, Whittington quotes from the workshops on marketable and transferable skills offered by the career services, where the career coach asks, "Have you been a TA? If you taught, you can be a trainer in the corporate world, and that is training and they need it everywhere" and "that's a huge service of this course," Whittington adds.
Other Graduate Student Initiatives at UT Austin
The College of Liberal Arts has around 700 TAs. In its efforts to listen to its graduate students' needs, the college implemented the TA Task Force in 2014 to seek student input about the TA assignment and the Task Force's survey report made apparent that TAs needed more training. Fundamentals for TAs is not a direct outcome of the Task Force's research; it, in fact, began before the Task Force was formed. However, the goals of the course directly align with the college's mission for undergraduate instruction and graduate student professional development, as well as additional optional TA training.
The college's dedication to graduate student development is not limited to Fundamentals for TAs. The college funds a TA orientation every Fall since 2015 the Dissertation Boot Camp, a three-week summer program hosted by the college's Office of Research and Graduate Studies, which is in its third year and has been a considerable success, a postdoctoral position in the University Writing Center where the graduate students can get help with their writing, and the college's support for another postdoctoral position at the Harry Ransom Center where the postdoctoral fellow provides a highly demanded service to faculty members and graduate students about how to integrate HRC's resources into their classrooms.
Asked about other future initiatives of the college, Raizen notes that any initiatives they might plan for the future will be shaped by "student input," as for the college, "it is so valuable – we are going to seek student input in any initiatives that we think about."