The doors of the Dell Medical School have opened for its first class of future doctors, and they are on a mission to get the training they need to make a difference in the lives of future patients, their communities and even medicine itself.
Of the 50 members in the school's inaugural class, three graduated with degrees from the College of Liberal Arts at The University of Texas at Austin. Garrett Johnson, Pooja Parikh and Cierra Grubbs were selected for the perspectives they bring to Dell Medical School's vision of rethinking health care, including the value that studying the liberal arts would bring to them as physicians. Their individual journeys have brought them to the same place as the first class of students representing a historic moment for UT Austin.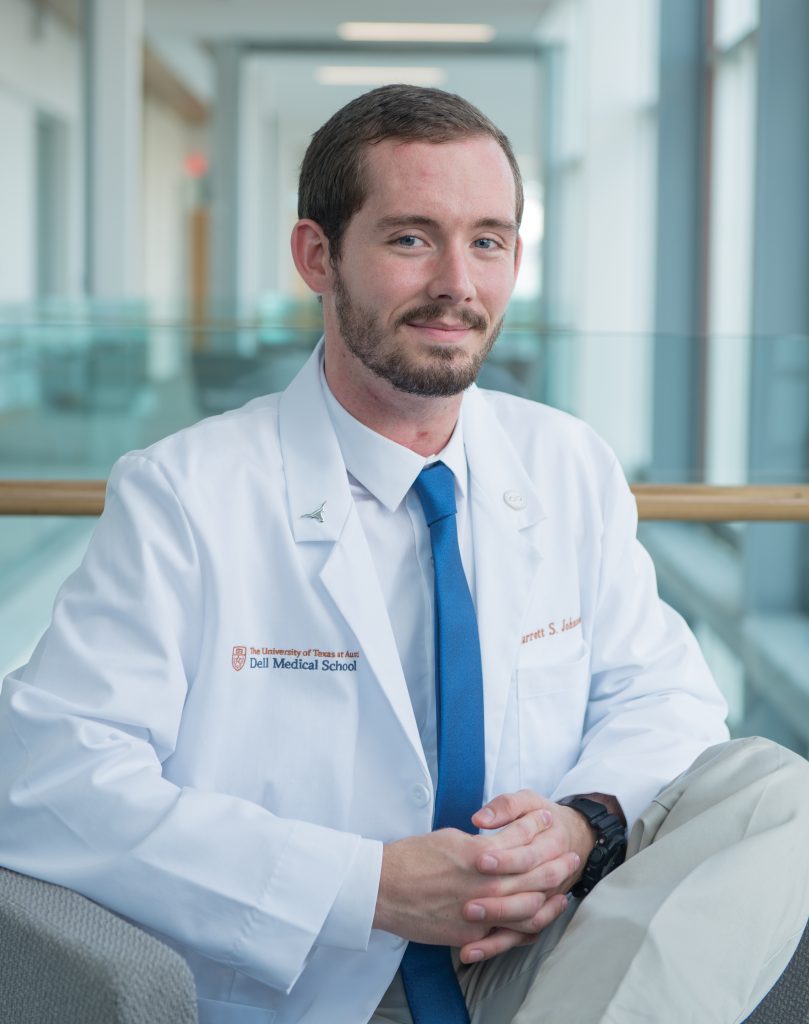 Garrett Johnson
Tuscola, Texas | Philosophy B.A., 2015
When Garrett Johnson was born, his throat was almost completely closed off, a condition known as subglottic stenosis. That led to nine reconstructive and corrective surgeries, all before the age of 2. It also left him with a voice that leaves him sounding a little under the weather – "I do not have a sore throat, and no, it doesn't hurt to talk — I get asked that question all the time."
During his senior year of high school, anatomy class sparked Johnson's interest in medicine, bringing a passion for science and the study of the body that his earlier biology and chemistry classes hadn't ignited. Thinking back on his first years of life helped to finalize his decision to become a doctor.
"Reflecting on these events led me to the conclusion that I want to spend my life giving others the gift that has been given to me," Johnson says.
When it came to selecting an area of study for his undergraduate education, Johnson decided that philosophy was the right path for him as both a student and future physician.
"Early in my college career, I realized if I wanted to become a doctor, I would be studying sciences for the rest of my life," Johnson says. "I came to see college as an opportunity to educate and expose myself to topics and subject matter that I may not be able to in the future. Being a philosophy major has changed the way I approach, view, analyze and remember information and situations.
"My exposure to these wonderful people gave me an inside look at the mission of Dell Medical School and the dedication its core members have. That vision inspired me and made me want to be a part of it."

Garrett Johnson
"Aristotle said, 'It is the mark of an educated mind to be able to entertain a thought without accepting it.' This is the major lesson I learned through philosophy," Johnson continues. "As a doctor, I will keep an open mind when considering everything from differential diagnoses for a patient to proposed changes in the health care system."
As an undergraduate, Johnson was involved in planning the Dell Medical School, serving as a member of the Building Design Committee with the SLAM collaborative architecture firm, fellow students and faculty members including Dr. Sue Cox, the school's executive vice dean of academics and chair of medical education. The committee deliberated on how to create a building that would not only function well as a medical school, but would also have a positive impact on the mental health of the students.
"We discussed how to match the school design to the curriculum, which promotes collaboration, teamwork and group problem solving — exactly what happens in hospitals," Johnson says.
He also worked with two assistant professors of medicine in the Department of Women's Health, Dr. Alison and Dr. Whitney Keller, as an undergraduate student representative on the Reproductive Mechanisms of Disease Task Force. Members of the group weighed in on the Reproductive Mechanisms of Disease course, which will be taught at Dell Medical School this spring. Johnson gave feedback on how to make the course as interactive and engaging as possible while covering all of the necessary material.
"My exposure to these wonderful people gave me an inside look at the mission of Dell Medical School and the dedication its core members have," Johnson says. "That vision inspired me and made me want to be a part of it."
After graduating with his degree in philosophy in 2015, Johnson took a gap year and got a glimpse of what health care is like from a health professional's perspective by working as an emergency room scribe at the Texas Health Presbyterian Hospital-Dallas. Johnson would spend seven- to 12-hour shifts with an assigned physician, seeing every patient and documenting their interactions. The experience of "charting" has helped Johnson become familiar with medical terminology and understand the ins and outs of taking medical histories.
Along with his work as a scribe, on his year out of school Johnson began the arduous process of medical school applications.
"It involved lots of frustration and writer's block — you have such a limited amount of space to mold a portrait of yourself that you don't want to waste a single character," he says. "And it doesn't help that it's quite literally the most important application you will ever do in your life."
Luckily, all the time and effort paid off. When he received the phone call letting him know he'd been accepted, Johnson was overwhelmed.
"I didn't know what to say," he remembers. "You work so hard for a dream and then the dream is handed to you. It was a feeling of affirmation to have the faculty of Dell Medical School look at who I am and what I've done and say they want me as a part of their team."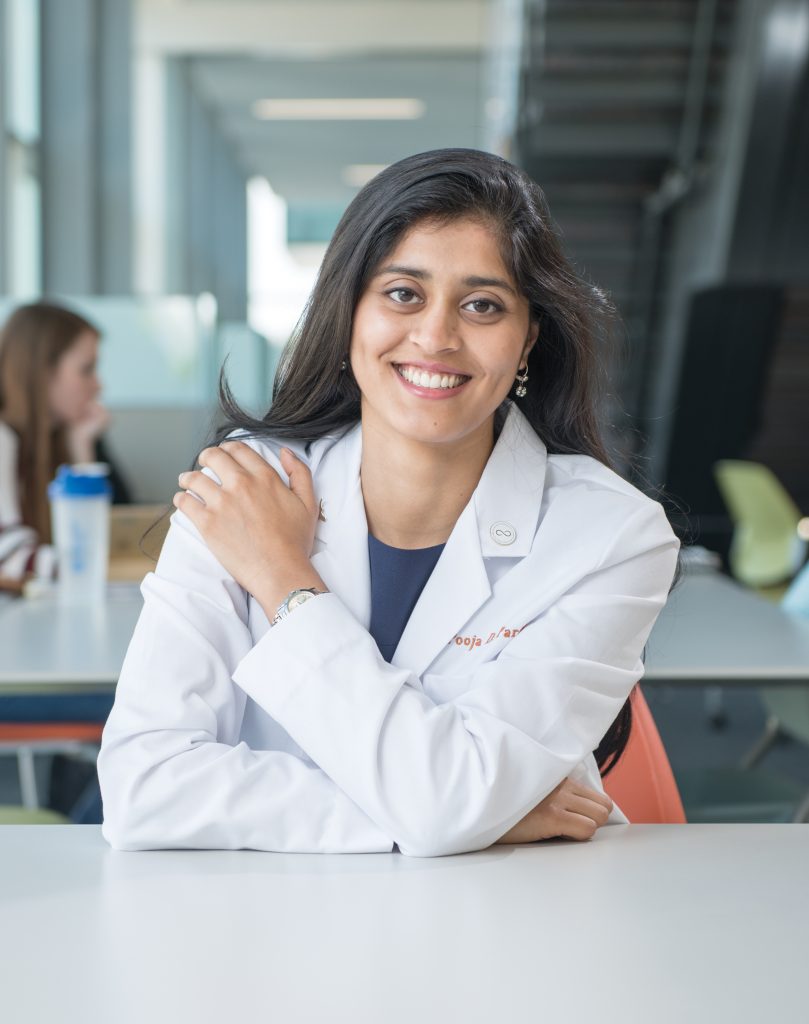 Pooja Parikh
Victoria, Texas | Psychology B.S., 2016
Pooja Parikh has wanted to be a doctor for as long as she can remember.
She comes from a long line of doctors — her father, both grandmothers and her maternal grandfather were practicing physicians. However, something far more serious cemented her decision. When she was 5 years old, Parikh and her brother were playing with her grandfather, Ramdas Mojilal Parikh, when he suffered a cardiac arrest. Witnessing the death of her grandfather, whom Parikh calls her best friend, had a profound effect on her decision to study medicine.
"I believe that the conscious and unconscious decision to become a doctor was made by me at that early age," Parikh says.
"My parents once told me as a child, 'If you judge people, you have no time to love them.' This is something Mother Teresa once said and something that I strongly believe in," Parikh explains. "As a future physician, graduate of UT Austin and student of Dell Medical School, I hope to embody this teaching of hers as we strive to improve the health and well-being of the patients and community."
Parikh visited Mother Teresa's orphanage, Asha Daan, in Mumbai, India, when she was 16. The orphanage cares for children who have severe disabilities and diseases, and Parikh says witnessing the selfless work of health care providers there touched her deeply.
"I can still remember stepping though the double doors of the orphanage, the sight of 30 cradles, the strong odor of antiseptic and the hot air blowing through the wooden windows," she says. "During my time there I had the privilege of assisting in the care of a little girl who, as a result of her illness during infancy, was unable to speak. It was truly a memorable experience, and it gave me a sense of responsibility that comes with caring for someone who is so innocent, helpless and trusting in me to take care of them."
When she came to UT Austin, Parikh knew she wanted to study psychology and the liberal arts as a way to gain perspective and experience that would make her a better physician.
"I feel my education through the College of Liberal Arts has prepared me to overcome obstacles, be an effective leader who can negotiate challenging situations, be a patient listener and an empathetic doctor."

Pooja Parikh
"The knowledge and skills I have gained from liberal arts courses, I believe, will be instrumental to my future career as a doctor," Parikh says. "Taking a course in leadership and ethics gave me the foundations required to be a constructive leader and team player. Setting a moral example and dealing with ethical issues are things that every physician faces, and I feel my education through the College of Liberal Arts has prepared me to overcome obstacles, be an effective leader who can negotiate challenging situations, be a patient listener and an empathetic doctor."
In December 2013, during the winter break of her sophomore year at UT Austin, Parikh volunteered at an Indian Medical Association medical camp that was providing annual check-ups to children at a school called Ashram Shala. The school is a refuge to children of the Adivasi tribe, who live and attend school there while their parents are in other towns working in factories, often for months at a time.
Ashram Shala educates 1,100 students but is struggling to make ends meet with its funding. After witnessing these issues, particularly the substandard meals provided to students and unhygienic conditions of the girls' bathroom facilities, Parikh was determined to help and founded the nonprofit Organization for Hygiene Academic and Nutritional Awareness (OHAANA).
"'Ohana' in Hawaiian means 'family,'" Parikh explains. "I believe that as a member of a family, no one should be forgotten or left behind. Every child is entitled to the right to good health so that they have the chance to strive and fulfill their dreams."
Since its founding, OHAANA has successfully provided five sanitary toilets to girls living at Ashram Shala.
OHAANA isn't the only extracurricular project Parikh has focused on. She's been volunteering in hospitals since she was in secondary school and says she cherishes the experiences visiting with patients and their families.
While in college, Parikh got her first experience in medical research through a study on bladder cancer at the MD Anderson Cancer Center. After that, she spent a summer conducting research at the Baylor College of Medicine's National School of Tropical Medicine.
"While I was fascinated learning about the etiologies of various tropical diseases, I also became aware of the huge financial burden and human suffering as a consequence of these diseases," Parikh says. "These experiences, along with my prior volunteering work, have taught me a lot, not only in the field of medicine and the sciences, but also about human suffering and the societal aspect of medicine."
After all the work Parikh put into earning a place at the Dell Medical School, the moment she learned she had been accepted was made even more meaningful by sharing it with family.
"I was in my dorm that morning talking on the phone with my dad, while at the same time trying to see where I had matched," she says. "As soon as I saw the acceptance email, I remember just jumping up and down and telling my dad, 'Dell! It's Dell! I got accepted to Dell!' I heard him on the other end informing my mother at the top of his voice, 'Pooja got into Dell!'
"At that moment I was thrilled for two reasons: one, because I was going to be a part of the inaugural class and participate in their mission of rethinking health care; and second, the realization of how proud I had made my parents, and that to me meant everything."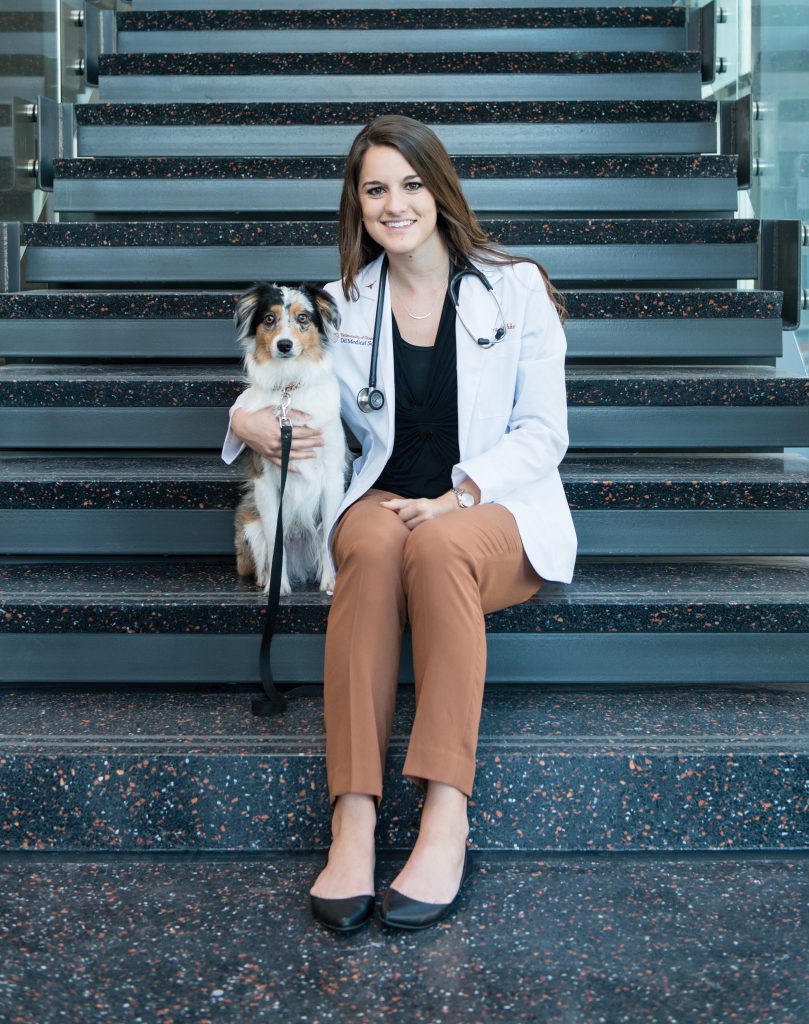 Cierra Grubbs
Union Grove, Texas | Psychology B.S., 2015
Cierra Grubbs' mother, Barbara, was diagnosed with breast cancer in 2010, and along with all of the fear and turmoil cancer brings to a family, for Grubbs it was also a "transforming experience that brought both clarity and passion" to her life's purpose — medicine.
"Since the days of administering pretend shots via mechanical pencils and prescribing 'Kool-Aid' medicine to my little sisters, the dream has always been present," Grubbs says. "But my mother's illness gave me direction.
"In particular, her breast cancer illustrated the current shortcomings in the American health care system," Grubbs continues. "It quickly became apparent that my small town lacked an abundance of resources to fight her potentially fatal tumor. Fortunately, we had the insurance and finances required to fund travel expenses and treatments from MD Anderson. However, most locals from my area cannot afford this investment or standard of care."
Barbara had a double mastectomy and has been cancer-free ever since. But her experience and the stories of others who were not as fortunate have given Grubbs a mission to analyze the way health care is practiced in the United States.
Grubbs is Native American on her father's side, and her visits to Choctaw tribal grounds in Oklahoma also inspired her to think about the way health care systems should function.
"I have learned how the tribe-funded hospital and clinics have monumentally improved life expectancy and decreased birth defects for American Indians," Grubbs says. "Many disadvantaged Indian families who rarely visited physicians can now receive routine preventative health care. Simple access and counseling monumentally improved the life quality of so many Choctaw Indians, and yet there is still so much more to achieve."
When she enrolled at UT Austin, Grubbs decided that studying psychology as an undergraduate would be a good fit for her interests.
"My psychology degree married my favorite topics, enabling me to explore the intricate relationship of science to humanity," Grubbs says. "In the fast-paced world we live in today, it is extremely important to not lose sight of either piece of this puzzle. Scientific discoveries can bring us to amazing new heights as a society, but without the understanding of what makes us all human — our tendencies, personalities, perspectives, feelings, motivations — the full scope of possibilities enabled by technology will never be reached.
"We treat disease when we should be focused on promoting health. To understand health, we must understand humanity."

Cierra Grubbs
"The U.S. health care system is the perfect example," she says. "We treat disease when we should be focused on promoting health. To understand health, we must understand humanity."
Grubbs says her psychology degree brought to light the complexity of relationships that influence human beings: Power of belief and state of mind can even push the body beyond its biological limits.
"Channeling thoughts or using personalized uplifting activities to create mental environments conducive to healing are inexpensive methods to improve the success rates of medical treatment," she says. "Health care still has much to learn about the interactions between the mind, the environment and the biological mechanisms that create an individual."
Grubbs' experience as an undergraduate student athlete tested her resolve and adaptability. A walk-on to the UT Austin NCAA soccer team, she played eight games as a defender during her sophomore year before being benched for the rest of the year and most of her junior year. Unable to gain a second chance with her coach on defense, Grubbs decided to make the switch to forward her senior year and played in nearly every game, including starting against No. 1 ranked and defending national champion UCLA.
Soccer also influenced Grubbs in her medical school aspirations. She developed a rapport with the team's physician, Dr. Timothy Vachris, while she was on the team. When he discovered her interest in medicine, Vachris offered to let her shadow him at his practice, Texas Sports and Family Medicine. He also helped her prepare for medical school and wrote her a letter of recommendation.
"Shadowing him the summer after my sophomore year confirmed my career choice," Grubbs says. "I really loved the coaching aspect of medicine, which ties into my sports background."
Following graduation, Grubbs accepted a job as a program management analyst with Accenture, a role that allowed her to experience the intricacies of the health care system first hand. She was involved with the Texas Medicaid and Healthcare Partnership, which administers Medicaid on behalf of the Texas Health and Human Services Commission, and also worked with the Department of Aging and Disabilities Services and the Children with Special Health Care Needs Services Program.
Her job gave her insight into the size and scope of Texas health care and opened her eyes to the difficulties and nuances in administering health care. It also allowed her to see the system from all perspectives — from the patients, to the providers, to the government and administering vendors. Because Grubbs wants to be involved in improving the way U.S. health care operates, this inside experience was invaluable.
"Health is something so many of us take for granted, but the masked reality is that there are numerous populations throughout the United States who struggle daily through health care issues because they have no insurance, can't afford either treatment or travel, can't take time off work or do not understand the severity of their situation," Grubbs says. "Countless people are being robbed of an opportunity for a better life. Unlike discovering a cure for cancer, this is a fix already within our grasp if we choose to address it. I aspire to continue the improvement of medicine within various underserved populations by creating additional accessible and affordable health care options for all citizens so every individual has the opportunity for a better life."