Every spring, the College of Liberal Arts recognizes 12 outstanding seniors as Dean's Distinguished Graduates; students who have dedicated themselves to scholarship, leadership and service to the college and university community.
Each 2018 recipient will be honored at the College of Liberal Arts joint commencement ceremony on May 18. The award, established in 1980, is the highest honor the college offers to its students.
Sam Karnes and Sana Saboowala are two of the 2018 recipients who will join the ranks of more than 400 DDG alumni as they graduate having made the most of their education. Read about their accomplishments as liberal arts students in the Q&A's below.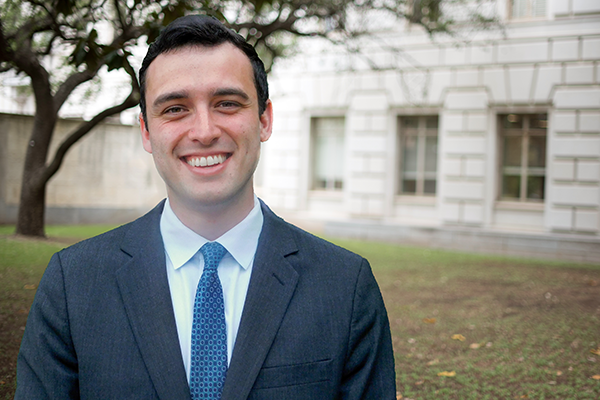 Sam Karnes is a Plan II and Middle Eastern Studies major participating in the Arabic Flagship Program. Since coming to UT Austin from his hometown of Highland Village, Texas, Sam has been involved with campus organizations such as Texas Blazers, the Liberal Arts Refugee Alliance, and MenCanEnd, as well as several refugee-related nonprofits in the Austin area.
What does being named a Dean's Distinguished Graduate mean to you?
Of course, recognition for your work is rewarding and I'm so thankful to the College of Liberal Arts for this honor. That said, I would be remiss if I did not acknowledge the fact that I owe most of my success to the guidance of mentors as well as the collaborative efforts of so many confident, intelligent and hard-working friends.
I co-founded the Liberal Arts Refugee Alliance with four other passionate and motivated liberal arts students. I helped run Texas Blazers with an executive board made up of about 12 other men I considered brothers. I studied Arabic abroad intensively for a year in Meknes, Morocco, which would not have happened without the constant love and support of my teachers, Moroccan host family, and fellow students.
Almost everything I did in college involved collaboration, teamwork and constant growth spurred on by people who pushed and challenged me constantly. So being celebrated by an award like Dean's Distinguished Graduates, I feel like the award is only celebrating the tip of the iceberg. I want to celebrate the whole iceberg!
What inspired you to work with refugees, and to found the Liberal Arts Refugee Alliance?
As a freshman, I joined Senate of College Councils as an At-Large and Student Government as a Longhorn Legislative Aide. After a year in these organizations, I felt the urge to shift my extracurricular focus from on-campus initiatives to work that allowed me to engage in hands-on work in the Austin community. In addition to Plan II, I was starting to dive into my Middle Eastern Studies classes and had a plan to start Arabic at the beginning of my sophomore year. I had heard about Refugee Services of Texas (RST), one of Austin's two main refugee resettlement agencies, and felt that volunteering there would be an ideal application of my academic and extracurricular interests.
At RST I found a group of dedicated caseworkers who immediately plugged me into several volunteer opportunities and taught me about Austin's resettlement network. I fell in love with refugee work and saw an opportunity to share my experiences with other students at UT. No refugee-focused organization existed on campus and it was clear that Austin's resettlement agencies had a need for large numbers of passionate volunteers. I and the four other students with whom I started volunteering founded the Liberal Arts Refugee Alliance to facilitate educational, professional and recreational opportunities for UT students to engage with and support Austin's refugee population. We later expanded to supporting outside service providers like the Multicultural Refugee Coalition, Interfaith Action of Central Texas, Casa Marianella and International High School.
What did you find most difficult and most rewarding about working as an ESL instructor at Casa Marianella?
Casa Marianella is a volunteer-driven emergency homeless shelter in East Austin, serving recently arrived immigrants and asylum seekers from around the world. The Casa community is vibrant, loving and full of passionate volunteers and staff who work tirelessly to support Casa's clients.
As an ESL instructor, I worked with two other co-teachers to prepare and execute a lesson plan for Casa's intermediate English speakers once a week. These classes usually involved a quick grammar or theme-based lesson, group or partner dialogue and lots of speaking games and activities. Before volunteering, I failed to realize how complicated it would be to explain seemingly simple English-language concepts that, in practice, posed a challenge from an instructional perspective. However, our students were sharp and hard-working, which made our job as teachers much easier.
My favorite moments involved group discussions between students about larger topics like women's rights, gender roles and differences in governmental and political organization from country to country. This cross-cultural dialogue was not only edifying for me as a facilitator and onlooker, but also for the students, who used their developing language to challenge other student's ideas and support their own.
What was your internship at the State Department in 2016 like?
I interned in the State Department's Bureau of Democracy, Human Rights and Labor under the Iraq and Syria desk officers. As part of the Syria Desk, I helped monitor civilian casualties killed due to Russian airstrikes and contributed to lobbying efforts for the reinstatement of an official Syrian civilian casualty record under the UN High Commissioner for Refugees. With the Iraq Desk, I focused mainly on following detainee abuses committed by Shi'a militias in areas liberated from Da'esh (ISIS), as well as the persecution of Iraq's ethnic and religious minorities.
This opportunity was the most edifying professional experience I have had, as my supervisors and the bureau's staff treated me and the other interns like members of their team. I was given considerable responsibility, free reign to pursue personal projects and the opportunity to develop close relationships with my supervisors and co-workers. I consider my supervisor on the Iraq desk, Susan Notar, to be a close mentor and friend who has continued to advocate on my behalf well past my time at State.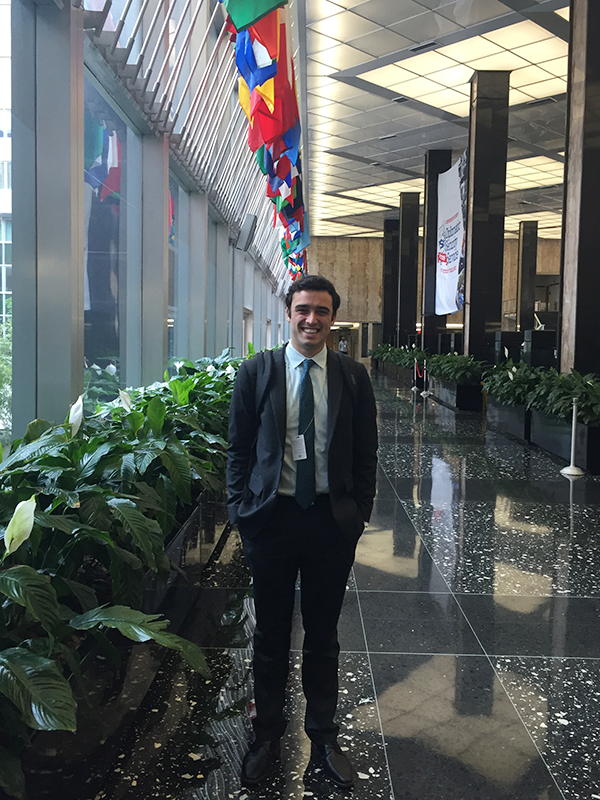 What's your favorite memory as a UT Austin student?
I feel so lucky to have participated in UT's Arabic Flagship Program and its capstone year in Morocco. While abroad, I developed a special relationship with my Moroccan host family, who hosted me during the first six months of my time in country. They were the people who taught me Moroccan Arabic, provided emotional support to me during a tumultuous period of culture shock and introduced me to aspects of Moroccan culture I would not have experienced otherwise. I also had the unique opportunity to sew traditional Moroccan garments under the instruction of my host mom. They became a second family a continent away and I treasure my time with them dearly.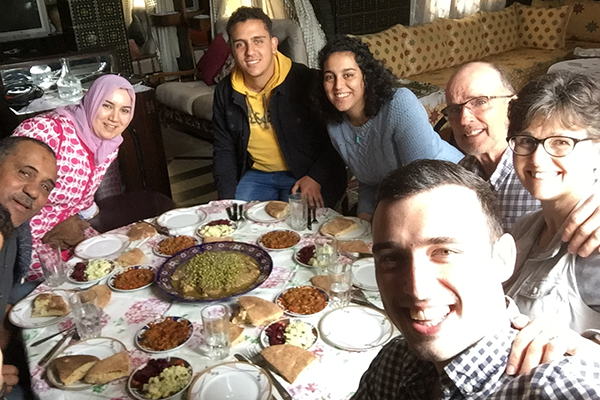 What's the most valuable thing you've learned since you've been at UT?
Self-care is necessary and important. I don't just mean the self-care that involves wine, Drag Race and copious desserts with your queer gaggle (shoutout Texas Slayzers). But also, the self-care that involves saying no to commitments for the sake of your mental health and emotional energy. Or taking time to re-charge alone away from co-workers, friends and family. Or acknowledging that you are struggling and seeking support in the form that is best for your needs.
UT was often driven by this idea that the more stressed and busy you come off, the more successful and impressive you are. Starting my freshman year of college, I heard the phrase "I don't have time" so often it felt like students were wearing it as a badge of honor. It took me a while to remove myself from this culture and learn how to prioritize myself, organize my priorities and take the necessary time to focus on myself and my relationships. I failed at it many times, but learned and improved with patient friends and family, as well as a lot of self-evaluation and reflection.
How has being a liberal arts student impacted you?
My worldview was forged in the fires of my liberal arts classes (as were my metaphors). The College of Liberal Arts, and Plan II specifically, were academic gifts in that they surrounded me with a group of passionate students who were smarter than me and constantly sharpened my ideas. My professors treated me and the rest of their students as collaborators and thinkers, taking extra time to mentor us and provide academic, professional or personal guidance.
I found family in the College of Liberal Arts, both in its students and professors. I'll remember the discussions I had, the books I read and the ideas I developed in that school forever because they were the bedrock on which I've built my academics, career and life.
What are your plans following graduation?
I'll be an Instructional Support Advisor at UT's Arabic Summer Institute this summer. Afterwards, I hope to continue serving refugee and immigrant communities in a professional capacity before attending law school with a focus on immigration law.
Is there anything else that you'd like to include?
My college experience was defined by my coming out experience and the amazing queer community I got to know at UT. I just want to thank the queer friends in my life who taught me confidence, empathy and self-love through their friendship and guidance. I feel that once I took ownership of my identity, my experience at UT truly began and I was able to carve out my own space as a student, campus leader and friend more effectively.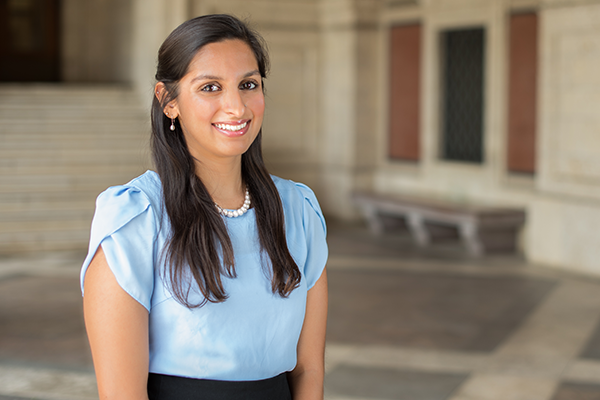 Sana Saboowala is an anthropology and biology major from The Woodlands, Texas, who is minoring in French, art history and the self-created "Bioarcheology in Museums." At UT Austin, she has completed two honors theses, worked in the Bolnick Lab, participated in the Mellon Mays Undergraduate Fellowship Program and the Polymathic Scholars Honors Program and worked in the Perry-Castañeda Library (PCL) as the government documents assistant.
Can you tell me about your self-created minor, "Bioarcheology in Museums"?
I created this certificate through the College of Natural Sciences Polymathic Scholars program. I was lucky to have the opportunity to put together a polymathic certificate field and select classes that would teach me about this niche field. I took lots of museum studies courses I would not have had the opportunity to take otherwise, and I also was able to work on a thesis project that I enjoyed a lot.
What were your honors theses about?
For my honors thesis in Anthropology, conducted in my junior year as part of the Mellon Mays Undergraduate Fellowship program, I embarked on a paleoepigenetic project titled "The Biology of Social Outsiders: Case Studies from Conchapata, Peru" under the mentorship of Deborah Bolnick. I created in-depth case studies of specific individuals using traditional bioarchaeological methods (osteological analysis, archaeological analysis of the burial, etc.), genetic analysis and epigenetic analysis to create more coherent narratives regarding social outsiders from Wari-Era Conchapata, Peru. Through these case studies, I evaluated whether epigenetic changes correlate with the social standing of specific individuals—in other words, if socially marginalized ancient individuals exhibited a different epigenome than their contemporaries.
This innovative project required testing some new methodological approaches (specifically, bisulfite sequencing), and I presented some of my methodological findings at conferences. I also incorporated feminist and queer theory into my analysis, which provided a novel lens with which to view genetic data. Thus, in my project, I delved deeper into questions of biological embodiment, effectively linking natural science and the humanities.
My second thesis, "Ankh-Hap: A Case Study on the Display of Egyptian Mummies in America," is for my Bioarcheology in Museums certificate, under the mentorship of Deborah Bolnick and Suzanne Seriff. For this project, I am conducting an in-depth case study of a mummy that is currently housed at the Houston Museum of Natural Science to explore how mummies are consumed through their exotification, medicalization and exhibition by the American public.
As part of this work, I am also interrogating the role of traditional scientific institutions in order to elevate marginalized voices within those spaces. My time studying and researching abroad led me to my current interest in social marginalization, trauma and embodiment in this context. Through this project, I am engaging with social theory and learning to use ethnographic methods, as well as oral history. These skills together with those learned from my paleoepigenetic project, will be important as I undertake genetic research that concerns historical geopolitics.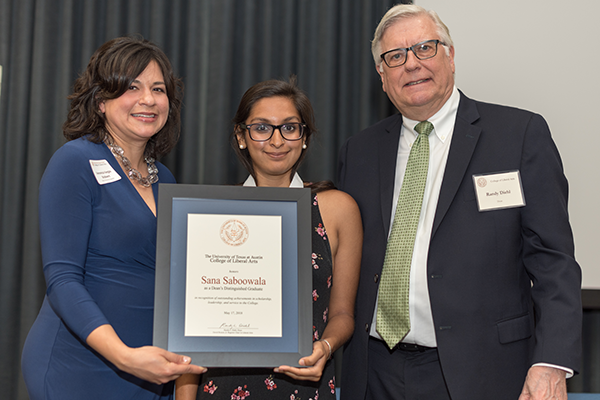 What was your role in the Bolnick Lab? What type of work did you do there?
In Professor Bolnick's molecular anthropology lab I mainly I received training and worked on my research project. I had the opportunity to work in both the ancient DNA lab and the modern DNA lab and learned molecular biology techniques like DNA extraction, PCR (which makes copies of DNA), visualization, etc.
What was participating in the Mellon Mays Undergraduate Fellowship Program like?
My experiences through MMUF have also played an important role in preparing me for graduate school and my future research. The MMUF program is devoted to encouraging students of color to enter academia in order to diversify the professoriate. Presenting my research at two MMUF conferences has helped shape my interdisciplinary approach. Because the MMUF program primarily consists of liberal arts students, presenting at MMUF conferences allowed me to showcase how science and the humanities are linked through interdisciplinary scholarship. MMUF also brought me into a community that ended up being extremely important to me throughout my college career.
How has being a liberal arts student impacted you?
Being a liberal arts students has impacted me by teaching me to think critically, as well as informing my commitment to interdisciplinary research.
What's your favorite memory as a UT Austin student?
It's really hard for me to pick one, but I have a lot of good memories of studying and hanging out in the basement of Blanton dormitory with my friends freshman year.
What does being named a Dean's Distinguished Graduate mean to you?
Being named DDG really made me feel validated as a liberal arts major. I am glad I did well enough in my time here to receive nominations for something so prestigious. It makes me feel validated in the work I did here.
What are your plans following graduation?
I will be starting graduate school at the University of Illinois Urbana-Champaign, where I will be a first year doctoral student in the Program in Ecology, Evolution, and Conservation Biology to study molecular anthropology.
—
To learn more about how to receive internships, study abroad, get involved in student organizations and participate in undergraduate research as a liberal arts student, visit the Frontiers website.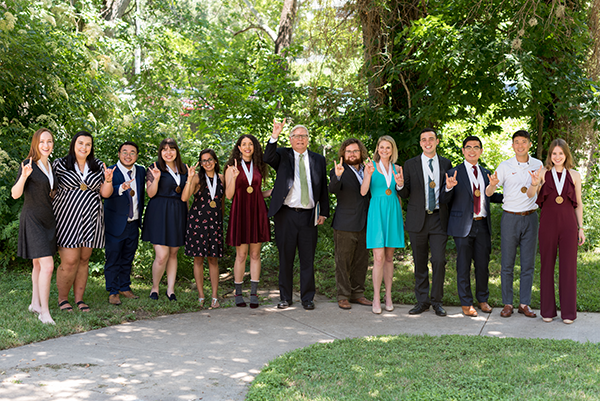 To read the complete list of the 2018 Dean's Distinguished Graduates and honorable mention recipients, click here.