Milla Lubis, a psychology and social work double major from Allen, Texas, has been awarded the 2018 Randy Diehl Prize in Liberal Arts.
Now in its third year, the $15,000 award was established by donors to support a graduating liberal arts senior who is committing the year after graduation to service for the greater good, be that through work for a nonprofit organization, a for-profit organization that benefits others or the creation of a new nonprofit.
"The intent behind this gift is to encourage liberal arts graduates to use their considerable skills in communication and understanding of other cultures, histories, philosophies and literature to effect a positive change in the world," said the prize's founding donors.
Lubis is a prime example of that type of graduate. As a student, she was actively involved on campus, and served leadership roles in the Asian Desi Pacific Islander American Collective (ADPAC), worked as a Voices Against Violence peer educator, joined the first cohort of Interpersonal Violence Peer Support volunteers and was a member of the Texas Orange Jackets.
On top of her campus commitments, as a student Lubis interned for Project Vote Smart and Refugee Services of Texas.
This summer, Lubis has been attending Teach For America's Summer Institute in preparation for her two-year commitment to teaching at a low-income elementary school in the Dallas-Fort Worth area, where she hopes to improve the lives of her students and increase their opportunities for education.
In addition to recognizing Lubis, the awarding committee was so impressed with English and Mexican American and Latina/o Studies senior Angela Vela's vision to serve others by establishing a literacy program in Laredo, Texas, that they awarded her an additional prize of $2,500.
Read more about Lubis' many accomplishments, her goals for the future and the impact the award will have on her in the Q&A below.
How did you react when you found out you'd received the Diehl prize?
Funnily enough, I was on a beach in Mexico in the pouring rain when I found out that I had been selected. I envisioned this trip as a way to celebrate my two degrees, but we were caught in daily thunderstorms. When I received the email, everything melted away and I could not stop smiling.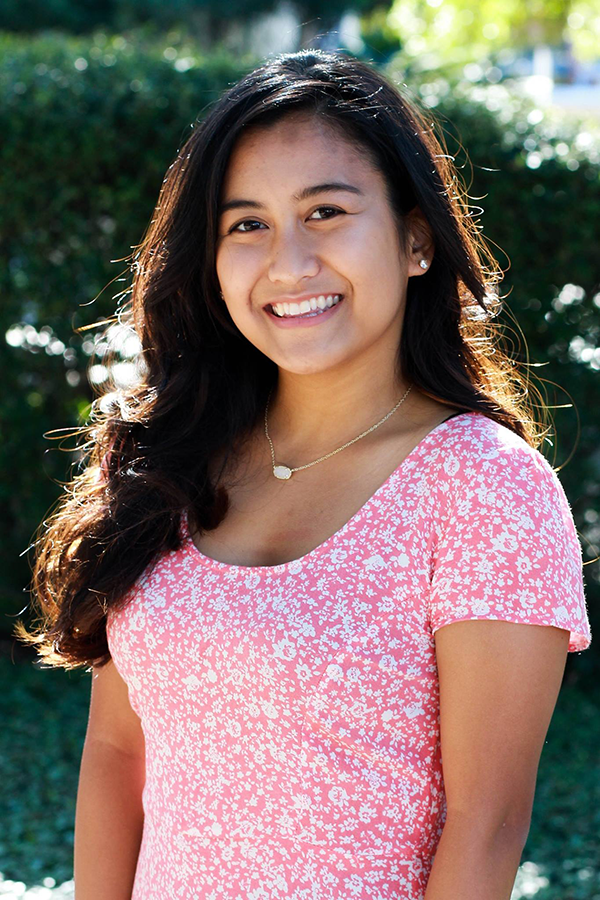 What does being a Diehl Prize recipient mean to you?
Being selected as the recipient of the Diehl Prize lifted a weight off of my shoulders. During my junior year of college, I was sexually assaulted, which led me to experience intense depression, suicidal ideation and trauma. When I sought services I came across a number of issues. I had already used my six sessions at the Counseling and Mental Health Center, and so I would have to find an off-campus provider, which is more expensive. I was recommended to join an intensive outpatient group to address these issues but it was another additional cost.
Throughout college, I saved every cent just in case my health required it. Before committing to Teach for America, I was concerned that our 15-hour work days of student teaching, educator preparation and lesson planning would trigger something and that I would not have the financial means to help myself.  I will not be receiving a paycheck until mid-September and the reality is that mental health services are expensive. The award allows me to pursue my passion of service and justice without worry. I can commit myself to caring for my students by ensuring that I care for myself.
When did you know that you wanted to teach?
Education is the key to achieving equal opportunities for every group. Yet the doors to education have often been barred for children of certain races or socioeconomic statuses. What I learned from community organizers and activists in Austin is that the majority of students of color enter the gateway to incarceration beginning with a referral from the classroom to the courtroom, regarding behavioral issues. This phenomenon is known as the school-to-prison pipeline. I am attempting to disrupt the cycle by taking direct action and becoming a teacher in a low-income school that primarily serves black and brown youth.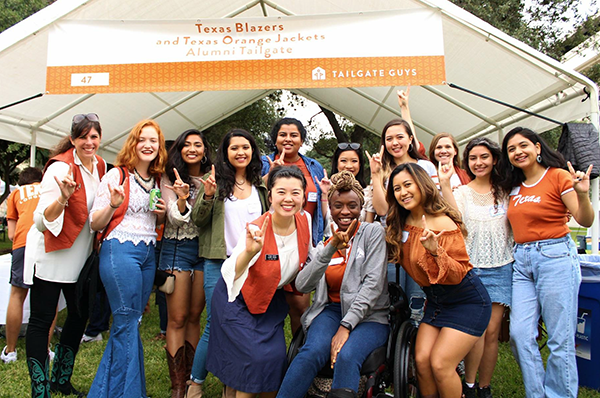 Can you tell me about your involvement with student organizations on campus?
My leadership in student organizations and service to the University and community has inspired me to dedicate my life to enacting change for the benefit of society. For two years, I served as the Director of Political Engagement and the Director of Community Engagement for Asian Desi Pacific Islander American Collective (ADPAC), an agency housed within the Multicultural Engagement Center. I spearheaded several community events targeting a variety of topics including immigration, toxic masculinity, feminism and the model minority myth.
Additionally, I worked as a Voices Against Violence peer educator; I taught students that rape culture consists of attitudes, behaviors and actions that condone sexual violence in an attempt to change the current culture. Then I joined the first cohort of Interpersonal Violence Peer Support volunteers when the peer education program ended. I underwent 40 hours of specialized training to offer confidential, emotional support to student victims of sexual violence. The folks who are involved in IVPS are phenomenal. Each person challenges himself or herself to learn continuously and be a patient, compassionate listener. I hope to bring this with me as I step into the classroom.
Finally, as a Texas Orange Jacket, I acted as one of the official hosts of the University and acted a role model for the girls at the Settlement Home, a residential treatment facility for girls who have experienced trauma.
What was your most memorable moment at UT Austin?
My most memorable moment at UT was my induction into Texas Orange Jackets. I walked into Littlefield House not knowing what would come. The women I have had the privilege to know through Texas Orange Jackets have become my friends, collaborators and role models. Sit in on a brunch with these women and you will have complex discussions about the scarcity of mental health services in southern Dallas, educational reform and the separation of families at the border. I am beyond thankful for them.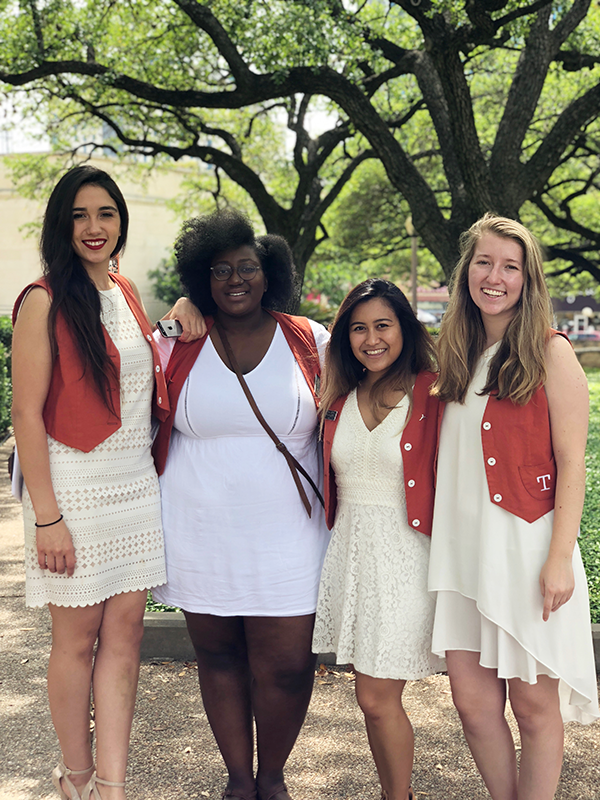 Where did you intern as a student? What did you learn from those experiences?
During my sophomore year, I interned at Project Vote Smart and in my senior year I worked at Refugee Services of Texas as a Social Adjustment Services intern. My internship with Project Vote Smart deepened my understanding of the legislative process. I believe this internship supported my training at the Asian Americans Advancing Justice (AAAJ) Youth Leadership Summit. I was given a fully funded opportunity to travel to Washington D.C. to participate in three days of advocacy training and leadership development with AAAJ. At the end of our summit, AAAJ organized opportunities for us to speak with representatives from our states. I spoke with Representative Lamar Smith about supporting undocumented students and families, disaggregating census data on Asian American Pacific Islanders and immigration reform. These experiences of community building and voter education helped build the skills needed to lead educational workshops for refugees, asylees, and special immigrant visa holders in my role as a Social Adjustment Services intern for Refugee Services of Texas.
At Refugee Services of Texas, I served clients who are of different cultures, ages, religions and immigration statuses. While serving my clients, I reminded myself that they are capable and resilient; by doing so I apply strengths perspective. The process of immigrating to the United States as a refugee, asylee or special immigrant visa holder is extremely difficult. If my clients are able to successfully navigate that, then they are capable of overcoming any obstacle that they face. I remind myself that the communities I hope to serve have the inherent strength and ability to advance themselves. We are not saving people; we are providing them the support and services they need to be successful.
What has studying the liberal arts taught you?
My liberal arts education pushed me to search for the root of issues such as poverty, racism and educational inequality. My education taught me to be critical of the ways that systems maintain and perpetuate inequality. Since entering the University of Texas, I have focused my passions towards serving others. The injustices students of color face such as discrimination, stereotypes and negative peer pressure discourage students from seeing themselves as successful, aspiring to attend college and navigating the college application process. These injustices are unacceptable. By understanding how larger issues of racism, sexism and poverty encourage the cycle of educational inequality, I can end it. In my pursuit of degrees in both psychology and social work, I have developed unique skills and perspectives that enable me to achieve one of the core purposes of the University, a life dedicated to "transforming lives for the benefit of society."
To learn more about the Randy Diehl Prize in Liberal Arts, visit this webpage.
Students who want to participate in campus leadership or land internships should visit the Liberal Arts Frontiers website.
Photos courtesy of Milla Lubis