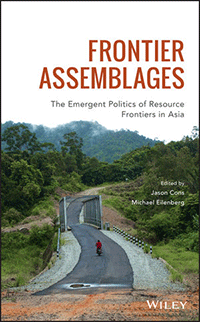 Frontier Assemblages: The Emergent Politics of Resource Frontiers in Asia
Wiley (Antipode Book Series), March 2019
Edited by Jason Cons, assistant professor, Department of Anthropology; and Michael Eilenberg
Frontier Assemblages offers a new framework for thinking about resource frontiers in Asia. It traces the intertwined economic processes — cultural, spatial, material, ecological and political — that create resource frontiers at particular times and places. Contributors offer rich ethnographic and historical studies of both spaces of extraction and production, mapping a set of radical transformations unfolding across Asia.
---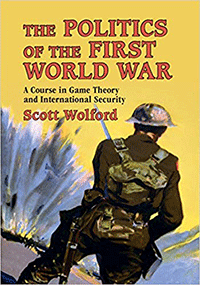 The Politics of the First World War: A Course in Game Theory and International Security
Cambridge University Press, March 2019
By Scott Wolford, associate professor, Department of Government  
World War I is the perfect case study for teaching international relations. This book uses 13 historical puzzles to provide readers with a rigorous yet accessible training in game theory, with each chapter showing, through guided exercises, how game theoretical models can explain otherwise challenging strategic puzzles.
---
Children and Globalization: Multidisciplinary Perspectives
Routledge, April 2019
Edited by Hoda Mahmoudi; and Steven Mintz, professor, Department of History
Globalization has carried vast consequences for the lives of children. It has spurred unprecedented waves of immigration, contributed to far-reaching transformations in the organization, structure, and dynamics of family life, and profoundly altered trajectories of growing up. This book's contributors – leading historians, literary scholars, psychologists, social geographers, and others – provide fresh perspectives on the transformations that globalization has produced in children's lives.
---
A True Blue Idea (Series in Fairy-Tale Studies)
Wayne State University Press, April 2019
By Marina Colasanti; Adria Frizzi, lecturer, Department of French and Italian Studies
This collection of fairy tales and illustrations revisits traditional characters and themes in order to connect their ideas and relationships to those of modern society. The book ties in the old with the new, all while spinning the threads of classic, childhood tales.
---
Where We Come From
Penguin Random House, May 2019
By Oscar Casares, associate professor, Departments of English and Mexican American and Latina/o Studies
Where We Come From Bridges the gap between modern immigration policy and the effects of history through the lens of a Mexican-American family in Brownsville, Texas placed in a precarious position between strict rules and sacrifice.