Megan Abrameit, a psychology and humanities double major from Tyler, Texas, has received the 2019 Randy Diehl Prize in Liberal Arts.
Now in its fourth year, the $17,000 award was established by donors to support a graduating liberal arts senior who is committing the year after graduation to service for the greater good, be that through work for a nonprofit organization, a for-profit organization that benefits others or the creation of a new nonprofit.
"The intent behind this gift is to encourage liberal arts graduates to use their considerable skills in communication and understanding of other cultures, histories, philosophies and literature to effect a positive change in the world," said the prize's founding donors.
As a student, Abrameit did just that. As a humanities major she was able to create her own course of study; she chose Sex Trafficking and Human Rights, a topic she has been passionate about since she was in middle school. She also devoted herself to those issues through volunteer work and internships. In 2018, she was the project intern for the Human Trafficking Institute in Washington, D.C. as a Bill Archer Fellow. She has also been an intern at the Refuge for Domestic Minor Sex Trafficking, State Representative Neave (TX-107), Roberts & Roberts Law Firm and the child support division of the Texas Attorney General's Office.
At UT, Abrameit was a Dedman Distinguished Scholar, humanities honors student and counselor for Ignite Texas, where she mentored incoming freshmen. She was also an officer for the longhorn chapter of the International Justice Mission.
Beginning in September, Abrameit will spend a year working at the IJM's office in Guatemala City as a field administration intern. The organization is one she's dreamed of working for since she first learned of their mission at age 14.
"The IJM works to end violence against the poor by working within local justice systems to seek legal justice for the victim and provide aftercare," Abrameit said. "They focus on a number of issues and are known for their work against human trafficking – both labor and sex. The Guatemala office focuses on the issue of child sexual assault."
Read more about Abrameit's upcoming year in Guatemala City, her goals for the future and her time as a UT Austin student in the Q&A below.
What does receiving this award mean to you?
This award is such a blessing. I have wanted to do a year abroad with IJM since I was 14, but the year is unpaid and I was nervous about being able to afford it and have a year without income straight out of college. The Diehl Prize will almost completely fund the whole year, leaving me free this summer to prepare, rather than trying to fundraise and apply to scholarships. I am so thankful for this opportunity to pursue my dreams and career goals while representing the College of Liberal Arts.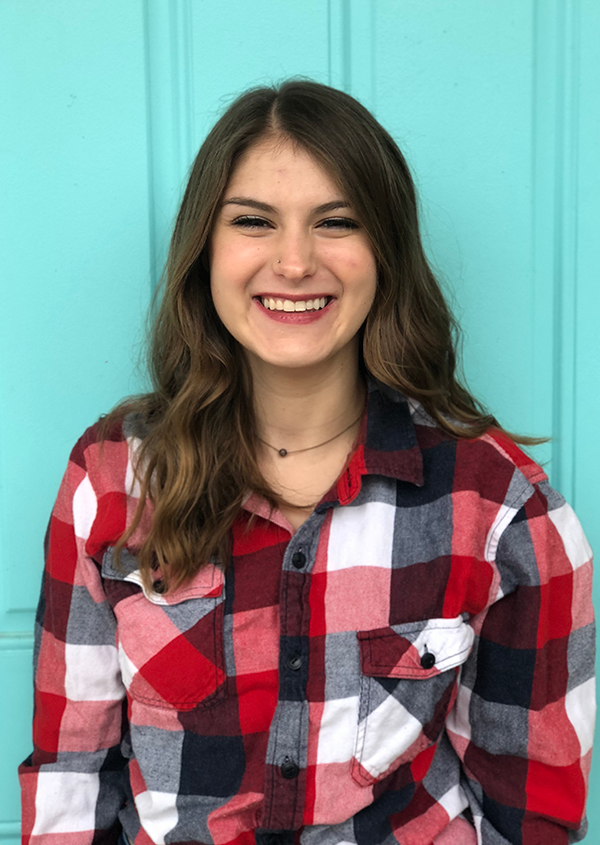 What are you most excited about for this next year?
One of the things I am most excited about it getting to see people working on the front lines of combatting sexual assault. I feel like I have cared about this issue for so long without getting to actually see people restored. It is easy to get desensitized, exhausted or hopeless when dealing with such a devastating issue from an academic or legal perspective. To see children actually getting freedom from their oppressor and rehabilitation will be so encouraging. I am also just excited about getting to experience a different culture and be in a different place. I am ready for a fresh start. It sounds cheesy, but I think every day will be its own little adventure.
What are you most nervous about?
I'm most nervous about speaking Spanish 24/7. I have an intermediate level of Spanish, but the entire office only operates in Spanish. I am nervous for those first couple of months as I am trying to start thinking in a different language. I know it will be exhausting adjusting to both a new culture and new language.
When did you first become passionate about fighting sex trafficking?
I have been passionate about fighting sex trafficking ever since I was 12. I learned about it when I went to a meeting for a nonprofit that was working to build a safe house for survivors of domestic minor sex trafficking. I was struck by how something so horrible could be happening to children my age and in my town. I knew that I had to do something.
What were your internship duties at the Human Trafficking Institute in Washington, D.C.?
I was the only intern, and the Institute was still pretty small, so I got to do a lot of different things. I helped do research, edit and collect cases for the 2017 Annual Federal Human Trafficking Report. The report was the first of its kind to catalogue and analyze all human trafficking cases that were identified and/or prosecuted through the federal system. I also helped plan events for the Institute and write articles for their website about people who have worked for social justice.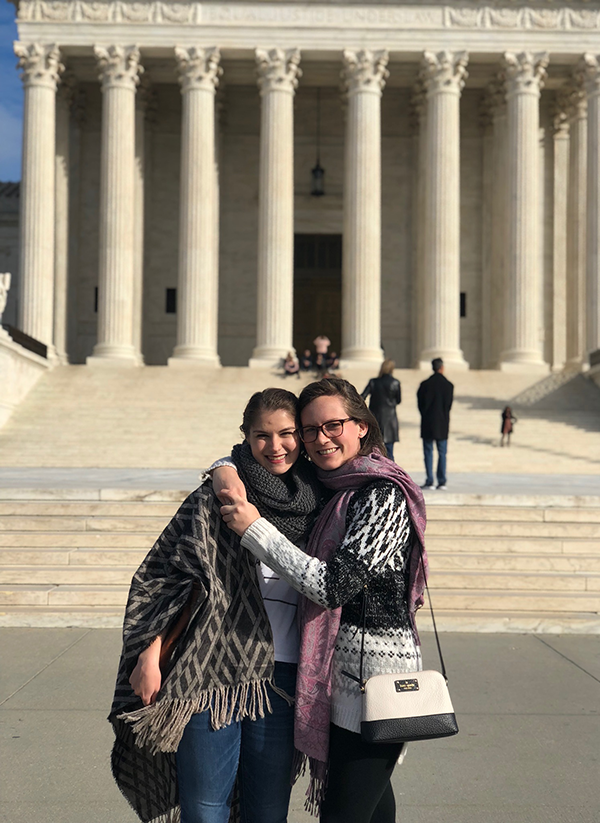 What did you take away from that experience?
One of the most important things I learned was that I was headed on the right path in my career. Even though I had volunteered with nonprofits and studied human trafficking before, this was the first time I was able to see what it would like to work day in and day out in anti-trafficking work.
The founders of the Institute and other staff members are some of my heroes. I got to see, meet and talk with people who had actually had my dream jobs and that was so exciting. I walked away from the experience feeling more confident that I want to be a lawyer and specialize in anti-trafficking work. I also learned how important it is to have a good community in the workplace. Even if you aren't directly working with trafficking survivors the work can get heavy, and my coworkers were so supportive of each other and brought joy into the workplace. It was a wonderful place to work.
Why did you choose your majors in psychology and humanities?
I always have loved figuring out why people think the way they do and learning how the brain works to influence our feelings and behavior, so I was always drawn to psychology. For many years I wanted to be a psychologist to work with survivors of sex trafficking, and I was always interested­ – and still am – in how trauma affects the brain and how therapy can help people heal. Similarly, I have struggled with anxiety disorders and depressive episodes throughout my life, so I am passionate about people understanding their own experiences with mental illness and supporting others.
The humanities major was one of the reasons I came to UT. After attending an LAH information session when I was in high school, Haley Williams (a current student then, now has her BA from UT Austin and an MA from UT School of Social Work) told me about how she used the humanities major to explore her interests which were similar to my interests in sex trafficking. I was instantly hooked and knew from the moment I chose UT that I wanted to do a humanities major around sex trafficking and human rights. I loved the freedom to select my own classes so I could study sex trafficking from a legal, psychological and policy perspective.
What accomplishment are you most proud of?
Honestly, the accomplishments I am most proud of have nothing to do with academics or UT. Starting college, my anxiety was out of control and I was physically, emotionally and mentally unhealthy. I had to learn to practice self-care and get professional help for my mental health. I am most proud of being able to recover over these past four years and become a balanced and whole human being. It was the hardest thing I've ever done, but I am happier and healthier than I have ever been.
On a lighter note, something I was proud of this year was getting a short story published in Echo Literary Magazine!
What are your future career goals following your work in Guatemala?
After Guatemala, I hope to attend law school. I am applying next year while in Guatemala. I am taking the LSAT again this summer, so that will determine some where I go. After law school, I would love to end up in the DC area again. One of my dream jobs would be to work with the Department of Justice in their Human Trafficking Prosecution Unit, but anywhere I could work where I was making a difference would be achieving a goal.
To learn more about the Diehl Prize, visit this website.