Learning history requires more than just being able to recall the dates when battles were fought or naming all 45 U.S. presidents.
"History as I teach it," explains Erika Bsumek, "is structured around what is happening at a given moment and why it's happening. I try to get the students to think about relationships between the specific events we are studying and all the other things that we've previously studied. If they can grasp how events are connected, students can better understand history."
And yet she noticed this message wasn't always reaching students in her introductory U.S. history classes. Confronted with large amounts of material, students often focused on memorizing names and dates rather than gaining an understanding of how events are connected to broader historical narratives.
This is a serious matter, as research has shown that students who perform poorly in even one such introductory course, particularly those from disadvantaged populations, are at a greater risk of dropping out of college.
To get students thinking in terms of connections, Bsumek, an associate professor of history at UT Austin, used a variety of techniques. She assigned collaborative, active learning projects that pushed them to answer thoughtful course-based research questions. But students ultimately presented their projects in PowerPoint. Its slideshow and bullet point design made it too easy for them to slip back into the very data-without-context rut Bsumek was trying to break them of.
Seeking a better tool, she soon realized she would need to design one. And thus ClioVis – named for Clio, the Greek muse of history, and Vis for visualization – was born.
The software, which Bsumek created in collaboration with a small team from UT's Simulation and Game Applications (SAGA) lab and funding from a Provost's Teaching Fellowship and the College of Liberal Arts, allows students to enter, organize, and connect historical information into dynamic timelines. Each point, or "node," on the timeline is given a name, a date (or date range), a category and a reference – the last part reinforces best practices in an evidence-based discipline. Nodes can be connected to one another with lines, which requires that students also enter information on how the two things are related. The more connections a node has, the larger it becomes, helping students visualize the significance of particular events or individuals.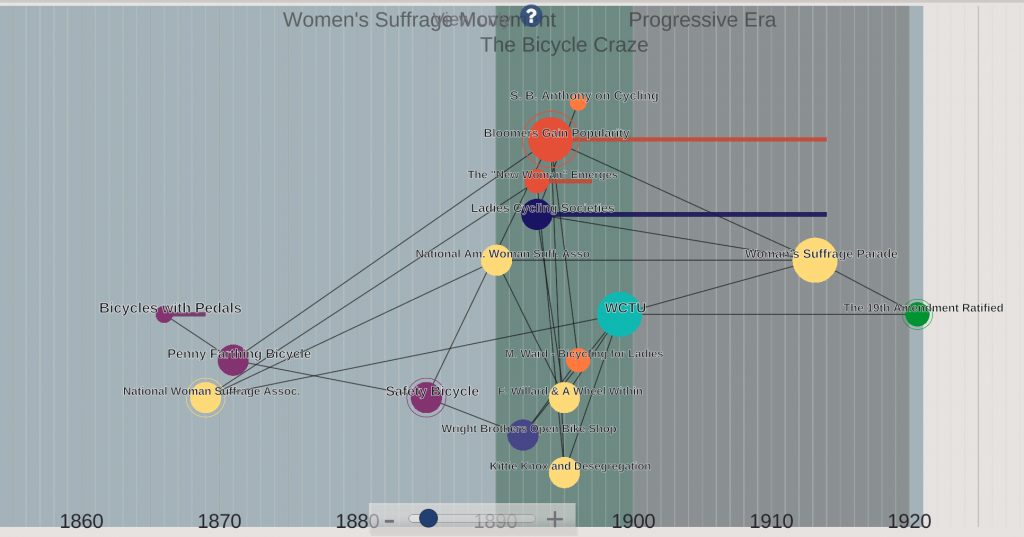 Students in Bsumek's classes have used ClioVis to chart diverse topics like the evolution of U.S. cities and how the popularity of bicycles contributed to the women's suffrage movement.
Multiple students can collaborate on a timeline simultaneously and the information can then be exported as a presentation, as a paper outline or study guide, or, eventually, a weblink giving students tangible products for their efforts.
While ClioVis was conceived to assist students in large introductory history courses, it quickly found applications in other disciplines. It can be used, for instance to analyze a novel or even to write one. Instructors have employed it in their own research projects. Others have used it to guide their classes' discussion sections. By setting up the date axis as steps instead of years, a professor of molecular biology even envisions students charting the processes like glycolysis cycle with the software.
"It's been incredibly exciting to see what people can imagine doing with it," says Bsumek.
Bsumek compares ClioVis timelines to the wall of suspect photos and clues that are de rigueur in TV detective shows. It's a way of sorting information, finding patterns and ultimately meaning.
Bsumek recently presented ClioVis at an American Historical Association conference, which got other universities interested. And she's also starting to do trade shows, because what began as a Liberal Arts teaching tool has evolved into an edtech start-up. Eventually, she would like to license ClioVis to college libraries to help offset the costs of developing and improving the software.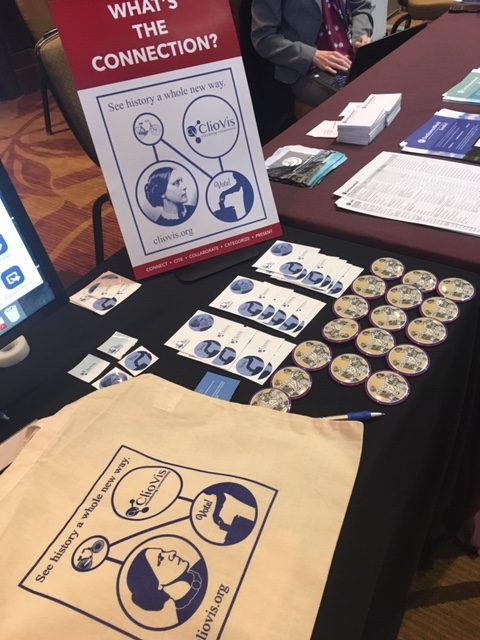 In addition to learning about the software industry, the project has given Bsumek a better grasp of the technology itself.
"I'm not going to pretend that I did the majority of the coding," she says. "But I've had to do some coding and I've learned a ton of information about how software works and what you can do with it and what you can't do with it."
The collaboration between people with academic and technological expertise is part of what makes ClioVis a successful tool. Too many educational apps, Bsumek noticed while she was still conceiving of ClioVis, are created by companies without a good understanding of what teachers and students need from them.
In a way, ClioVis is using technology to solve problems created by technology. Students have access to vast quantities of information, but they often lack a way to process it all and to separate meaningful from trivial details. The software's active and visual components help to make the process of research more accessible.
But Bsumek reminds us that technology alone can't do all the work.
"It's just a tool," she says while describing the software's many functions. "Ultimately, it's only as good as the assignment that the instructor creates."