Starting the semester with an extra $11,000 in the bank is an experience that two liberal arts sophomores have every fall, thanks to the Larry Temple Scholarship Endowment.
The award was established by the UT System Board of Regents to help outstanding liberal arts students enjoy university life and learn from their campus experiences.
The 2019-20 Larry Temple Scholars are Isaac James, a Plan II and government major from Arlington, Texas, and Mercedes Holmes, a government and philosophy major from Seabrook, Texas.
Recipients are selected based on their superior academic merit, extracurricular activities and financial need. The scholarship is also renewable for the student's junior and senior year, provided that scholars maintain a 3.5 GPA, stay enrolled full-time and remain in the College of Liberal Arts.
For more than 25 years, the Larry Temple Scholarship Endowment has been recognizing students to honor Larry Eugene Temple, a prominent public servant and UT Austin graduate.
Read more about this year's Larry Temple Scholars in the Q&A's below.
Mercedes Holmes
Seabrook, Texas
Government, Philosophy
What made you want to apply for the Temple Scholarship?
Of course, the generous financial aid of the scholarship helps me to focus more on what I do here at UT, and less on figuring out how to stay at UT. However, as a first-generation college student, the doors to meeting people and making connections can be just as difficult to open as they are to find. What really made the Temple Scholarship so appealing to me is the unique and valuable opportunities, exposure and guidance it offers. A scholarship like the Temple Scholarship can really aid first-generation students like me to recognize and fulfill our true potential.
What was your upbringing like?
I was raised by my two wonderful grandparents with my two little brothers, and my two sisters, who are also my best friends, lived nearby with our mom, and our dad lives and works overseas. Though we're slightly more fragmented than what may be the usual, my family is very close and they're a support system I'm blessed to have.
How did you choose your majors?
The love of my (high school) life was the speech and debate team. Exposing myself to so many versatile and complex issues cultivated my interest in policy and politics, making a government major my obvious choice when enrolling at UT. Speech and debate also gifted me a love and appreciation for the art of argumentation, which made a philosophy class for my first semester at UT a no-brainer. By the end of my freshman year, I had become a double-major in government and philosophy.
What is your proudest accomplishment?
One of my proudest personal accomplishments was going natural. Until high school, I was sufficiently terrified to show my natural curly hair to the world. I was conditioned into thinking my natural Black hair was embarrassing, wild, dirty and ugly—that I needed "good" straight hair to be nice, neat, normal and pretty. Going through the years-long process of transitioning, embracing and nourishing my natural hair was one of the best things I could have done for my self-acceptance and self-confidence. Particularly since hair is one of many avenues taken to try to demean Black people (both historically and today), it is important to me that I allow myself to be authentic and unapologetic about my hair, especially as I traverse through academic and professional spaces.
What do you believe is the value of getting a liberal arts education?
Liberal arts is not just a set of certain disciplines, but a method of education. Problem-solving is a necessary and inevitable part of any discipline, and a liberal arts education teaches students not only how to solve problems, but how to identify and define problems as well. The critical thinking and curiosity at the core of my liberal arts education are undoubtedly skills us Longhorns need to change the world.
What's your favorite thing about studying liberal arts?
While studying the liberal arts, one learns about the world at large and about oneself. My favorite thing about studying liberal arts is just how much I can grow as a person, while learning to help society grow as well.
What advice would you give to incoming students?
Study abroad! Especially if you have never been abroad or traveled much before. Coming into UT, I thought it would be financially irresponsible, if not impossible, for me to study abroad. However, there are financial resources and aid here at UT (and from third parties) that make studying abroad pretty feasible. One of the biggest things I learned studying abroad in Beijing, China, the summer following my freshman year was to get comfortable with being uncomfortable. The confidence and perspective you gain from studying abroad will really help you take full advantage of the opportunities around you back in the U.S. The sooner you get that sort of experience, the better!
What are your goals for the future?
I have always said I want to do good work, and do good work well. I love that there are so many possible paths for me to walk down and explore at UT. I aspire to maintain the same kind of flexibility that will allow me to answer the call of public service in whichever ways I can offer the most. In the near future, especially, I think this would include taking my higher education beyond the undergraduate level so I am enabling myself to have the right tools to accomplish the work I want to do.
Isaac James
Arlington, Texas
Plan II, Government
LGBTQ Studies minor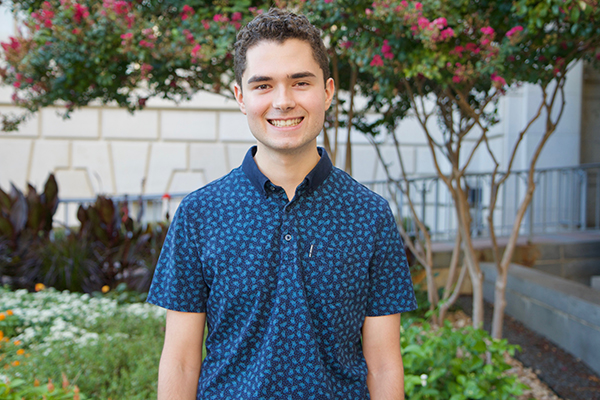 Why did you choose your major?
I was never really interested in government until the 2015 Obergefell v. Hodges (marriage equality) case was decided by the U.S. Supreme Court. Still closeted at the time, the decision affected me in ways I couldn't yet comprehend. My understanding of the positive change that can result from government action, and my desire to influence and participate in relevant institutions, began to develop as a result of the Obergefell decision.
What was your upbringing like?
I was raised by my amazing parents, Rich and Lisa James, alongside two younger siblings, Seth and Maya. My parents met as social work majors at UT (!) and their dedication to helping others in their personal and professional lives has heavily influenced my desire to help others in my future career.
What is your proudest accomplishment?
Coming to terms with my sexuality, and emerging a stronger person as a result, is what I'm most proud of. As difficult of an experience as it was, however, so many LGBTQ+ individuals have to experience the same struggle with even greater adversity. While it's important to recognize my own pride, it's also important to amplify the voices of those who lack the same privileges I am so lucky to experience.
What is your favorite thing about studying liberal arts?
Liberal arts has a wide array of subjects that allow for continual excitement and interest. One semester I might be studying Jewish civilization and the next learning about problems in modern biology. This breadth of subject focus includes a depth of learning that emphasizes critical thinking and writing skills.
What do you believe is the value of getting a liberal arts education?
A liberal arts education has benefits that can apply to any field of study, including engineering, business and science. I am confident that the writing, reading and critical thinking skills I've already developed as a student in the College of Liberal Arts will be applicable to any career I choose to enter following graduation.
What made you want to apply for the Temple Scholarship?
Beyond the monetary award, the Temple Scholarship provides for interaction and conversation with inspiring civic leaders in the City of Austin and the State of Texas. In high school, I had the opportunity to participate in a similar program called the Richard Greene Scholar Program, where I participated in a variety of internship roles with government and business leaders serving the City of Arlington. I learned so much about civic responsibility and leadership in this role, and I am thrilled for the opportunity to participate in a related experience on an even larger scale.
What advice would you give to incoming students?
My advice would be to get involved on campus and throughout Austin. Taking advantage of the resources at UT and in the community is vital to making the most of your time as an undergraduate, and pursuing personal passions can serve as an impactful form of both self-care and academic enrichment.
What are your goals for the future?
In the near future, I hope to continue advocating for the LGBTQ+ community on campus through the implementation of resources that increases accessibility of gender-inclusive spaces on campus. More long term, I hope to attend law school and work to achieve change through service at an organization like the Human Rights Campaign or Lambda Legal.