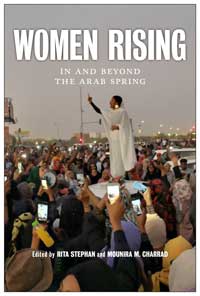 Women Rising: In and Beyond the Arab Spring
New York University Press, June 2020
Edited by Rita Stephan, research fellow, North Carolina State University, and director of Middle East Partnership Initiative at the U.S. Department of State; and Mounira M. Charrad, associate professor, Departments of Sociology and Middle Eastern Studies
Women Rising offers an on-the-ground understanding of important activism and political resistance by Arab women in the 21st century. Groundbreaking essays by female activists and scholars document women's resistance before, during and after the Arab Spring in sixteen countries.
---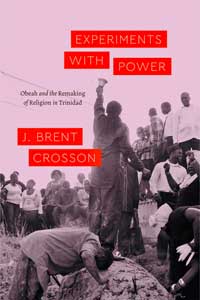 Experiments with Power: Obeah and the Remaking of Religion
University of Chicago Press, June 2020
By J. Brent Crosson, assistant professor, Department of Religious Studies
Drawing on more than a decade of field research, Experiments with Power is the first ethnographic monograph to look at "obeah" — Afro-Caribbean religious practices criminalized across the Americas. Focusing on justice-seeking ritual responses to police violence, this book argues for a rethinking of religion as an experiment with power.
---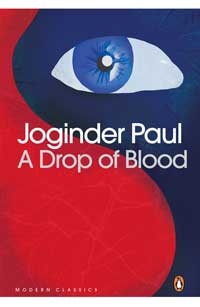 A Drop of Blood
Penguin Random House, June 2020
By Joginder Paul; translated by Snehal Shingavi, associate professor, Department of English
This short, blistering novel launched Joginder Paul's literary career, cleverly exploring the insidious ways in which the mighty habitually prey upon the vulnerable. Incisive in its observations, A Drop of Blood also addresses themes of female desire. Shingavi's translation makes this important work available in English for the first time.
---
Harley Manuscript Geographies: Literary History and the Medieval Miscellany
Manchester University Press, June 2020
By Daniel Birkholz, associate professor, Department of English

This study brings new methodologies of literary geography to bear upon the unique contents of a codex known as British Library MS Harley 2253. The Harley manuscript was produced upon England's Welsh March, by a scribe whose generation died in the Black Death. It contains a diverse set of writings: love-lyrics and devotional literature, political songs and fabliaux, saints' lives, courtesy texts, bible stories and travelogues.
---
The Routledge Handbook of Spanish Pragmatics: Foundations and Interfaces
Routledge Publishers, July 2020
Edited by Dale Koike, professor, Department of Spanish and Portuguese; and César Félix-Brasdefer, professor, Indiana University
Thisis the first volume to offer a comprehensive overview of advances in Spanish pragmatics, addressing different types of interaction and the variables, both social and linguistic, that can affect them. The handbook unifies two major approaches to the study of pragmatics, the Anglo-American and European Continental traditions.
---
Donald Trump and the Kayfabe Presidency: Professional Wrestling Rhetoric in the White House
Palgrave Pivot, July 2020
By Shannon Bow O'Brien, assistant professor of instruction, Department of Government  
This book examines Donald Trump's longstanding connections to professional wrestling in relation to how he uses and exploits language, and the ways in which he has weaponized going public never before seen in previous administrations. Trump uses the language of wrestling to make rhetorical appeals and draws upon its theatrical tactics to redefine political expectations and expression. 
---
Underground, Monroe, and The Mamalogues: Three Plays
Northwestern University Press, Aug. 2020
By Lisa B. Thompson, professor, African & African Diaspora Studies Department
In her collection of three new plays, Thompson thoughtfully explores themes such as the black family, motherhood, migration, racial violence, and trauma and its effect on black people from the early 20th century to the present. The works showcase her subversive humor and engagement with black history and culture through the lens of the black middle class.
---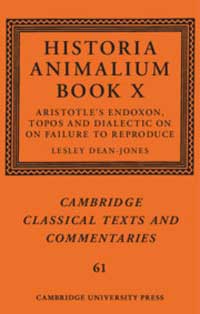 Historia Animalium X: Aristotle's Endoxon, Topos and Dialectic on On Failure to Reproduce
Cambridge University Press, Aug. 2020
By Lesley Dean-Jones, chair and associate professor, Department of Classics
This book argues Historia Animalium X is a summary by Aristotle of a fourth century medical treatise that makes clear advances over Hippocratic gynecology. A central text for ancient gynecology and Aristotelian methodology, HAX illustrates the early stages of Aristotle's reproductive theory.
---
Infamous Bodies: Early Black Women's Celebrity and the Afterlives of Rights
Duke University Press, Aug. 2020
By Samantha Pinto, associate professor, Department of English
The countless retellings and reimagining of the private and public lives of Phillis Wheatley, Sally Hemings, Sarah Baartman, Mary Seacole and Sarah Forbes Bonetta have transformed them into difficult cultural and Black feminist icons. This book explores how histories of these Black women and their ongoing fame generate new ways of imagining Black feminist futures.