The UTNY Program provides liberal arts students with an opportunity to live, work and learn in New York City for a semester. An internship-first program, UTNY enables students to gain firsthand experience in any field that interests them and network with industry leaders and Longhorn alumni in the tri-state area.
Interested in becoming a UTNY student? The deadline for the summer '22 session is October 1.
Apply now and include an essay to be considered for one of five scholarships awarded by The College of Liberal Arts. Registered students can seek out their own internship opportunities or work with Liberal Arts Career Services to find a position. The UTNY Program awards 12 hours of course credit over the semester and includes NYC-centric classes overseen by UT faculty.
Hannah Hayes is a government senior from Bulverde, Texas, who is part of the fall '21 UTNY cohort. Read about her experiences in the city so far in the Q&A below.
Where is your internship, and how did you find it?
I am a business operations intern at a startup called FindMine. I work remotely from the UTNY building. Jane [Ashen Turkewitz, UTNY Program Manager] is awesome and I found it through the internship hub that she curates. My supervisor graduated from UT as well and was eager for an intern from UT.
What are your responsibilities there?
At FindMine I put together training outfits for the AI to curate looks on the customer's website, so the consumer can find and purchase full outfits containing the original piece they were interested in while shopping online. I also analyze some of their data and present it to the sales team at the end of every month. Finally, I handle any emergency tasks given to me by my supervisors.
Where are you living in New York?
I'm living in the Outpost housing in Williamsburg, Brooklyn. And I love it! Brooklyn is super cool. I think more people should try to live there for UTNY. Less hustle and bustle, but the views and people are amazing.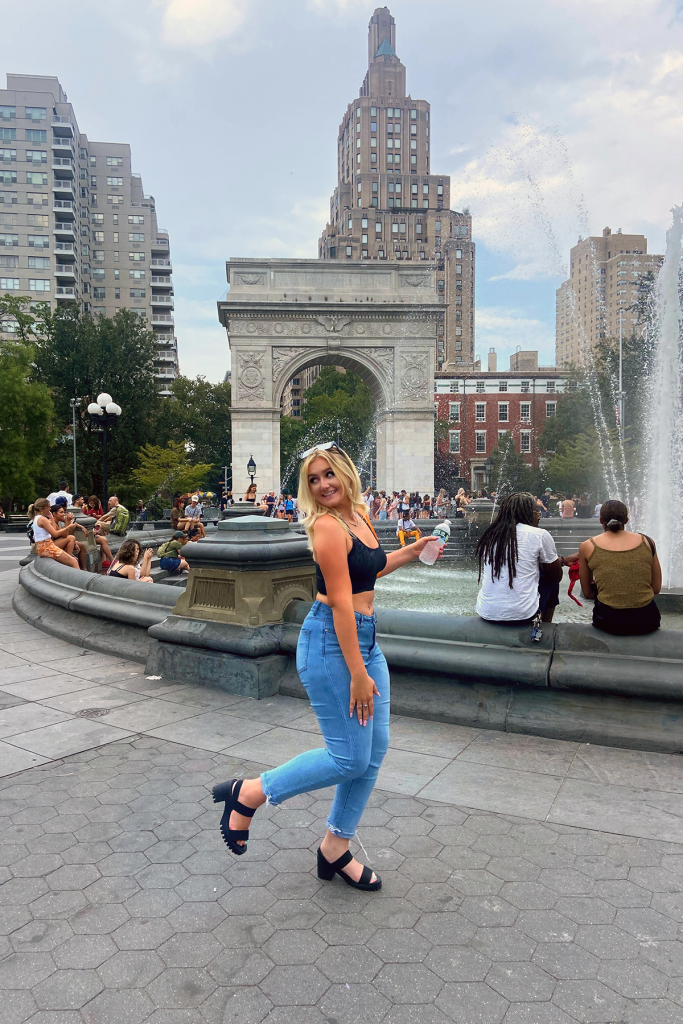 What are your classes like?
The classes are super fun. They are more experience-based than any classes in Austin, and we really get out into the city to learn. In my architecture class, we hopped on the subway together to learn about early skyscrapers in the financial district. Definitely recommend that one.
What is your favorite part of the experience so far?
I have made instant friends with a bunch of people here that I would never have met on the UT campus, especially during COVID. I am enjoying getting back out into the world in one of the most iconic cities. We also met Pete Davidson, and that was maybe the second-best part so far.
What is the most challenging part?
Everything is very expensive. But if you look, you can find some really great places that are more underground and affordable.
What advice do you have for students considering the UTNY program?
GO! New York is a place where everyone can find a way to fit in and gain a solid group of friends that will last forever. It is also super inspiring to be in the city! It is genuinely a once-in-a-lifetime experience and will help your career moving forward.
Is there anything else you'd like to mention?
New York has a super great alumni network and they all watch the games and have several events year-round, which are really fun to participate in. As long as you're a Longhorn, you'll never be alone! Hook 'em.