Ja'nell Ajani, a Ph.D. candidate in the Department of American Studies, teaches an innovative course that focuses on popular filmmaker and actor Jordan Peele. From the Mind of Jordan Peele is an undergraduate seminar that approaches Peele's work through an equal and balanced inquiry into his creative process, execution, and business acumen since founding his company Monkeypaw Productions in 2012. Ajani is guest curating the upcoming exhibition Peace to the Queen: Retrospective Works by Jamel Shabazz for the George Washington Carver Museum. It will premiere on Feb. 24. Learn more about Ajani, the inspiration for the course and what we can learn from it in this Q&A.
Interview by Dominique Garrett-Scott.
How did From the Mind of Jordan Peele come to be?
One of the things I'm always thinking about is the business of art. The business of art, the business of film, I'm very much this business girl, it's like a personal hobby. I'm always looking at different business models and how people are making decisions. In my research, I'm looking at the business of [American artist Jean-Michel] Basquiat. I'm looking at his creative process as well and how that informs the business because obviously without one, there wouldn't be the other. And so it's similar with the Jordan Peele course. I basically came to that course with the same way I came with Basquiat. I'm very intuitive, I'm very much an artist myself. So the title [of the course, From the Mind of Jordan Peele] came to me instantly.
When thinking about the course, I knew that I was going to not only look at his seminal works, but also investigate how he has built his platform, how he has built his business, and the ways in which he's empowering other Black creatives. I was thinking particularly about women, because there were certain women that he had worked with that I was a fan of, or I had just come to know, and they were really, really bright. And I'm like, "okay, I know he's smart, 'cause he got these smart Black women working with him." And so I kind of knew that that would always be the genesis of it; I didn't have everything figured out.
I went to the film department and I spoke with the Associate Dean of Diversity, Equity, and Inclusion, Ya'ke Smith. This is a funny story. I was introduced to him by his assistant because his assistant came to an event I had done where I interviewed Kamil Oshundara, the Cultural Executive for Jordan Peele's Monkeypaw Productions. It was a program that I had done with Six Square, here in Austin's Black cultural district and I was working contract as a program manager for them over the summer. So I had envisioned this event; learned about Oshundara, invited them to Austin, interviewed them, and Ya'ke's assistant was there. And he's like, "you got to meet this girl."
So I spoke to Ya'ke and he was just really great. I'm like, "listen, I don't know what to do, but I know I want to incorporate business and branding. I also want to be looking at his peers and who at his peer level are making some of the same business decisions, or even differentiating from him, because obviously all of them are not working in the Black horror genre." So we just had this really great conversation. And then I wanted to develop the course deeper.
[I also wanted] to look at literary figures, like Ta'Nahesi Coates, Toni Morrison, James Baldwin⁠—seminal works⁠—and look at how some of the same ideas that we know and love in their work are showing themselves in Jordan Peele's work. What are some of the connecting ideas? Where have we seen this before? So I talked to Ya'ke about that. He extended himself and his team to me, I was able to just to go back and forth with them and keep pitching ideas, and revising, and revising, and revising my syllabus. And then [I took a supervised teaching course in the spring of 2020] that was a part of making that syllabus. After talking to the film department, I finally was able to get something palatable to present and then teach the following semester.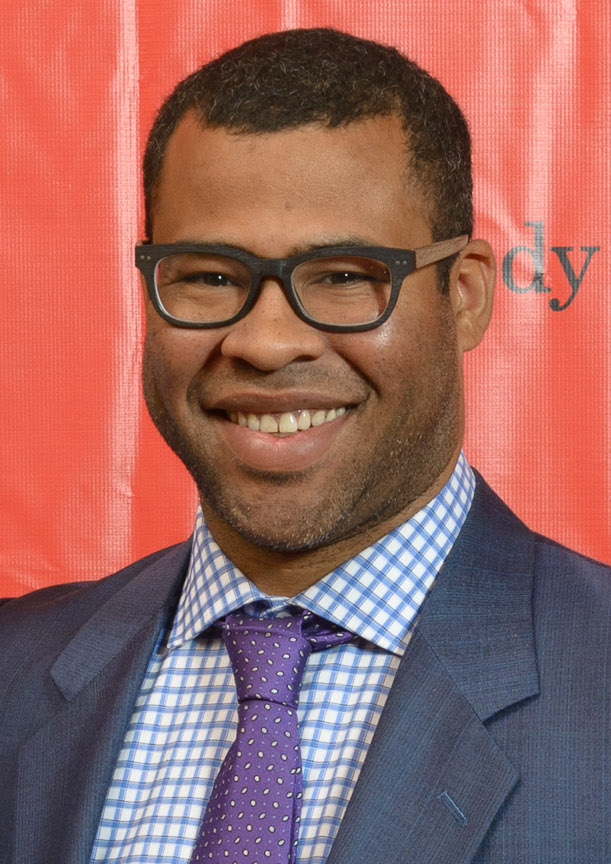 What was one of your favorite lessons that you saw come to life from the page of the syllabus to the classroom?
I obviously love teaching. I love the classroom. But I think my favorite part is actually the assignments that I give to my students and then seeing them actually create the assignments, because I put a lot of thought into making them creative and fun, and thought-provoking and challenging. I had one assignment where the students have to create a character and a backstory for their character. And it's basically based on the methodologies that a lot of actors use. You'll hear about different actors going into roles and they'll create a whole backstory on where their person went to school and blah, blah, blah. I have the students do that, but they have to then insert that character into one of Jordan Peele's productions, either a movie or a production that he's executive produced. So it could be Get Out, Us, but it also could be, Lovecraft Country, or it could be a Twilight Zone episode, or it could be Wendell and Wilde. If they get really creative, he also executive produced this documentary on Lorena Bobbitt. They have to insert this character that they've created into the production. It's a creative assignment, it's a fun assignment, but it's not just about, oh, create a character and keep it cute. If you're creating this character, you have to give me the rationale for why this character would exist. And then they have to do a creative component where they're working to see visually what the character looks like.
I think in terms of actual teaching, I enjoy doing these kinds of cross connections. Definitely with teaching about different things; James Baldwin's essays or Toni Morrison's essays or books, or Ta-Nehisi Coates, and in relating that material to the content that Jordan Peele has created. And then, I go so ham for this business stuff, especially with production companies. It was a hobby of mine from when I was a teenager through young adulthood, I would look up production companies. I would look up their movies and how much their box office's made. This was the stuff I was doing in my free time. To be able to bring that full circle now is really cool. Teaching them about Lena Waithe or Issa Rae. You know, Issa Rae is killing it right now, or even Tyler Perry; how he built that studio in Atlanta. Regardless of what you think about him, that's a boss move, and there's a lot of productions that have been done at that that facility. Even somebody like out of real left field, like DaVon Franklin, who is a minister, but he has a Christian-based production company. Just thinking about all these different kinds of moves that people are making in Hollywood to kind of shift the narrative. How they're making an intervention in the same way, but perhaps in different genres than Jordan Peele, it really lights me up.
What do you think your course is adding to the field of American studies, cultural studies, and/or film studies? Why should someone take From the Mind of Jordan Peele?
If you want to do some deep investigative work and also learn and have fun, then I would suggest taking my course. I was reading this thing where people say, "Black art is Black history. Black history is American history." I'm historically engaging contemporary work. I'm in an American Studies program that's an interdisciplinary field, but rooted in a history of its own kind.
One of the things I love doing this semester is analyzing the HBO show Lovecraft Country. Most undergraduates in American Studies will at some point learn about the term "sundown towns." But it's one thing to read it in a book, and another to watch that first episode of Lovecraft Country and have an engagement with what it felt like to be in a sundown town. Then you have this whole otherworldly experience. I get worked up thinking about it. My students were blown away because it doesn't hit the same. It doesn't hit the same as when you're looking at it on a PowerPoint or in words. It was unsafe. It was unsafe for African-Americans and my students are like, "this is intense." I'm like, yes! So that's what I'm talking about. That kind of historical engagement, but in a very creative and fun way, and people who are doing their own interpretation on history.