Mykhaylo (Misha) Simanovskyy is a first-year graduate student pursuing a dual master's degree in Global Policy Studies from the Lyndon B. Johnson School of Public Affairs and Russian, East European, and Eurasian Studies from the Department of Slavic and Eurasian Studies at The University of Texas at Austin. He is a native of Donetsk, Ukraine and is studying US-Russia relations, Ukrainian politics, and Russian foreign policy in Eastern Europe and the Middle East.
Tell me about your background and what brought you to UT.
I am originally from the city of Donetsk in Ukraine, which is now the capital of the Donetsk People's Republic—which was recently recognized by Russia—and is one of the two breakaway regions where Russia supported separatist sentiments and military forces. My parents and I fled from war in July 2014 to the nearby city of Dnipropetrovsk, which was renamed Dnipro in 2016 due to de-communization laws. We stayed there until 2017, waiting for the war to end, but it never did.
We all wanted to stay in Ukraine, but it was untenable to wait. My stepfather is an American citizen and has children in the Dallas/Fort Worth area, so we initially moved there. I finished senior year of high school in the U.S., and in 2018 I enrolled at Texas Christian University to study political science, and I minored in geography, history, and Middle Eastern studies. I developed a passion for the region of the Middle East and also studied Arabic there. I graduated in three years summa cum laude in 2021.
For my graduate studies, I was attracted to the opportunity at UT to do a dual degree in the Global Policy Program at the LBJ School of Public Affairs and in area studies at the College of Liberal Arts with the Center for Russian, East European, and Eurasian Studies (CREEES). And I wanted to stay close to my stepsisters and within the state of Texas.
My parents have since moved back to Ukraine. Their main purpose in the U.S. was to get me set up here and they decided their life would be better in Ukraine. They went back in 2021 and moved to Dnipro, because they can't go back to Donetsk. They are not currently in the line of fire, but the war might culminate in Dnipro.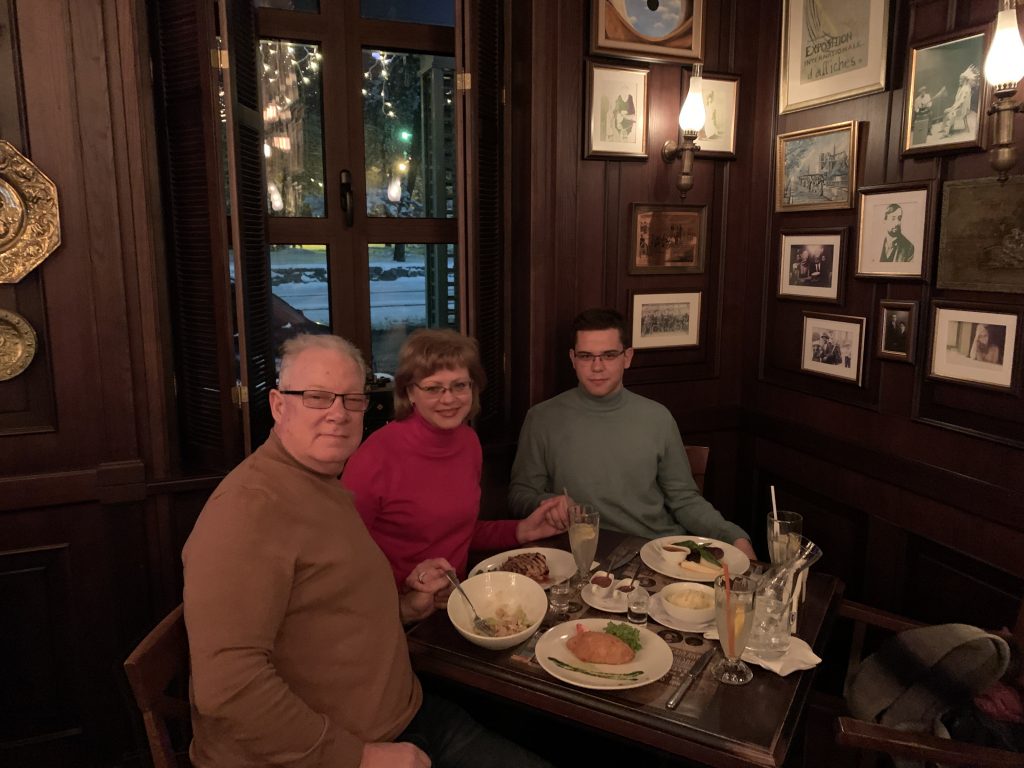 Tell me about your work with the Global Disinformation Lab (GDIL) and how you got involved.
The GDIL's mission is to enable interdisciplinary academic research on the global circulation of "disinformation" via digital media; to promote deeper understanding of national and regional contexts in which disinformation is generated, harvested, circulated, and weaponized; and to generate policy recommendations and solutions for the looming problems of the "post-truth" world.
The GDIL is led by Dr. Kiril Avramov. I first met him when CREEES provided me an opportunity to sit in on a lecture of his as a prospective student. It was on energy issues in Central and Eastern Europe. When I arrived at UT in August, our graduate coordinator Agnes Sekowski connected me with Dr. Avramov and the GDIL, which was then being developed. Because of my knowledge of languages, and my background in the area, Dr. Avramov hired me to be a graduate research assistant in the lab.
We initially worked on a project building a data set of Russian disinformation. My role was to help find disinformation in English and in Russian (there is much more disinformation in Russian).
I was also involved in a project called "Bear Claws," dealing with Russia's assassination campaign. We had a Russian opposition politician, Mr. Vladimir Kara-Murza, Jr., come in to visit with us. He was poisoned, allegedly by Putin's regime, in both 2015 and 2017. It was amazing that Dr. Avramov was able to bring him to UT, as he had actually been in our data set for attempted assassinations. I have watched Russian TV since I was small, and I remember seeing him at 2011 protests that they still showed on TV back then (media is now much more closed and they don't tolerate dissent). I got to know him, and we interviewed him for our Slavic Connexion podcast in Russian.
Currently, I am a team leader for the Literature Brief team at the lab, where I and my colleagues (students across various disciplines interested in disinformation) examine scholarly articles and books, analyzing their content with the ultimate goal of compiling a public database of our findings.
What do you want to do after your graduate studies?
I received my American citizenship about two weeks ago, which should help me apply for, and hopefully secure, an internship with the U.S. Department of State next year. I'll work with the LBJ school's diplomat in residence and the resident intelligence officer toward that opportunity. I hope that I can eventually become a diplomat. I got to connect with a few diplomats in my time at UT, and I hope to be as versatile and smart as they are. After I graduate, I would like to travel and see more of the world.
What do you most want your UT community, and Americans, to understand about the war?
I want people to know that this war has really been going on for eight years now. It was ruthless in 2014–15 in Donbas, and then it froze, and there have been so many people displaced since then, including me and my parents.
More than anything, this war has unified Ukraine. I was never a big patriot. I saw the fashionable trend of patriotism in 2014, and I didn't jump on the bandwagon then because it had a nationalist flavor to it, and because I saw actual Ukrainians bombing my city then. This time, I have no illusions. Russia invaded on February 24, 2022 just like the Germans did on June 22, 1941.
I think that if Ukraine perseveres, people should help Ukraine reestablish itself as part of the European community. Ukraine can serve as an example to other nations that yes, they can break free from former imperial nations, and the world will help them establish themselves and stand on their own legs. It can demonstrate to the world that Western help to developing nations didn't stop with the Marshall Plan in the 1940s and '50s or with post-1989 aid to some countries in Eastern and Central Europe.
Understanding that these are two different questions, likely with two different answers, how do you define your identity as a Ukrainian and how do you define the Ukrainian identity as whole?
Ukrainians are portrayed on TV as having a singular identity of a people on tractors pulling tanks away—a patriotic sort of identity—but we are more unique than that. We are united by our citizenship and because we all grew up on this land, but many of us have migrated to other countries due to war and economic instability.
But everyone understands what this war is about. Even less patriotic people, like me, who understand all the weaknesses and negatives of the Ukrainian state, now stand on the same side united, every day, as each bomb goes off in Russian speaking cities in Ukraine. Putin didn't attack some of the Western towns where some nationalist, and even Nazi, sentiments actually exist. He attacked Russian-speaking towns that he was claiming to protect. No one has killed as many Russian-speaking and ethnically Russian people recently as Vladimir Putin. We were an independent country, and this is no way to "protect" Russian speaking people. Ukrainians realize this now and are unified.
While in Ukraine, I witnessed how the Russian language was removed from the public sphere, gradually, and then more blatantly, first with TV and radio, then by removing the Russian language from schools, and then by outlawing Russian-language schools all together. Ukraine was a bilingual country, and it gained its identity accordingly. This is not an ethnic war between Russians and Ukrainians.
I am half Jewish and half Russian, and most people have even more backgrounds mixed in. Many of the Russians thrown into the war as meat have Ukrainian last names, but identify as Russians. I identify as a Russian-speaking Ukrainian, and more broadly as part of contemporary Russian culture (music, literature, film), but I don't need Putin's protection to participate in those things.
If Ukraine survives this war, I want to believe we will be a better country. I saw some level of unification 2014, but the part of the country I lived in was excluded from the decision-making process at the time, and was further marginalized later down the road. I hope that we will emerge stronger and rebuild the country that we lost on Feb 24 while recognizing the diversity of our backgrounds and opinions and becoming more tolerant of our own citizens.
---
Misha's News Resource Recommendations: Ukrainska Pravda (available in Ukrainian and English), Associated Press, Reuters, Strana.ua (in Russian), Korrespondent (in Russian), Vesti.ua (in Russian), War on the Rocks (in English), Ukrainian Institute of Politics (think tank in English), Donbass News (in Russian), Hromadske (in Ukrainian), Kommersant (in Russian), Russia in Global Affairs (available in English).