It has been difficult for all of us to navigate the turbulent waters of the past few years—first the far-reaching effects of a global pandemic, and now the crisis precipitated by the Russian invasion of Ukraine. We are devastated about the military, diplomatic, and humanitarian crises that are unfolding before our eyes. For us, it is a time to forge and maintain community bonds, and for collective action.
The staff, faculty, and leadership at The Center for Russian, East European and Eurasian Studies (CREEES) have been working to find ways to help the people of Ukraine who are currently under siege or are refugees without hope of a timely return to normalcy. We have shared links to charities and organizations on the ground through our webpage, many of which we share again in this newsletter, and are working through national and international contacts, as well as UT leadership, to concretely help displaced scholars or students from Ukraine. We are currently trying to raise funds to support temporary positions or student scholarships for the most at-risk Ukrainians and Texas Global has committed to offering some matching funds in this endeavor. We also anticipate that refugees from Ukraine from all walks of life will be coming to Austin and elsewhere in Texas. We hope to play an important role in welcoming them to our city and state, in offering volunteer student and faculty translators, and in serving as a source of solace and community.
For so many of our faculty, this work is deeply personal. We have devoted our careers to studying Ukraine, Russia, and Eastern Europe—their rich history, cultures, languages, and contemporary politics. We are one of few institutions nationally that offer Ukrainian language and literature instruction, taught by Dr. Oksana Lutsyshyna, a native of Ukraine. In 2020, Dr. Lutsyshyna won Ukraine's highest literary award, the Taras Shevchenko National Prize, and she has been highly involved in a variety of panels, poetry readings, and writing projects in response to current events. There is pain, but also healing, embedded in her words. Now more than ever the arts and humanities, but also Ukrainian voices, are needed to help us understand the human dimension of this war and the people whose lives it is destroying.
My own connection to these events runs deep, as I accompanied Dr. Lutsyhyna and a group of UT students to Ukraine in the summer of 2019. The month-long trip to four Ukrainian cities (Odessa, Ivano-Frankivsk, Lviv and Kyiv) followed a spring semester course on the history, culture, and politics of Ukraine. In the course of that semester, students designed a research project that focused on youth, social media, and politics. We spent the semester conducting meetings virtually with students across Ukraine in what we called "democratic dialogues": conversations on the complications of politics in our respective countries. Through these conservations, nationwide surveys, and analyses of social media, our team researched the Ukrainian elections of that year in which Volodymyr Zelensky was elected president—largely because of his popularity with youth on social media. That summer, we met with our Ukrainian student interlocutors and their professors in person as we continued our research and made lasting connections.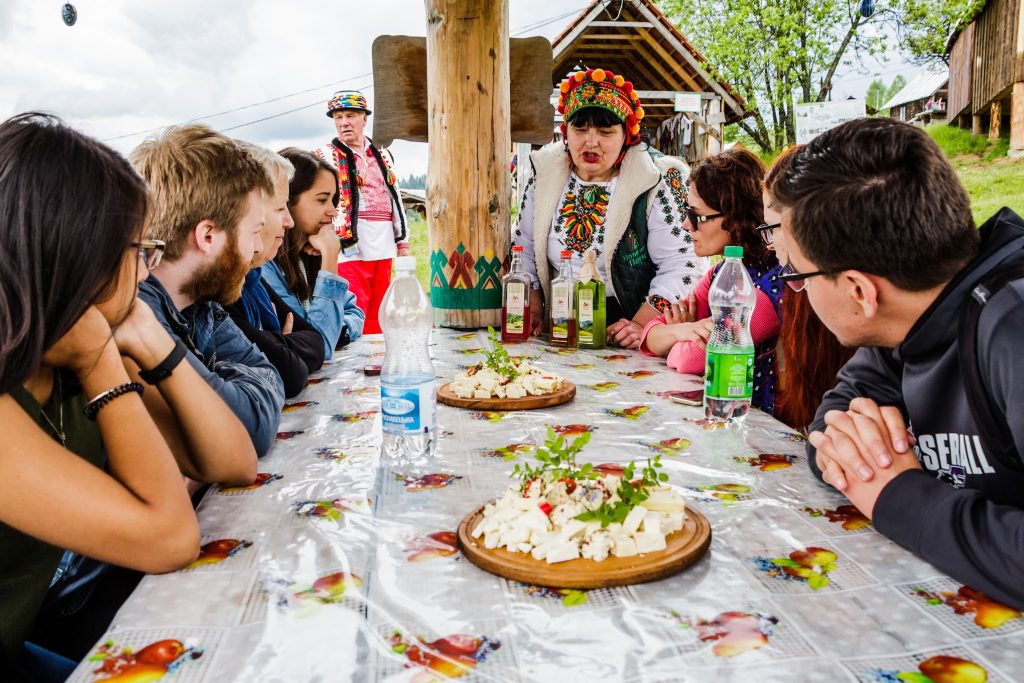 All of these students have since graduated, but Dr. Lutsyshyna and I have been in close contact with them during this crisis, and we regularly reach out to the new friends and colleagues that we met in Ukraine as part of this project. Our research on "The Zelensky Phenomenon" has taken on new significance in the face of war, and our ties to real people in Ukraine have made this war all the more real for us. To read and hear more about the project, see this article in Life and Letters, a past podcast episode on This is Democracy, and a recent podcast episode on The Other Side of Campus.
This is just one example of how we are connected to Ukraine through our past and present teaching and research. CREEES faculty have relevant expertise not only in history and literature, but in international relations and policy studies, US and EU foreign policy, and comparative politics. Our recent hire Dr. Steven Seegel is a well-known historian of Ukraine. He has been featured on panels and news outlets, and has also used his large Twitter following to circulate information on the crisis as it unfolds, raise funds, and point Ukrainian refugees to resources. Many of our faculty have made efforts to bring their particular expertise to this issue—both from the Ukrainian, but also the Russian and US foreign policy angles—in their classrooms, at CREEES events, and through media outlets.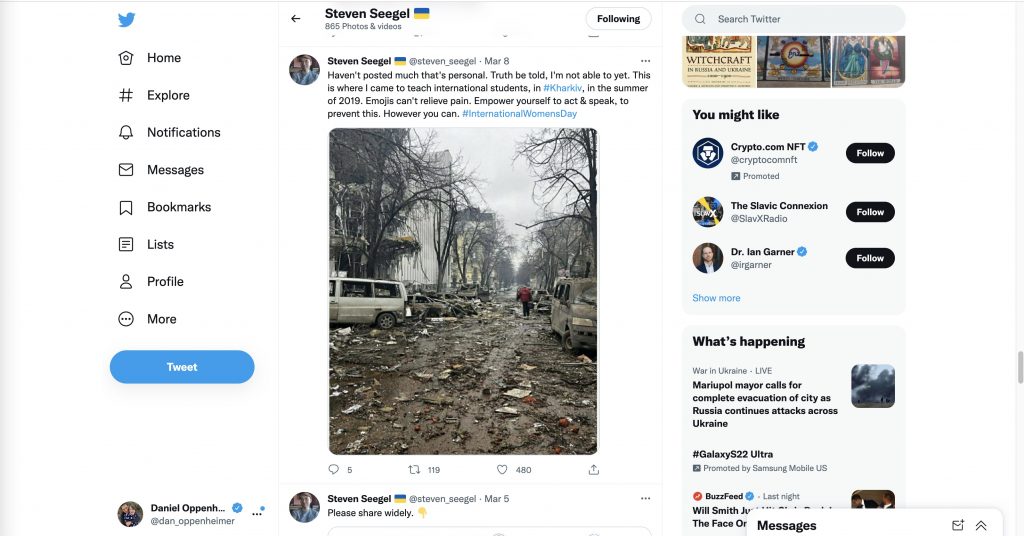 A significant number of faculty have made time and space in their classes to discuss the situation in Ukraine. In Dr. Rob Moser's government course on US foreign policy, he and his co-instructor Dr. Pat McDonald are closely following the Russian invasion and they present a daily segment called "In the News." This semester every segment, now available on the INN@UT YouTube channel, was on the Ukraine crisis. Drs. Moser and McDonald were also featured on the local news channel KXAN for this important classroom work[VLS1] [ODJ2] .
CREEES faculty, students, and alumni have been actively engaged in organizing panels with faculty and students on the events in Ukraine, all of which have been well attended and posted to YouTube. Our faculty have also been invited to participate in panels organized by other institutions, offering their expertise to national audiences. We included in these panels one of our own students, Misha Simanovskyy, a CREEES/LBJ-school dual MA student from the Donbas region of Ukraine. Misha, who was also featured on the local news, has brought a personal and academically informed analysis of the crisis.
Our faculty, students, and alumni have written numerous articles, and contributed to radio and TV spots on the war, offering quick responses to the situation as it rapidly evolves. UT CREEES faculty and students have produced a number of informative episodes for faculty- and student-run podcasts, including Dr. Jeremi Suri's This is Democracy and the CREEES-graduate-student-run Slavic Connexion's series of episodes on "Putin's War in Ukraine." In addition, UT's Provost Teaching Fellows podcast, The Other Side of Campus, has two upcoming episodes related to the teaching and learning aspects of the crisis.
At the Global (Dis)Information Lab (GDIL), faculty and students are working together on a variety of related research projects. GDIL has formed a crisis-response team and is closely following and analyzing disinformation flows, primarily coming from Russia, as related to this crisis. GDIL's Director, Dr. Kiril Avramov, has written an article for TIME magazine on this issue.
During the week of SXSW, our faculty, staff, and students worked together to host the lead singer of the Ukrainian band KAZKA, Oleksandra "Sasha" Zaritska, whose band members were unable to leave Ukraine. We arranged for an official SXSW musical showcase event (Austin Stands with Ukraine) and pulled together a back-up band of professional Austin musicians, including Music Hall of Famer guitarist Charlie Sexton. To a packed house at the Speakeasy on Congress Avenue, Sexton closed out Sasha's electric set by accompanying her on a gritty rendition of the1963 Bob Dylan anti-war ballad, "Masters of War." This "stirring" event was covered widely on the local and national news, including on CNN and NBC Nightly News, and I am proud to say that we were able to make it happen in only one week.
Nothing we can do will stop this tragedy or alleviate the suffering in Ukraine, but we hope we can make a difference.
Mary Neuburger is the Director of the Center for Russia, East European and Eurasian Studies (CREEES); Chair of Slavic and Eurasian Studies; and Professor in the Department of History at The University of Texas at Austin.
---