The origin story of Frederick Luis Aldama, professor of English at The University of Texas at Austin and academic superhero "Professor Latinx," begins with a bus trip his mother took before he was born. She set out from her home in East Los Angeles toward Guatemala, intending to meet family members she'd only heard about growing up. When she got off the bus at a stop in Mexico City, however, she fell in love—first with the city, and then with Aldama's father.
The couple married and started a family there. They split when Aldama was five, and his mother moved him and his siblings back to California, settling in the North Central Valley outside Sacramento. It wasn't always a welcoming climate for the young, cerebral transplant from Mexico City.
He was treated poorly by his elementary school teachers, who criticized him both for speaking Spanish, when he did, and for speaking English too well. "They would tell me not to speak 'that dirty Mexican,' but then also tell me I wasn't Mexican," said Aldama, who now holds the Jacob & Frances Sanger Mossiker Chair in the Humanities. "That was more than a little bit weird. I cried, asking my mom what it all meant."
He found escape in the rack of comics at his local corner store. "Most of the time I would just sit there at
the bottom of the rack and read them," Aldama said. "Whenever I had a quarter, I would actually buy one. Fantastic Four, Ben Grimm, The X-Men, Cyclops, Storm, Jean Grey—those were my first loves. They were also my literacy device and my refuge."
In the decades since, Aldama has cultivated his own superpower at the convergence of reading, writing, teaching, and comics. He has written and edited multiple books on comics, curated exhibitions, launched comic and academic publishing imprints, written his own comics, and become the scholarly avatar of Latino comics in the English-speaking world. When Marvel Comics was looking for someone to write an introduction to Marvel's Voices: Comunidades, the company's first anthology dedicated solely to Latino heroes and creators, they naturally turned to him.
Aldama's superhero name, Professor Latinx, is the symbol of this storied narrative. It's a combination of Professor X, the moniker of the legendary telepathic leader of the X-Men, with "Latinx," the gender-neutral substitute for the gendered words "Latina" and "Latino." Like Professor X, who found, educated, and gave a home to generations of mutants, Aldama has dedicated himself to carving out more space in the world for Latinx comic artists.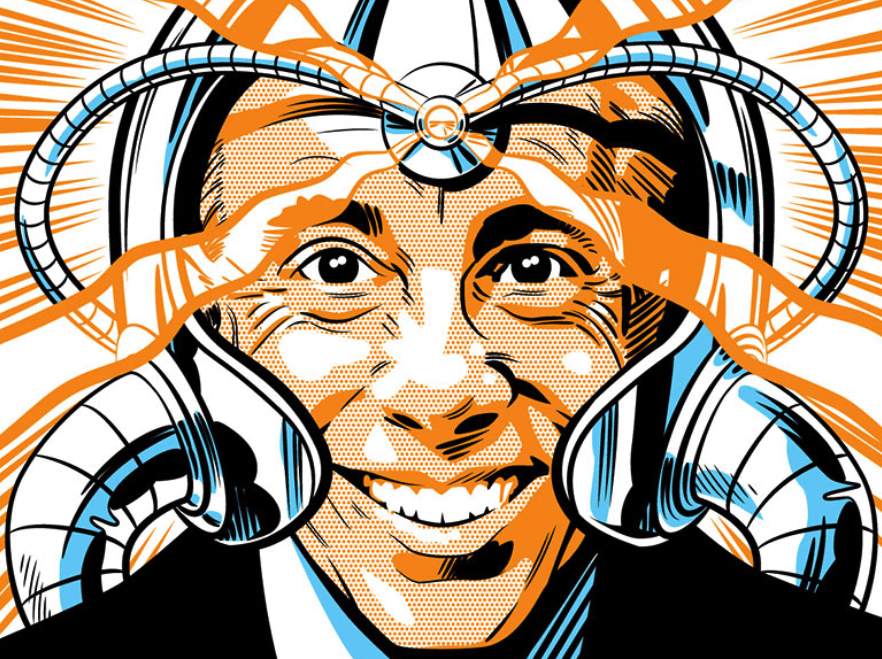 To do so, however, he had to first build his power base. After college at the University of California, Berkeley, and a Ph.D. in English at Stanford University, he joined the University of Colorado Boulder as a junior faculty member and hit the ground running. He published three books in three years, primarily on Latino authors and literature, moving from assistant professor to associate professor to full professor within four years.
It was only after securing tenure at UC Boulder, and being recruited to The Ohio State University, that Aldama had the freedom to turn to the topic closest to his heart. In 2009, he published Your Brain on Latino Comics with University of Texas Press. It was the first book ever published on the topic, and its writing required more than just the typical archival detective work.
"I knew that there were Latino/Latinx comic book creatives, but I didn't know how many there were," Aldama said. "I started on the phone, and then whatever it took—driving, flying, taking buses. I'd call one person and that would lead to meeting another, and then word of mouth, networking, and the tremendous positive goodwill of creatives across the country allowed me to fashion a living, breathing archive into the first book on Latino comics."
Since Your Brain on Latino Comics, Aldama has written and edited multiple books on the subject, including Multicultural Comics: From Zap to Blue Beetle; ¡Muy Pop! Conversations on Latino Popular Culture; Graphic Borders: Latino Comic Books Past, Present, and Future; Latinx Comic Book Story- telling: An Odyssey by Interview; and the International Latino Book Award- and Eisner Award- winning Latinx Superheroes in Mainstream Comics.
In 2018, he stepped outside of the academic space to edit Tales from la Vida: A Latinx Comics Anthology, using his globe-spanning rolodex to bring together more than 80 Latino creatives to tell stories of significant moments in their lives. Included in the anthology is his own collaboration with artist John Jennings,
It Could Have Been, about a moment in his childhood when he could have ended up in jail if he'd made a different choice. The story concludes with a panel showing him in the present, as a professor, teaching a group of engaged students. The anthology has been a hit in educational circles in particular.
"Tales from la Vida has been picked up all over the country because it shares a huge range of the complexities of what it means to be Latinx," Aldama said. "I get emails all the time from librarians and teachers, saying, 'Thank you for putting this together, because there's something in here that not only speaks to my students, that they've never seen before, but also now I've discovered this comic book creator and I love their style, and I found them through this volume."
At the heart of Aldama's work is the belief that academic scholarship has an essential role to play in the growth and health of the field of Latino comics. It is not just about reading and critiquing the work of writers and artists, but also legitimizing them and their field. This extends beyond comics to other media as well. Film and television, in particular, have been abiding interests. He's published two books on the Austin-based film director Robert Rodriguez and is currently working on two books on Latinx TV.
"Wherever I can, I try to bring to these spaces the cultural gravitas, or cultural capital, of being a Ph.D. and a professor with an endowed chair," Aldama said. "The artists don't necessarily need it to find readers, but it's like your art being pulled into a space like the Smithsonian. Suddenly more people are going to take it seriously as art, as some- thing carefully crafted to make a difference in the world."
As a Latino kid growing up in the 1970s and '80s, Aldama didn't often see people like himself in the media he absorbed. "Growing up, we didn't have a TV at home, so it was at my abuelita's that we would watch TV," Aldama said. "We would spend the night on a Friday, and as a treat on Saturday she would let us watch cartoons. I remember very vividly Speedy Gonzales was one of the few representations. I didn't know at the time how bad that representation was. There's Slowpoke Rodriguez, his cousin, who seems totally stoned all the time. And Speedy, what is he doing? He's a master thief."
Still, there were some positive characters on TV with whom Aldama identified. He remembers the pleasant shock of seeing Frank "Pomch" Poncherello on CHiPs, played by Erik Estrada. It was refreshing, he remembers, to see a Brown character on a police show who wasn't just there for one episode, playing a criminal. Another show that Aldama gravitated toward was The Addams Family. It was their differences, which they embraced, that Aldama identified with.
"They weren't Latino/ Latinx, but they were considered monstrous in that story world," Aldama said. "I loved that show,
I thought of them as Latino, and I thought of them as the closest thing I would get to Latinos on TV at the time. It wasn't until I was in college, and then not until deep into my graduate studies, that we started seeing more Latino representation in main- stream media."
Representation is now vastly better, he says, though with plenty of room left for improvement. He points to signs of progress in shows like Vida on Starz, and Gentefied and Mr. Iglesias on Netflix. The Saved by the Bell reboot on Peacock features a Latina protagonist in the role originally played by Mark-Paul Gosselaar as Zack Morris.
"She is in full control of the narrative, literally," Aldama said. "She will call timeouts and there will be a direct address, just like the first series. It's a show that's smart and super aware of the histories of stereotypes, but it does a pretzel on you in a fun way. It entertains, but at the same time it wakes audiences to some of their own issues, including Latino audiences that might have serious issues with colorism and sexuality."
Even with this progress, however, Aldama says the demo- graphic is still underrepresented. The total screen-time representation of Latinos on television is less than 3%, says Aldama, compared to the overall Latino percentage of the U.S. population, which is 19%. "We are the largest historically underrepresented population in this country, but we're still not fully seen," he said. "We still haven't had our Wakanda. We're waiting for it, and we want it."
When Aldama joined the College of Liberal Arts faculty last fall from The Ohio State, he brought not just his record of scholarship and advocacy, but his passion for teaching. The Latinx Pop Lab (or "Aldama's School for Gifted Youngsters," as he lovingly calls it) lives on the fourth floor of Patton Hall. The space gives students a place to create and analyze comics and other creative arts. Aldama challenges his students not only to interpret media and popular culture, but also to transform it.
"We are as a species uniquely equipped to co-create," Aldama said. "Not just to absorb and react, but to engage, co-create and trans- form. I didn't have the capacity as a kid to take something like The Addams Family and re-spin it as a new TV show. I didn't have the resources, but certainly in my brain I did. We want to empower our students, and anyone who's willing to step into this arena with us with their transformative capacities, to make tomorrow a better day for representation."
With his move to UT Austin, Aldama also saw an opportunity to leverage the city's unique energy to bring together his students with artists and industry professionals. Each spring, the Latinx Pop Lab will host the BIPOC Pop symposium and expo, a major event exploring the revolutionary contributions of people of color to the comic, gaming, multimedia, and animation arts. His hope is that the event will help make Austin the epicenter for comics, gaming, animation, multimedia, and arts created by and focused on Brown, Black, Indigenous, and other people of color's experiences and creative identities.
The first BIPOC Pop was March 10–11, and was intentionally scheduled during the South by Southwest festival to entice any potential guests who may have been on the fence about attending. The strategy worked, drawing crowds of attendees and featuring guests like comic publisher and White House consultant José Morey (Ad Astra Media); Emmy- and Imagen Award-winner Peter Murrieta (Wizards of Waverly Place; Mr. Iglesias); Angélique Roché, the host of Marvel's Voices podcast; and Lee Francis IV, the founder and director of Indigenous Comic Con and Wordcraft Circle of Native Writers and Storytellers.
It was, believes Aldama, a land- mark moment for the field of comic studies and for the celebration of comics in Austin.
"People always ask me, why comics? Why is pop culture so important?" said Aldama. "You know, Shakespeare was popular culture. And at a certain moment historically, people realized that we could go to Shakespeare and learn deeply about the human condition. How the shaping of his stories was very careful and deliberate, and could open us to perceive, think, and feel about the world in new ways. That's the same thing with a comic like Miles Morales. I can take my students on a journey with Miles Morales just as I would with a Shakespeare, a James Joyce, a Virginia Woolf, a Jackson Pollock, or a Michelangelo."