"I've never taught on Zoom," says UT Austin government professor Rob Moser, when explaining the course he's taught online for the last eight years. "I think Zoom would be a substandard experience for me and my students." The better analogue, he says, is a Sunday morning political news show like Face the Nation.
The course he teaches, "GOV 312L: Issues and Policies in American Government," is a live, high-quality production, beamed out to students for them to watch and engage with, wherever they are. It even includes a regular, Face the Nation-style segment on the big foreign policy news of the week in which Moser and his co-teacher, fellow government professor Pat McDonald, serve as newscasters and pundits. In conversation with each other, they break down the news, provide historical and political context, and on occasion have good-natured debates. For the spring 2022 semester, they devoted every one of their news segments to the Russian invasion of Ukraine.
"There are multiple cameras, a teleprompter, video clips that are edited and run for you by the production team while you're teaching, and teaching assistants engaging with students on chat," says Moser. "Prior to the pandemic, we even had a small studio audience."
This level of production is possible because Moser and McDonald are collaborating with Liberal Arts Instructional Technology Services (LAITS), the College of Liberal Arts' dedicated technology team. For the past 10 years, under the leadership of recently retired executive director Joe TenBarge, LAITS has been working closely with faculty to create a unique model for delivering UT courses online.
Since 2014, Moser and McDonald have taught their course this way for thousands of students each year. This past spring, with the help of seven teaching assistants, they taught over 1,600 students. The course is routinely among the most highly enrolled courses taught for credit at UT Austin, with their largest-ever course session exceeding 1,900 students. And it's a much better example of what the future of online learning looks like, Moser believes, than the Zoom-based experience that millions of students and teachers have used over the past few years.
"Outside of UT, I haven't met any other colleague who teaches a course like this online," says Moser. "I think the UT model is in some ways unique. It's the result of a lot of effort, time, and intellectual capital invested over many years. It's also very clear on what its purpose is. It's not about making the UT experience primarily a virtual one. Most of our teaching and learning will continue to be done, and should be done, in person. Where there is opportunity to innovate, I think, is with what I call 'stadium' courses, where you're in person but you can be hundreds of feet away from some of the students. You may never even learn the names of many of the students. I think in many cases online classes are better than that. I wouldn't do it otherwise."
Moser and McDonald were early adopters among the now more than 150 faculty who have acted as co-creators of the UT Austin model since 2012, when the first live interactive online course was launched. At the heart of the endeavor is LAITS, which now produces online courses for units across campus and was a key resource for the university, during the pandemic, in making the rapid transition to online teaching.
Since it began producing online courses, LAITS has worked with seven colleges and 45 departments, resulting in more than 135 unique undergraduate courses and more than 20 master's degree courses. They have served more than 190,000 students and provided more than 570,00 credit hours. Courses include everything from "MUS 307: Jazz Appreciation," produced with the College of Fine Arts, to "NTR 306: Fundamentals of Nutrition" with the College of Natural Sciences.
LAITS has also developed custom software to handle performance tracking, chatting and discussion, and assessment. Some tools have been generalized and made available to the full campus for use in both classroom-based and online teaching. These include UT Instapoll, which allows instructors to poll students during class and produce instant results; Chatter, a threaded discussion tool; and the UT Student Success Tool, which allows instructors to closely track student performance and attendance and easily message students who are falling behind. LAITS also helps instructors integrate external software into their overall course flow, including digital textbooks, collaborative annotation tools, and academic honesty software.
The goal with each course, says LAITS director of course development Marla Gilliland, is to provide instruction that is equal to or better than what the in-person version of the course would be. "This began in the first place," says Gilliland, "because a few of our faculty members saw an opportunity to improve on their in-person course."
Those faculty, psychology professors Jamie Pennebaker and Sam Gosling, were co-teaching Psychology 301, a large introductory psychology course, in one of the university's biggest lecture halls. It was a good class, but they thought it could be better, and wanted to experiment with technology that would allow them to extend enrollment beyond the walls of the classroom. "Things like Instapolls, chat groups broken out instantly in a variety of ways, and daily quizzes," says Michael Heidenreich, director of studio operations for LAITS. "You could do some of these things in person, but it was a huge logistical hassle in a big lecture hall."
Pennebaker and Gosling reached out to LAITS to help pilot an online, interactive version of the course, and in the fall of 2012 they debuted the course from a classroom-turned-makeshift studio in the Sánchez Building. It had real-time quizzes, a chat room for TAs to monitor and respond to questions from students, small group chats, polling, student mentor groups, and a variety of custom-built measures to incentivize and track student attendance and participation. "We learned a lot," says Heidenreich, "and have continued to build on the model."
The course is still taught online today (now by Gosling and fellow psychology professor Kathryn Paige Harden), and became a proof of concept for other big lecture courses like Moser and McDonald's "GOV 312L: U.S. Foreign Policy," "HIS 315L: The United States 1865-Present," "E 316M: American Literature," and "ECO 304K: Introduction to Microeconomics."
What's evolved over the past decade of trial and error has been a well-oiled workflow that allows LAITS to adapt each course to the instructor's unique pedagogical needs while also incorporating it into a general
system of production and dissemination. Instructors will typically teach a live (or pre-produced) "parent course" in one of the long semesters, and then the content from that course will be adapted into "asynchronous" (on-demand) or hybrid versions that are offered during future long semesters or summer sessions.
There are other derivatives as well. Some courses are adapted for use by University Extension, which allows the public to pay to take self-paced classes. Some live courses offer a "concurrent asynchronous" section for students whose schedules conflict with the live broadcast but who can otherwise keep up with the overall assignment flow of the live course. Some courses are designed specifically for asynchronous or hybrid distribution. The overall goal, from the LAITS perspective, is to maintain and improve the quality of the courses while making them as accessible as possible to students.
What this means, among other things, is that LAITS is most often called on to adapt large lecture classes, rather than smaller seminars. Moser and McDonald's course, for instance, was a response to the fact that UT Austin was sending thousands of students every year out to other institutions, in particular community colleges, to meet the credit requirement for GOV 312L and its sister course, "GOV 310L: American Government."
"It's legislatively required that every undergraduate in Texas take these two courses," says Moser. "It was taking up an enormous amount of our faculty's time to teach it, and even then, we couldn't handle the numbers. We were encouraging students to take it elsewhere. I was chair of the department at the time, and I saw an opportunity to bring those students back in, to take the load off faculty, and to teach in a way that didn't compromise the quality of the course."
Edmund Gordon, who has taught "AFR 303: Introduction to Black Studies" online for the past four years, initially turned to LAITS because he was having a hard time securing a good space on campus for the course at its planned class time. "There's a limited number of big lecture halls on campus, and Black Studies was a newer department," says Gordon, associate professor of African and African Diaspora Studies and former Vice Provost for Diversity for UT Austin.
Gordon also saw an opportunity, in the online setting, to make the course accessible to more UT students, both by expanding the number of students who could take the live course and by offering the asynchronous version in the other long semester and the summer. His hope was that some of these students would end up majoring in African and African Diaspora Studies. "The idea was to structure it so that it met people's requirements, so I can get the chemistry major and engineering major to take a course like this, and then hook them with the material and the teaching," says Gordon. He also wanted to reach students outside of UT.
"I was chair of African and African Diaspora Studies at the time, and we had study-abroad partnerships with universities in Brazil and Nicaragua," says Gordon. "I wanted to have something online that could help both universities create Black Studies departments or concentrations. The idea was to teach the class in both places."
The main challenge for Gordon and LAITS, in translating his course to the online space, was that Gordon is a highly interactive teacher. He uses lots of images and videos. In person, he likes to come down from the dais and walk amongst the students, Phil Donahue style, with microphone in hand. He wanted to be able to take that interactivity and performativity into the studio.
The solution that's evolved over the years is built for flexibility. It involves multiple cameras, a green screen, multiple monitors for Gordon to view, a small audience of students in the studio, a special panel of student participants, and a co-teacher who is responsible for managing engagement with all the online students. This is all managed by the LAITS course development and production teams, including their elite corps of undergraduate Student Technology Assistants (STAs), many of whom go on to careers in audio/ video production and technology development after graduation.
"Every lecture is a performance," says Gordon. He will often begin a lecture sitting in front of a wall of documentary footage, projected onto the green screen, as though he is floating in history. After a short introductory talk, he'll launch into the more interactive portion of the class, moving fluidly from lecture to discussion with the student panel, to questions from students, to conversation with his co-teacher, to video footage (some of which he and LAITS have produced, including some short documentaries), and back again. The support on the back end makes it feel seamless for the students.
Gordon typically teaches this "parent course" in the fall. It's offered asynchronously in the spring and twice during the summer, and then is also offered as a University Extension course for the public. He has recently developed a new course, "AFR320C/HIS 365G: Power and Place in Making Texas History," that is taught and disseminated in a similar way. For Gordon, the collaboration with LAITS has been rewarding on multiple fronts. It has been pedagogically satisfying to explore and expand the possibilities of the studio. It has enabled him to reach more students at UT. And it holds out the promise, not yet fully realized, of providing education to more people beyond the 40 Acres.
"Education at the level UT can provide should not be a scarce quantity," he says. "It should be available to as many folks as have the ability and the desire to receive it."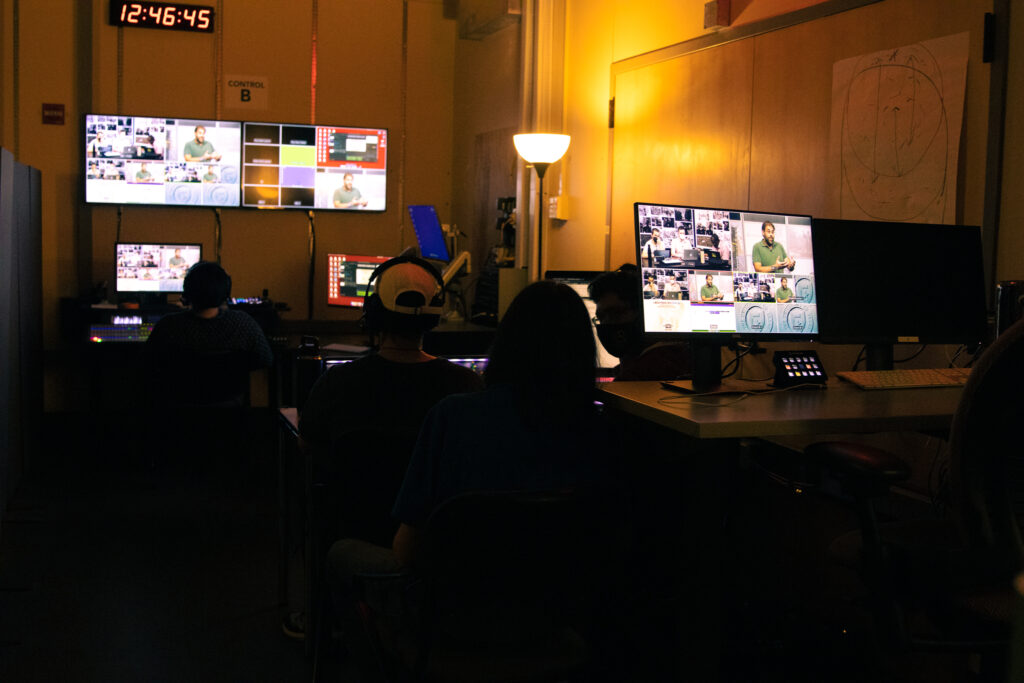 Ten years into its online teaching odyssey, LAITS is at an exciting moment. In the aftermath of the acute phase of the pandemic, the campus has become more acclimated to online and hybrid teaching than anyone would have imagined a few years prior, and LAITS, which was central to the university's pandemic response, is more sought out on campus than ever before. The challenge now is to continue innovating and reaching out.
For Moser, one potential opportunity is sharing courses with other campuses around the state that may be facing the same challenge he was back in 2014: too many students to handle, inadequate number of faculty to teach the legislatively required courses, and enrollments capped based on lack of space. "If it works for them to develop their own course, great. But if it's a problem, let them take ours," says Moser. "We've got it down now, and technically it would be easy to send the content out to other campuses. They would just need instructors on their end to manage the class and the students."
For Gordon, the ultimate goal would be to reach beyond the higher education space. He'd like to go into the high schools, out into the community, even internationally if possible.
For LAITS, and for UT Austin and College of Liberal Arts leadership, much of the recent emphasis has been on lowering the cost of summer courses so that students can earn the credits they need to graduate on time without having to go outside of UT to get them. For the past two years, this has resulted in overall discounted summer tuition and a select suite of summer courses that are offered to Texas students for only $500. These $500 courses include Gosling and Harden's PSY 301; Moser and McDonald's GOV 312L; and courses in U.S. history, American literature, jazz appreciation, physics, and nutrition.
"Increasing these courses at reduced tuition rates has been enormously popular," says Gilliland. In 2019, before the pandemic, LAITS supported 30 summer online courses that enrolled 2,300 students. By this summer, those numbers had grown to 71 courses enrolling over 7,000 students. "We suspected that lower pricing, combined with a lot of advance planning, would make a difference in summer enrollment, and it has," says Gilliland.
Ultimately, says College of Liberal Arts Dean Ann Huff Stevens, the future of online teaching is the future of every form of innovation in teaching that UT Austin has developed or incorporated since its founding. Build on what works well, listen to the faculty, and above all prioritize the educational experience of the students. "We're an in-person university," says Stevens. "That isn't changing and won't change. But we have an opportunity to use our online course model judiciously to make certain courses better, to make it easier for students to meet their requirements, to support our faculty, and to explore ways to democratize a UT education without compromising its quality. We are seizing that opportunity."