Getting an email invitation to join UTurn is not the happiest moment in a student's time at The University of Texas at Austin. Each semester, UTurn founder and program coordinator Ben Burnett sends the invites to College of Liberal Arts students placed on academic probation (as well as those readmitted with a GPA of 2.5 or lower), offering access to a variety of resources aimed at helping them get back on track. It's not always well received.
"Am I in trouble?" was linguistics and early childhood education double major Megan Smalley's initial reaction.
Jesus Perez, who will be graduating this summer with a double major in Japanese and East Asian studies, had similar apprehensions. "The first time I saw that email, I felt kind of insulted," he recalls. "Because I thought, 'I can do this by myself. I don't need anyone telling me what to do.'"
Burnett is familiar with such reluctance, both from what he has observed in students over the years and from his own experience as an undergraduate at UT in the 1990s.
"I often tell students that if UTurn had existed when I was an undergraduate, I probably wouldn't have joined when I was on probation," says Burnett. "I would probably have gotten dismissed and then I would have joined."
It's precisely because he understands this reluctance, says Burnett, that he thinks it's critical for the program to be voluntary. Some people need to strike out one or more times before they are ready to ask for help.
For those, like Smalley and Perez, who do eventually enroll, UTurn offers academic coaching, peer mentoring, and a dedicated space where students in the program can study, socialize, and support each other. Burnett tailors each student's plan to their particular needs and goals, which are wildly diverse. There is no "typical" UTurn experience. Students may meet with Burnett for coaching weekly or more sporadically. They may participate in the program for just one semester or stay through graduation.
Students come from varied backgrounds and are facing a wide-ranging slate of challenges. Some are dealing with mental health issues, some with homelessness or domestic abuse. Others are coming to terms with the fact that they no longer want to pursue their planned area of study and feel lost as to what to do next.
Burnett's own academic history equips him to relate to students in the program, and likely also helps students take his advice more seriously than they would if it were coming from someone who had sailed effortlessly through college. Burnett himself was dismissed from UT not once, but three times, before finally earning a degree with the lowest acceptable GPA.
"I always tell students you can't do college worse than I did and still graduate," says Burnett, who went on to get a master's degree in higher education. In retrospect, he appreciates how those initial struggles shaped his life. "If I hadn't gone through that experience, I wouldn't have the job that I have today. I wouldn't have created UTurn and won a national award. And I really love my job and what I do. I want to give students that opportunity as well."
Burnett started UTurn in 2009 as a pilot program while working as an advisor in the College of Liberal Arts student division. Initially available only to undeclared students, the program soon expanded to include history and philosophy majors. Today, UTurn serves students throughout the College from a centralized office on the ground floor of the Patton Building.
Burnett, who thinks of himself as more of a coach than an advisor, spends less time steering students through degree requirements and more on helping them rethink their approach to learning and studying. He also encourages them to explore what they want from an education and how to get the most out of their time at UT.
"Most 18–20-year-olds have been almost programmed to think just about getting an A," says Burnett. "And I'm trying to program them to think about themselves and what is the best path for them."
That best path isn't necessarily the fastest route to graduation. Some students might need to take a semester off to regroup, and some may realize that college isn't actually the way to achieve their goals. But for those who do want to earn a degree, UTurn can make a big difference. Without intervention, students who land on academic probation have about a 50/50 shot at graduating. Those who participate in UTurn graduate at a rate of 75-80%, and many go on to pursue post-secondary degrees.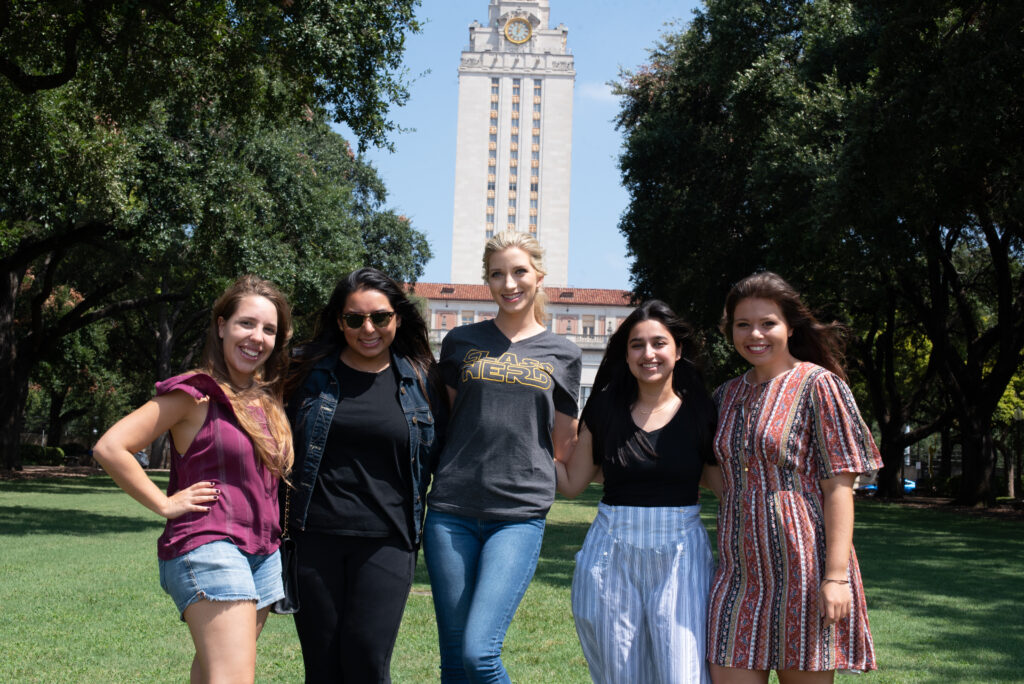 To Burnett, coaching also means pushing students to push themselves. And he doesn't shy away from letting them know if they're slipping, so that they can adjust course before things become unmanageable. Perez notes that he never feels scolded by Burnett during their meetings. "Ben doesn't yell at you. He just tells you what you already know but don't want to hear."
UTurn students are encouraged to become more proactive about asking for help, which means overcoming anxieties about talking to their instructors.
"I think that's the biggest problem for students who come here on academic probation," says Perez. "They put their professors on a pedestal. They don't want to get in their way or take up their time. But from my experience, most of my professors want to talk about this stuff because that's what they study."
In addition to such lessons, one of UTurn's most important assets is the common space where students regularly interact. Both Smalley and Perez said that finding other people with similar experiences was an enormous relief. Their stories of how they ended up on academic probation, while differing in specifics, shared common themes of feeling isolated, overwhelmed, and increasingly afraid to ask for help as they fell further behind in their classes. Coming to UTurn showed them that it is normal for smart and capable students to struggle academically. Students in the program hold each other accountable for meeting their academic goals, and they also form friendships that make their college experience more fulfilling.
"When I started at UT, there was an emphasis on 'find your club' — like you join an intramural sport or you join a sorority," says Smalley. "I had a hard time doing that for a long time and then I kind of stumbled into UTurn, and it ended up being the place where I feel comfortable. I feel like I belong, I have a community. I wasn't really expecting to get that from UTurn, but I did, and I was really thankful and am thankful. It feels so much easier when you know you have friends, and you know people understand you and what you've been through."
Perez recalls feeling anxious at his first UTurn gathering until Burnett reminded the group that everyone there was in the same situation. "It wasn't just me who was having trouble."
UTurn aims to teach students ways to study more effectively — rather than just increasing their study hours, which is often the panicked reaction to being placed on academic probation — but it also emphasizes the importance of balancing school with the many other aspects of their lives.
"Something I really appreciate about Ben is that he's not just an academic advisor," says Smalley. "He's a mentor, he's a friend, and he cares about us and wants us to take care of ourselves, not just to talk to our professors and do our work and get all As."