As a young scholar and critic, Lisa Moore was driven by a deceptively simple desire: "I really wanted to see myself in literature and art, because I love literature and art and I felt that it was wrong if my experience had not been represented there."
In particular, she was eager to see her experiences as a lesbian reflected in the works she loved so much. It was not an easy task, though not because those kinds of stories didn't exist. "There's never been a time or place where love between women or love between men or others with non-heteronormative, non-cis forms of love and sex have not been part of people's experience," Moore says. "And since they've been a part of people's experience, they've also been part of art and literature."
But while those experiences were always present, they weren't always seen — or, rather, not always acknowledged. "It was a story that every generation seemed to have to rediscover, because it had been buried in the past," Moore says.
Over the course of her career, Moore — who joined The University of Texas at Austin faculty in 1991 and is now the inaugural chair of the Department of Women's, Gender, and Sexuality Studies — has worked to bring to light those expressions of love and desire, in a wide range of artistic forms, from 18th-century English literature to painting to landscape architecture and gardening.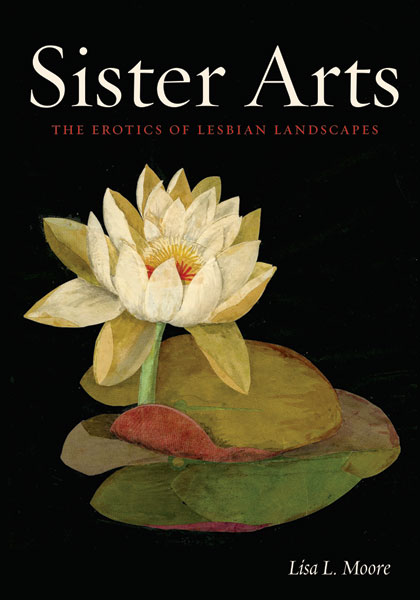 "My life's work is to essentially turn a queer gaze on the art and literature that I love and to see not just the story of the exclusion of women and love between women from mainstream and canonical traditions, but also their centrality," Moore says. She's done so in a range of forums, from art reviews to scholarly articles to several books, including Sister Arts: The Erotics of Lesbian Landscapes (University of Minnesota Press), which examines the way renowned women garden designers of the 18th century used flowers and landscape to express love for other women.
Moore began that work as an undergraduate at Queen's University in Ontario, reading art and literary criticism by feminist scholars — Lucy Lippard, Griselda Pollock, Rozsika Parker, Mary Jacobus, Sandra Gilbert, Susan Gubar — who asserted the fundamental, if not always acknowledged, role of women writers. "In every period of English literary history there have been women writers and there have been women writers who have been very highly regarded, and the idea that women were completely silent in the past was one of the main things that feminist literary criticism initially sought to explode," she says. "And the same with feminist art history: Women artists had been active, had been well regarded, had been influential, but that was a story that every generation seemed to have to rediscover because it had been buried in the past."
That work of rediscovery and reclamation "seemed really fun to me," says Moore, who focused her research on 18th-century women novelists as a graduate student at Cornell University. At the same time, she was beginning her coming-out process and becoming involved in the lesbian community in Ithaca. "There was a very vibrant, thriving lesbian feminist community that was asking for more. And so I started asking for more up the hill at Cornell, in my own studies."
Moore's dissertation (which became her first book), Dangerous Intimacies: Toward a Sapphic History of the British Novel (Duke University Press), took on the notion that lesbian love and sex were simply absent from the literature that she specialized in. Looking at works ranging from Jane Austen's Emma ("a classic romcom," Moore says) to the utopian novel Millenium Hall to the erotic Memoirs of a Woman of Pleasure (also commonly known as Fanny Hill), she argued that, in fact, sexual and platonic romantic friendships between women were central to many novels of that era and offered key insights into the social, political, racial, and economic forces of the time. "It's just literary history," Moore says.
Dangerous Intimacies also looked at the diaries of Anne Lister, a wealthy Yorkshire heiress in the early 19th century who recorded, in code, her love affairs with other women. A century and a half later, the code was cracked by a local historian, and the diaries eventually became the basis for the HBO series "Gentleman Jack."   
"Those diaries were so important to me because they helped me understand that someone in the period I was researching was thinking: 'Now how am I going to let her know that I want to have sex with her? Let me drop a literary reference; let me talk about Ovid, about Catullus, about Sappho and see if she picks up what I'm putting down,'" Moore says. "That let me know that it was not some ahistorical imposition of my own views on the past, that my intuition, my gut feeling that people in the past … were expressing very similar experiences and desires, [but] in different language that we needed to train ourselves to understand."
It's a lesson, Moore has found, that needs to be learned again and again. "In many of these literary works from the past, you have one woman saying to another woman, 'I want to make wild love to you,' and then you have later critics saying, 'Of course, that didn't mean what it would mean today.' But it actually did."
For as long as there's been art and literature, Moore continues, there have been depictions of same-sex love in that art and literature, from Plato's exaltation of love between men in his Symposium to Shakespeare's sonnets to a "fair [male] youth." And for just as long, there's been a back-and-forth between scholars and students who balk at acknowledging those depictions and those who see it for what it is.
"A lot has changed, but there still remains so much basic recovery work to be done," Moore says. Queer and feminist scholarship is a relatively recent field, and despite the dramatic pace of social change in recent decades, "it's still new news that we are and always have been part of literary and artistic traditions and that efforts to exclude us have never been fully successful. I've always been excited about going back and finding those moments of canonical failure, when women and queer writers and artists broke through and were visible and recognized, even if they were buried later. I want to dig them up."
Moore has taken a slightly different approach to that task in her current work, a book in progress titled How Lesbians Saved Poetry. The book, which combines literary criticism, personal narrative, interviews, and poems, looks at the profound influence of lesbian poets like Audre Lorde and Adrienne Rich on the development of feminist and queer studies in the 1970s and '80s. "All of those iconic essays that we read back then and that are still being taught in feminist and queer and ethnic-studies classrooms today — like [Audre Lorde's] "The Master's Tools Will Never Dismantle the Master's House" or [Adrienne Rich's] "On Lies, Secrets, and Silence" – those are by poets," Moore says. "In some ways, lesbian feminism and other movements of the time were movements of poets.
"Poets are in the DNA of these fields," she continues. "I wanted to go back and tell that story in a more personal vein: what my encounter with the work of those poets was like, and what it was like to teach and then start to write poetry myself. … It's a little bit like my 'where are the lesbians?' project."