This Q&A was originally published on Extra Credit, COLA's Substack newsletter. Learn more about Extra Credit and subscribe here.
---
In 2021, UT Austin announced the cluster hire of four new faculty members specializing in Maya studies. With research interests ranging from religious studies to the environment, these scholars joined the largest community of scholars working in Maya studies anywhere in the world. To say we're proud is, of course, an understatement.
Earlier this month, I spoke with Dr. Amy Thompson, an assistant professor in COLA's Department of Geography and the Environment and one of the researchers who came to the college as part of that cluster hire. Our conversation covered her archaeological work studying the Classic Maya, the possibilities for collaboration offered by an institution like UT, and, because I couldn't help myself, Tomb Raider. Over the coming months we're planning to highlight the sheer scope and variety of Maya studies at UT Austin through more conversations like the one below, though maybe with fewer video game references. Maybe.
First things first: Can you describe your work, your field of study, and how you came to it?
As a kid, I was always hanging out outdoors, going on hikes, and the books I read were always about people of the past. Then, when I was trying to figure out what major I wanted to do in college, I took anthropology and biological anthropology classes that were really interesting but not perfect fits for me. Then I took an archeology class and I was like, "This is it." It's this beautiful combination of these theories I'm interested in, but I can actually see how they play out on the ground through the material culture of these past civilizations.
I always knew that I was interested in studying people in the past, but not just the kings and queens like we often see on National Geographic and in museums. I wanted to know what people like me, just your everyday average person, were doing. Those questions led me to household and settlement archaeology, which are about understanding the distributions of everyone across these ancient communities rather than just focusing on the elites or the people who had the biggest houses or the most wealth. But it wasn't until grad school that I started taking GIS classes and had the realization that instead of studying just the material culture of the Maya, the pottery sherds and all that, I needed to look at the past through these spatial relationships. And now the spatial aspects of people is a fundamental component of all of my research.
So, even though I'm in the Department of Geography, I'm trained as an anthropological archaeologist, which means that I use a four field approach from anthropology to inform my understanding of past human behaviors. But I also do a lot of spatial analysis, using GIS and LiDAR and remote sensing to look at things like human environment interactions and distributions of inequality across ancient communities, so I'm in the Department of Geography because my methods really focus on these kinds of spatial relationships that we have with each other and with the environment.
I was looking through some of your research about these spatial relationships — identifying neighborhoods and how people were living, what kind of communities they were living in — and I was really struck by how modern and relevant some of those ideas felt. We're daily reading stories about inequality and neighborhoods and displacement and all of these same themes that you're exploring in your research about this ancient civilization. What can your work on the Classic Maya tell us about today?
The Classic Maya is a society that had these kind of despotic rulers or kings, so we often think of it as having a high degree of inequality, especially wealth inequality, and that's one of the easiest ways to study inequality in this part of the world. The ancient Maya society was located in what is now southern Mexico, Belize, Guatemala, and the western portions of Honduras and El Salvador, and the material wealth and the sizes of these ancient houses is a pretty easy thing for us to map and measure, especially using LiDAR. There are other aspects of inequality, like social relationships, that are a lot harder to map out.
One of the things that I think a lot about is "why should someone else care about my research?" I'm studying a civilization that existed 1,500 years ago, though Maya communities are still present — there are more than 6 million modern Maya people living today with 32 distinct languages. But in this kind of archaeological setting, why should someone today care about what I do? And I think being able to look at the trends of the past — seeing how people were having these spatial relationships with each other through neighborhoods and even larger subcommunities all the way up to things like cities and suburbs — allows us to ask about their trajectory through time and how that can be used to inform what exists today.
Some things that we can understand are differences in identities and the diversity of communities of the past. When we look at neighborhoods in a city like Austin, we might think of them as being pretty homogenous — one neighborhood is all big houses, another has smaller houses. But neighborhoods in ancient communities were often fairly heterogenous, at least at the sites I've been studying. I think a lot about how we can see the heterogeneity of neighborhoods today rather than thinking of it as "all the people in this neighborhood are the same." Really understanding the diversity of people in these different places, not only within neighborhoods but across these larger cities like Austin, is a great example of that.
So you're studying and teaching in Austin, but you're also doing a lot of this fieldwork in Belize and Honduras. What are you doing there? What is that like?
The vast majority of my research takes place in southern Belize, and I work in fairly rural Maya communities. Sometimes I am camping in the mountains a two-day hike from the nearest village. Other times I'm driving to a Maya community and working in a place very close to where people live today.
Usually my research focuses on two major parts of archaeology. First is the pedestrian survey, where we're going out, hiking in the jungle, and actually mapping where the houses are, what size they are, what is their orientation. Then, once we have a pretty good map of these ancient communities, we can do excavations, which help inform us about how these communities grew and developed through time.
These projects all take a lot of time, though, so I spend the vast majority of my summers in Central America. Then I usually have to go periodically throughout the year for shorter periods of time to keep building community relationships and meeting with government institutions to make sure I'm getting the correct permits. Making sure that I'm talking with community leadership and everyone is on board with what I'm doing and that I'm making a very transparent and open science, that's really important to me.
I was talking to somebody else recently about community-based archaeology, which is what you're describing here. What does that practice look like in your work?
Each archaeological project might engage in a community-based archaeology differently. The project that I am on has done a lot of work with the community asking, "What do you want? What can we do if we're working here with you?"
One of the important parts of my work is that instead of just hiring the same 10 people to come help me in my surveys or my excavations for four or six weeks every year, we've listened to the communities I work with when they said "no, we don't want to do that. It means that these 10 people get a lot of money and no one else gets any." Again, this all goes back to ideas of inequality. In this sense, the communities I work with really value equality and equity, so what we tend to do is called a rotational labor system. We tell the community leaders how many people we need to hire each week and they decide who it's going to be, usually moving through the village. Sometimes, for short jobs, communities will even ask us to hire a new team every day, which can be challenging. But in community-based archaeology, it's important that this is what the community wants and so that's what we choose to do.
After our survey or excavation is finished, we again meet with the community and usually do an archaeology show-and-tell day. If we're doing excavations we'll put out some of the finds, even the very small broken piece of pieces of pottery. It shows the community that these are the things that we're interested in, not just the pretty pots that you might think of in museums but also these small pieces of ceramics or flint or stone tools that really help inform us of what people were doing in these different spaces.
You were hired at UT as part of a Maya cluster hire. What has that meant for you? What do you think it means for UT to have such a concentration of experts and any collaborations that you have with your colleagues in this field?
The Maya cluster hire has made UT one of the leading universities in the study of the Maya region, whether it is ancient Maya, modern Maya, linguistics, ancient writing. We have between 10 and 14 faculty members who study the Maya all across the university. A few other universities across the United States are close to that number, but we're in the top five.
As of right now, some of the collaborations are within my department. Dr. Tom Garrison is one of the people who was brought in on the Maya cluster hire, and we've published a paper together on using LiDAR in the Maya region. Dr. Sheryl Luzzader-Beach and Dr. Tim Beach also study in the Maya region, and we have some ongoing collaborations, looking again at different LiDAR data sets to understand how people modified and created this anthropogenic environment of the past. They study things like soils, geomorphology, and hydrology, and I really focus on things like settlement patterns and human environment, so there's a lot of overlap.
To shift a little bit: In going through some of your research, I came across your paper on League of Legends and the lore, which was super fun. But I think it's also a good entryway to bigger questions about how people perceive archaeology and media portrayals of archaeology versus what archaeologists are actually doing. What's the best media portrayal of archaeology, in your opinion? The worst?
The background to that paper is that I taught a graduate seminar called Ancient Urbanism and Inequality, and the students had the option to either do a book review assignment or write a paper called a digital review. The League of Legends paper was one of these digital reviews written by a Ph.D. student in geography, Rubi Landa, and we worked on it together to build it up to publishable quality. So, Rubi's really the lead on that paper, but I liked being able to take this class assignment and make it into something productive both for the students and the public.
When I think of one of the worst… I don't want to say the worst, but the name Tomb Raider is one of those things where I'm like, "that is not what archeologists do." We are doing scientific research! We're recording everything. It's the name more than anything, really, because we're not raiding tombs. If we ever do find tombs, it is very useful for understanding past humans and their behaviors. We can not only see how old that person was physically, but we can also figure out when they date to. Did they live in 200 C. E. or 800 C. E.? We can also do things like look at what people ate by studying their bones and doing different types of isotopic analyses. So, for me, it's just the concept of Tomb Raider. Whenever people say, "Oh, you're like Lara Croft," I kind of have to go, "Um, I'm not really!"
Thinking about some of the best portrayals, there's a recent game that came out and one of my graduate students, Chris Ploetz, is writing one of these digital reviews about it. It's called Heaven's Vault, and it's basically this puzzle where you're uncovering and deciphering an ancient language for the first time. That really is, to me, what archaeology is like. It's a big puzzle and it's not always clear how the pieces fit together. Sometimes you think "this piece fits here," and then new scientific evidence comes about and you realize, "oh, that piece doesn't fit. This piece actually fits instead."
For other media, there are some good recent Nova and National Geographic specials that do a good job of showing archaeology and looking at different ways that we study the past. One's called Ancient Maya Metropolis, and I really like that one. It also has great visualizations that I think help the public understand what ancient Maya cities probably looked like. When a lot of people think of ancient Maya cities, they think of big stone pyramids like Castillo Chichen Itza, but ancient Maya cities were probably quite vibrant and colorful. They would've been plastered and that plaster would've been all different colors.
It's also not a documentary that is trying to take away from the innovativeness of humans. There are some that question, "Could people really make this?" It's not doing that. I tend to think that when we start asking those questions it takes away from the intelligence and innovativeness of Indigenous communities and their ancestors. When you say, "Oh, there's no way the Maya could have built these pyramids," why not? They did!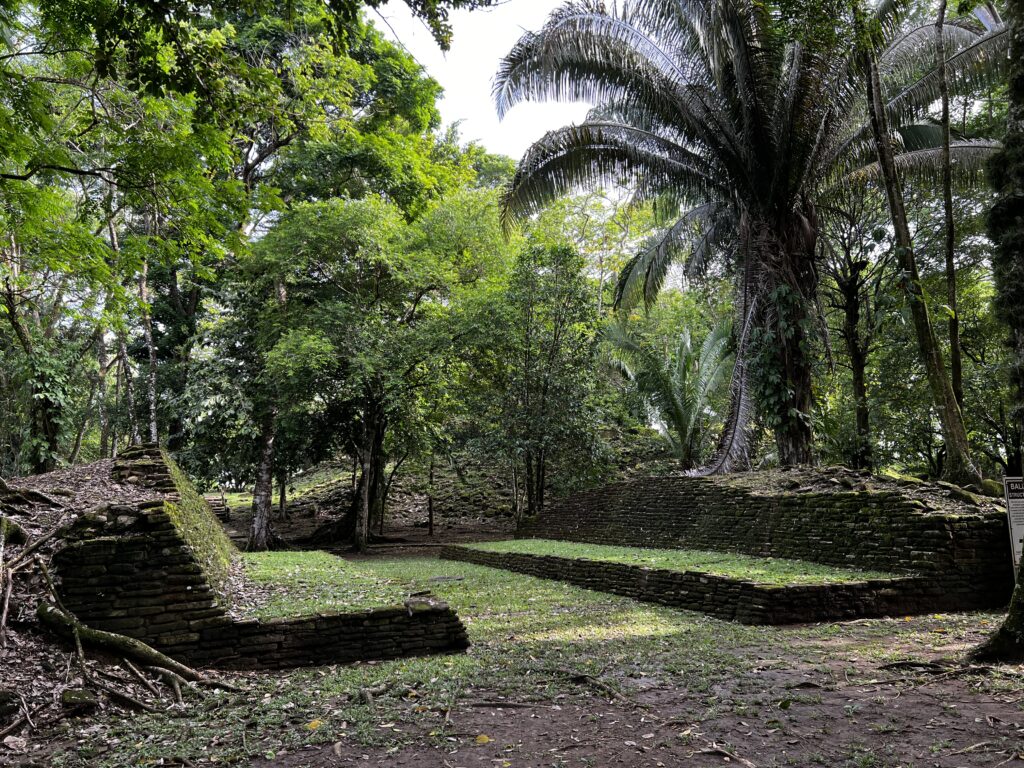 What are you working on now? What are you excited about in the future?
I have two NSF grants for projects I'm working on, and that's really exciting. One is working with machine learning and deep learning to try to identify where ancient Maya houses are using existing LiDAR and survey data. We're using survey data to train this model by saying, "we know there's a house here, we know there's a house here, we know there's not a house here. Now in this other place we've never been, can you try to identify where we think there are or are not houses?" And we're trying to train the computer to do that. That's going to help make the pedestrian survey more efficient and effective.
The other grant is to study and explore these sites that people have never really been to. Someone went to them for one day, mapped them, and I have a GPS point for them, but I want to go there and study how the communities are set up, the size of the communities, the timing of them, how did they develop, and also to look at these at a broader regional scale. I'm thinking about how communities in the mountains are different than communities on the flat coastal plains, for example, so looking at the environmental differences and how people form communities in those spaces is the main trajectory of where my research is going. It's expanding the same ideas I've been working on, but instead of just studying one area, I'm trying to take this broader approach.
That's so interesting. I had not thought about the possibilities for machine learning in collaboration with this, but what an exciting application of this new technology.
Most of that machine learning is done in collaboration with colleagues at the University of Nebraska in Lincoln. We're working with computer scientists and, I'm going to be honest, they're doing the machine learning. I'm the surveyor. I provide the data to do the training models and then they're the ones writing and running the algorithms. To me, building collaborations and working with other people and bringing our strengths together is one of the key aims of science in general and something that I'm trying to do all the time. That's one of the great parts of being at a big university — it allows us to do these types of cross-disciplinary projects, and that's really important for science.