Archived issues of Life & Letters are available in PDF format, which requires Adobe Acrobat Reader software (a free download from Adobe's website).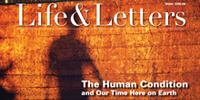 Winter 2008-09 (PDF, 5MB)
Highlights from this issue include: evolution and ancestry, human senses, children and family, love and relationships, psychology and mental health, and the humanities.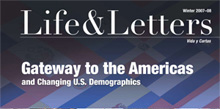 Winter 2007-08 (PDF, 1.36MB)
Highlights from this issue include articles on Mexico, Cuba, Brazil, Peru, Guatemala, and Bolivia, plus a profile of the Benson Latin American Collection, Latino Landscapes, and more.
Winter 2006-07 (PDF, 1.36MB)
Highlights include A. Van Jordan who shares the science and stories behind his poems, Michael White's insight into Christian gospels, Laurie Green's commitment to preserving civil rights history; Norval Glenn's studies on the long-term effects of divorce on children; and Troy Kimmel's forecasting forte.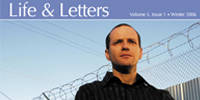 Winter 2006 (PDF, 1.36MB)
This issue of Life & Letters includes information on our new Liberal Arts Career Services office, Dr. Ami Pedahzur's work on suicide terrorism, Dr. Joe Potter's work on contraceptive use, and Dr. Jane Richard's research on the negative consequences of controlling one's emotions.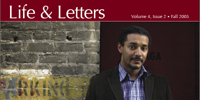 Fall 2005 (PDF, 1.49MB)
In this issue, you'll learn about Dr. Chandra Muller's research on what makes girls successful in science and math classes, Dr. Rodrigo Sierra's efforts to conserve pristine lands in the Ecuadorian rain forest, our efforts to create a Center for Jewish Studies and a host of other interesting initiatives happening within the college.
Spring 2005 (PDF, 6.78MB)
In this issue, you'll learn about Dr. Dan Hamermesh's research on money and time management, Dr. Larry Cormack and Dr. Bill Geisler's studies in eye movements, and the recently-created South Asia Institute.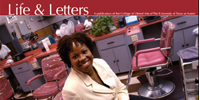 Fall 2004(PDF, 4.92MB)
In this issue, you'll learn about Dr. Robert Helmreich's research in aviation safety, Dr. Tiffany Gill, who explores the political and social legacy of African-American women beauticians, and Guy Raffa, who sparks students' interest in the classics with the award-winning Danteworlds website.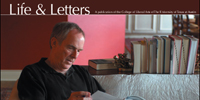 Spring 2004 (PDF, 2.13MB)
Some of this issue's highlights include Dr. John Hoberman's research on the use of performance-enhancing drugs in sports, Dr. Susan Napier's studies of Japanese animé, and a profile of the ongoing excavations at the Black Sea site of Chersonnesos, over the centuries home to Greeks, Romans, Byzantines, and Slavs.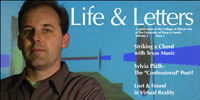 Fall 2003 (PDF, 2.66MB)
In this issue, you'll learn about the history of Texas music, the Center for Perceptual Systems' virtual reality research, Dr. Debra Umberson's research on the impact the death of a parent has on adult children, the new Center for the Scientific Study of Religion.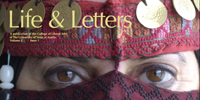 Spring 2003 (PDF, 2.27MB)
In this issue, you'll learn about breathing life into a dying language, the "fear factor," and Tolkien's tongues of Middle Earth, along with faculty, student, and alumni news.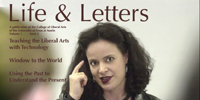 Fall 2002 (PDF, 3.71MB)
This issue's highlights include an article on what factors influence lifetime earnings among college graduates, a consortium of the college's Title VI research centers, teaching the liberal arts with technology, and the cultural benefits of fast food.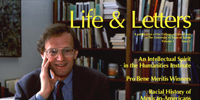 Spring 2002 (PDF, 501kb)
In the inaugural issue of Life & Letters, you'll learn about the creation of the Humanities Institute, the racial history of Mexican-Americans, as well as four Pro Bene Meritis award recipients who have made outstanding contributions to the liberal arts.