Humanities Alumna Builds a School in Belize
Days before Heidi Baker Curry opened the first high school on the island of Caye Caulker, Belize, in 2008 she received a knock at her door from a teenage boy known for selling marijuana on the island. He wanted to attend the school, he said, and started by telling her, "I have made some bad decisions in my life."
"I handed him a book, a very easy-to-read book, and asked him to read it," says Curry, a University of Texas at Austin alumna who graduated Magna Cum Laude in 1998. "I thought he was reading silently to himself, and asked him to read aloud. Then, I realized he couldn't read.
"I gently told him that he would not be eligible for high school, but he convinced me to give him a try. I said you'll have to be able to write, so I gave him a piece of paper and he went to the other room. He was there for a long time," Curry remembers. "He wrote 'I need to be somebody.'"
The boy has since stopped smoking marijuana thanks to help he received through the school's counseling program. And while Curry says he is still a work in progress, he has become an excellent spokesperson for the school and a role model on having the tenacity to persevere, something Curry knows a lot about.
"I could at least give what I had. I've been blessed to have this incredible UT education."
His story, along with those of so many others who shared their struggles for a better education along the way, took hold of Curry as she built The Ocean Academy.
And while she initially planned on keeping the school small — a handful of students within her home — she soon knew she had to do more.
"I couldn't offer everything, but they had no other options," Curry says. "I could at least give what I had. I've been blessed to have this incredible UT education."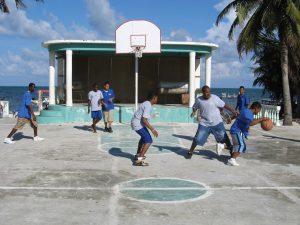 Call of the Island
A native of Waco, Curry had the opportunity to study abroad in Costa Rica, Spain and Mexico during college. Then, with help from the university's Rapoport-King scholarship program, she conducted research in Peru while working on her senior thesis, which examined the creation of Peruvian, Bolivian and U.S. drug enforcement policy and its ramifications during the 1989-95 War on Drugs.
The experience made her committed to improving the human condition and to understanding other cultures.
"Time spent abroad — whether it's research or general study — is some of the most valuable time any undergraduate can spend," says Henry Dietz, Curry's thesis advisor and University Distinguished Teaching Professor of Government and Latin American Studies. "And in Heidi's case, it's clearly made a significant difference in her life."
Dietz says he is not surprised that she's "doing well and doing good."
"She was a terrific student — bright, motivated, curious, excellent at following up on suggestions and a good writer — more or less what every faculty member wants in a student and, in particular, one who is writing a thesis."
After college, Curry who had majored in humanities and Spanish, worked for ICF Consulting as a contractor to the Environmental Protection Agency in Washington, D.C.
Then, in 2003, she and her husband Haywood Curry moved to Caye Caulker. The couple wanted to live abroad and was attracted by the island's cultural richness. In October 2006, they became parents for the first time to a daughter Alma, and this past March, they had their second daughter, Persephone.
When they first came to the island, Curry worked as a certified scuba instructor and Haywood ran a fly-fishing shop. A couple of years later they renovated and ran a small hotel together.
For four and a half years, Curry tutored children on the island. She saw the toll that large class sizes, school expenses and lack of help with homework took on some of the students. Many of them left primary school lacking strong literacy and numeracy skills with little hope for a good-paying job.
She nervously awaited their fate when they turned 13 and completed the last level of education offered. Attending secondary school on the mainland was prohibitively expensive and, without a guardian to live with, could prove dangerous.
The majority of the students stayed behind, struggling to support themselves and their families. Curry knew her school would have to teach its students job skills. Encouraged by the overwhelming support of the community, her dream of a small school became something more.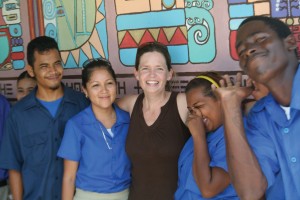 Schoolhouse Opens Doors
The Caye Caulker Ocean Academy opened its doors in 2008. Now boasting more than 65 students, the school adds a new class each year and will graduate its first class in June 2011.
Curry joined forces with fellow island residents: Joni Miller, an experienced Canadian teacher with a master's degree in international education; Dane Dingerson, a real estate investor and windsurfer who donated land for the school and managed and financed the construction; and Desi Rosado, a Belizean-American who funded start-up costs.
"Each of us had had our own separate ideas that came together at the right time," Curry says.
Her steadfast vision was that the school would be open to any students who wanted to learn, regardless of their previous academic achievement or socioeconomic status, but that it would also adhere to the highest academic standards. It is those standards that have helped attract the island's brightest and most promising students. The school boasts three years of the primary schools' valedictorians, one who has won a national award for conservation since attending Ocean Academy.
Classes include the basics like math and English with an emphasis in writing, a particular passion of Curry's. Her creative writing curriculum helped the school secure a recent $2,500 grant from the International Reading Association to publish a student anthology of poetry, short stories, memoirs and essays. Taking advantage of the locale, courses are available in marine biology, windsurfing and kayaking. The school also offers an apprenticeship program in photography, office skills, masonry and business.
While the Belizean government provides funding for one teacher's salary per year, the school is operated almost entirely from donations. Its annual operational costs are approximately $200,000. With a rapidly expanding enrollment, the school has had to place children on waiting lists until more classroom space is built. A three-classroom expansion is underway but requires raising an additional $50,000 on top of an already strapped budget.
After two years of investing her family's savings into the school, Curry describes her lifestyle, "By North American standards, I live in a shack. We have loose wires hanging from the ceiling, the exterior is half painted, and we didn't have a sink for six months.
"But, relatively speaking, I am a wealthy resident of this island," she adds. "We have a home of our own and plenty of food to eat everyday."
While Curry is appreciative for all that she has, she also understands the hardships some of her students face, particularly those who may not have a parent or guardian or even steady meals.
"Some of the students wouldn't leave the classroom during break and we couldn't figure out why. It was because they didn't want to watch students eat when they couldn't afford to themselves," Curry says. "They don't talk about it — they don't complain. I've learned that I'm a very rich person regardless of whether or not I have a sink.
Curry thinks a lot about the future of her students. "Ultimately, there would be nothing more satisfying than for them to be able to have options," Curry says. "For them to feel empowered to make their own choices and be capable of giving back as I've done would be the most beautiful thing."