International relations and global studies major challenges a new generation of global leaders
Amid the strong winds of technological change and global competition, the United States is facing an increasingly borderless world. And while these forces gather strength, more students are feeling the need to relate to different cultures and speak other languages.
In an era of globalization, international experience and language skills are no longer mere accessories, but critical components to one's education. In response, the College of Liberal Arts created the international relations and global studies (IRG) major, an interdisciplinary program that focuses heavily on cultural studies and foreign affairs.
Since its inception in 2010, the IRG major has attracted 670 undergraduates, making it the fastest growing major in the College of Liberal Arts. Michael Anderson, IRG lecturer, says students are realizing there's a high probability they will be working with people from other countries. And now — more than ever — they need a solid understanding of international life in order to get an edge in the global economy.
"We're at a moment in international history where this kind of major is especially interesting to students," says Anderson, who teaches Introduction to International Relations and Global Studies. "They recognize from the moment they come to campus that we're entering a world that is far bigger than the United States."
One of the biggest draws of the major is that students can customize a course of study that best fits their interest, Anderson says. They have their choice of four tracks: Culture, Media and the Arts; International Security; Science, Technology and Environment; and International Political Economy. After taking a required introductory course, students select a track and, working with an adviser, select a variety of liberal arts courses that complement their area of study.
"This major was designed for those who want to think differently," Anderson says. "I think it appeals to students who are comfortable being self-starters and for those who want to take ownership of their education. It's really empowering for students to find a subject of interest and pursue it in a way that makes the most sense to them."
Like other liberal arts majors, the IRG program does not lead directly to a specific career. It does, instead, provide students with a broad knowledge base that will help them succeed in a variety of occupations.
"Many students believe that a linear track from the major to the career is the way to get ahead," Anderson says. "On the other hand, a lot of companies and institutions recognize that our students are willing to be open minded and are able to see problems from other perspectives."
Although some international relations students aspire to work at the Department of State or the United Nations, many are interested in pursuing careers in various fields, such as education, journalism, public policy, business and law. Whether they plan to work as foreign ambassadors or spearhead humanitarian organizations, students who graduate with an IRG degree are well poised to excel in their careers, Anderson says.
But to thrive in these careers, students must learn a language and have a solid understanding of the world outside of the United States, Anderson says. To help them cultivate these skills, the IRG major requires at least six hours of advanced language courses and a semester studying abroad.
"The language and study abroad requirements differentiate us from some other liberal arts majors," Anderson says. "Learning a language is critical to getting to that point where you can see outside yourself. It's hard to step into another culture without knowing or understanding the language."
From her experiences studying abroad and in the classroom, Stephanie Fine, an IRG and education senior, says she now has the tools to succeed as a teacher in the United States and abroad.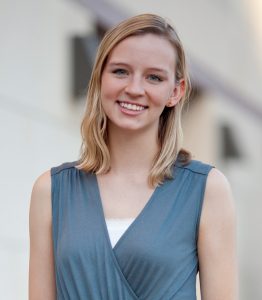 "The IRG major — which I think is the best major in the university — encourages students to go outside their comfort zones by immersing themselves into new cultures," Fine says. "There are a lot of different perspectives in the world, and this major really promotes that exploration of other cultures and to find similarities within those groups."
With a passion for making education more equitable for students in the public school systems, Fine has set her sights on becoming a public school teacher in some of the nation's most underrepresented inner-city schools. Eventually, she plans to embark on a career in public policy for education reform.
"All of the cultural courses that I have taken have given me a better perspective on my students and how to be more relatable to them," says Fine, who tutors elementary students in East Austin school districts. "My hope is to instill this knowledge and this sense of common community in my future students."
One of the biggest advantages of an international relations degree is the opportunity to study abroad, Fine says. From her experience living with a host family in Spain, she gained a new perspective on Spanish culture. Now fluent in Spanish, she says she is prepared to take on a teaching internship abroad.
After taking a writing-intensive anthropology course on cultures in Southeast Asia, Fine says she is now interested in studying abroad in Southeast Asia. Through rigorous reading and writing assignments on Thailand culture, she not only gained a deeper understanding of another culture, but she also developed marketable skills in editing and writing.
"Out of all the courses I've taken at UT, this class really made a difference in my technical writing skills," Fine says. "I'm so grateful for being in that class because the professor held us to a very high standard of writing. Now I can confidently say that I have the skills to write a research paper at a university level and publish it in a journal."
Since she entered the program in 2010, Fine says she has gained a valuable set of skills that will take her far — not just in her career — but in life in general.
Anderson says one of the most rewarding aspects of his job is seeing how students like Stephanie evolve as they wrap up their experiences in a capstone research course. During their senior year, IRG students are required to write a final paper that allows them to explore a subject of global interest in considerable depth.
"The IRG major gives students an unforgettable learning experience that doesn't end at the edge of campus," Anderson says. "The benefit of this major — and the kind of education students receive at UT — extends the walls of the university, not just into the country, but around the world. This major shows the university is serious about its creed, 'What Starts Here, Changes the World.'"
ILLUSTRATION BY ROBERT SAUNDERS