Digital Archive Holds Untold History of African American Mental Health
Resplendent in his trademark sport coat and bow tie, Louis Armstrong plays a trumpet for a large gathering of patients underneath a grove of trees outside of Central State Hospital, the world's first African American psychiatric hospital in Petersburg, Va.
This is one of the many priceless images stored away in the hospital's filing cabinets that were on the brink of destruction. Due to changes in Virginia's record retention laws, any hospital document more than 10 years old had to be destroyed—100 years of historic materials lost forever.
When King Davis, professor of African and African American Studies at The University of Texas at Austin, found out about the impending demolition, he immediately flew to Virginia to negotiate a means to salvage the treasure trove of African American mental health history. Davis, who is a former commissioner of the Virginia Department of Mental Health, was granted a certain amount of time to copy and digitize the archives.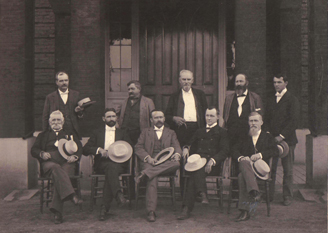 Established in 1868, Central State Hospital—formerly Central State Lunatic Asylum for Colored Insane—was created in response to the newly freed slaves after the Civil War. The mounds of forgotten materials offer a rare glimpse into what life was like for African Americans following the Civil War to the post-civil rights era.
"There are so many stories housed in these archives," says Davis, as he points to a scanned image of a yellowed handwritten document on his computer screen. "You can see in some of these admission documents that many patients were sent to the psychiatric hospital for not stepping off a sidewalk to let a white man pass by, or for getting into an argument with their boss. It's hard to believe that these irreplaceable historic records were about to be permanently erased."
Three years after the appeal, Davis and an interdisciplinary team of researchers embarked on a digital archive project to convert the massive pile of materials into a digital time capsule. Last summer, researchers at the UT Austin School of Information guided the digitization and restoration of 800,000 pieces of deteriorating records that were left exposed to the elements.
Now digitally restored and ready to be seen, the archive—which includes thousands of photos, letters, handwritten journals and patient record books—are stored precariously on hard drives.
Without funding, Davis cannot embark on the last—and most challenging—leg of the project: Creating an online digital library while protecting the private information of the patients.
"Many patients were sent to the psychiatric hospital for not stepping off a sidewalk to let a white man pass by, or for getting into an argument with their boss."

King Davis
"Every day I fear that I'm going to open up a record on a hard drive and find nothing," says Davis, who directs the university's Institute for Urban Policy Research & Analysis. "And that's why we need funding, so we can meld all of the records into one server with categories and searchable tools. Otherwise, we could potentially lose nearly one million records. What a waste that would be."
To help with this process, Unmil Karadkar, an assistant professor in the School of Information, is developing new technology that crowdsources the digitized handwritten text while protecting private information—such as names, addresses and social security numbers—from the human transcribers. The new Steganoscription software detects keywords within the lines in handwritten documents that are recognized as private information, allowing transcribers to quickly and effectively convert thousands of handwritten documents into a searchable database.
Karadkar anticipates the software will be functional by spring 2014. In addition to streamlining the digital archive project, the new technology will be a valuable tool for other archival projects, as well as current medical transcription work.
"This new software could potentially impact a variety of communities—from scholars and researchers to medical transcriptionists," Karadkar says. "Right now there are not enough privacy protection settings in place for human medical record keeping, so this would significantly improve medical transcriptions."
Yet once the archivists leap over the privacy hurdle, they must face another challenge: Making the database easily searchable for the public, particularly those who are seeking information about their ancestral roots.
Pat Galloway, a medical anthropologist who specializes in archival research at the School of Information, and her doctoral student, Lorraine Dong, are working on creating an organized, user-friendly database that can be easily searched with keywords. Galloway says the archive could potentially lay the groundwork for future archival projects.
"Certainly other digital repository projects will benefit from this work, especially from the project's careful consideration of the preservation of the paper materials being digitized for the project, the development of means for indexing them and the serious study of the ethical issues around the preservation and potential historical use of these records," says Galloway, who is a professor of archival enterprise and digital asset management.
The Central State Hospital was the world's first African American psychiatric ward, which was integrated in 1968. The digital library will be a genealogy gem for people in need of answers about their mental health history. In fact, Blair Underwood, an actor well known for his reality show Who Do You Think You Are?, hit pay dirt when he sought out his family lineage at Central State Hospital, Davis notes.
Not only will people learn more about their family tree, they will also discover their risks for developing mental illness, Davis says. He anticipates the digital library will be completed by fall 2014.
"There aren't as many studies about the mental health of African Americans as you would imagine— and there are very few of those studies that are unbiased," Davis says. "Research has shown that a person with a serious mental illness diagnosis dies about 25 years earlier than the rest of the population. We also know that African Americans have had the highest mortality rates from all causes since the 1900s."
Once the digital library is available online, Davis says the information could potentially lead to new discoveries about the state of mental illness in African Americans, an area of research that has been vastly understudied, he notes.
"Current studies do not include mortality data on African Americans with serious mental illness," Davis says. "Research based on the archival data will yield information that can be useful to change the outcomes of future stories that had their origins in the 19th century.
Editor's note: This story first appeared in Life & Letters online, posted Jan. 30, 2014.