Zachary Heinzerling, Plan II and Philosophy '06, was nominated for an Academy Award for Best Documentary for his film Cutie and the Boxer. It debuted at the Sundance Film Festival, where he earned the Best Director Award (U.S. Documentary).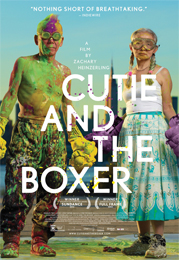 The film follows the complicated relationship of husband and wife artists Ushio and Noriko Shinohara. Heinzerling approaches the story as a narrative film, exploring the couple's career disappointments, gender roles, marriage and aging.
"One of the biggest challenges in this film was to shed light on the love they undoubtedly have for one another, even if they rarely express it directly," writes Heinzerling. "I hope that audiences will recognize themselves in Ushio and Noriko's story, and consider their own relationships after watching."
Ushio, who is 81, first came onto the art scene in post-war Tokyo for his action painting—known for boxing his art onto canvas—and later moved to New York. Noriko, 59, comes into her own as an artist as the film unfolds. Through her "Cutie" series—comic-style paintings and drawings depicting her difficult past with her husband—a deeper truth and sadness is revealed.
Most recently, Heinzerling was enlisted to direct Beyoncé's Self-Titled, a five-part mini-art feature that was published in January 2014, shortly after the global superstar stunned the world by dropping her fifth studio album exclusively on iTunes.